PISTACHIO TIRAMISU
When years ago I tasted for the first time a pistachio tiramisu I fell in love with the recipe, the intense pistachio flavor combines beautifully with the coffee and mascarpone touch. 
The moment I tasted this nutty tiramisu, I started to research pistachio creams. There are several on the market, some special for pastry, which have an intense green color and an amazing aroma.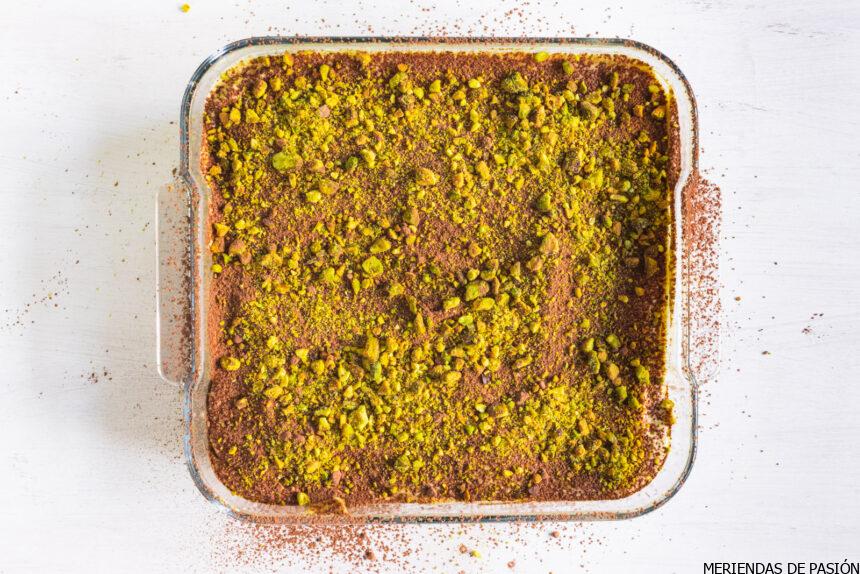 As part of the tests to elaborate this recipe I prepared this homemade pistachio cream which, if you have a food processor or Thermomix, I can tell you that it is a guaranteed success in any sweet or pesto to serve with your pasta and it is prepared in 5 minutes mixing pistachios and olive oil.
However, if you do not feel like preparing a homemade pistachio paste do not worry. In recent years, with the rise of peanut and nut creams, it is increasingly easy to find pistachio cream in stores. But now comes the bad news: most carry a lot of sugar and oils of dubious origin, although there are some brands that sell pistachio creams 100% reliable and with only pistachio among its ingredients.
You just have to look at the composition before buying your pistachio paste.
I tell you this, because if the cream is too sweet, the tiramisu recipe I propose already contains sugar, and the result may change. Will the tiramisu be just as tasty if you buy any pistachio cream? For sure it will, but I prefer to warn you that it can become a dessert a little sweeter than the real Italian tiramisu.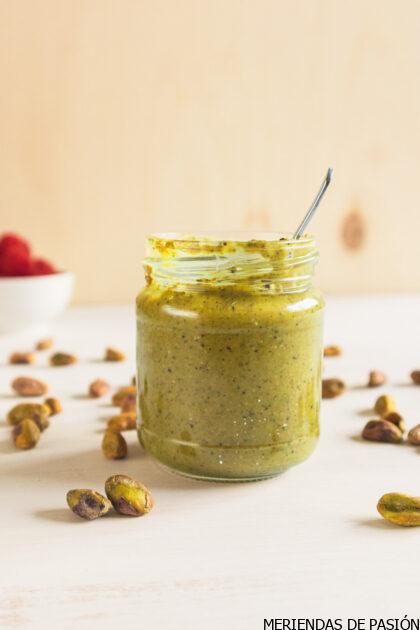 If you prepare homemade pistachio paste for your tiramisu and it is not 100% creamy, nothing happens; you will simply notice in your tiramisu the texture of pistachio, but I have tested the recipe with crunchy pistachio cream and my guests loved it too.
You can make this pistachio tiramisu with Thermomix,
Kitchen Aid, or using a whisk to beat the egg whites until stiff. If you are very brave I know that it is possible to get egg whites stiff by hand, but that is already "pro" level of traditional baking, so I recommend the use of a food processor or whisk to whip.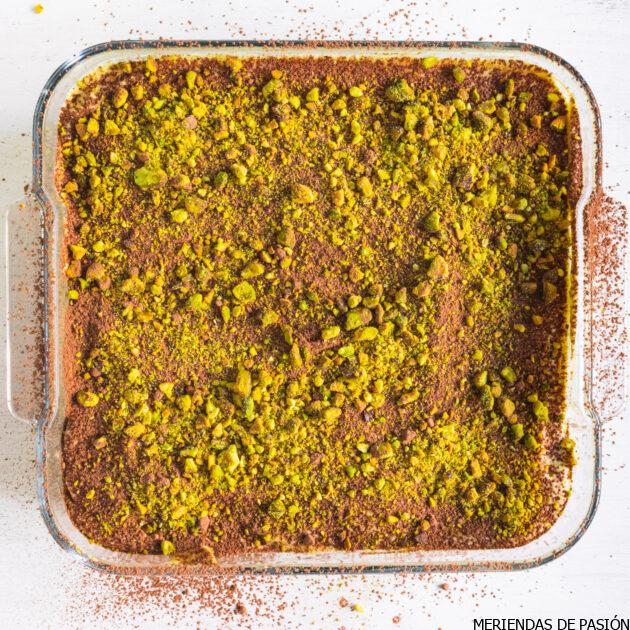 GOOD INGREDIENTS = BETTER TIRAMISU
In addition to pistachio cream, eggs, sugar, mascarpone and cocoa (optional), you will need savoiardis. You can buy them prepared of course, but I leave you the link to my favorite recipe, and if you live in Spain you can also prepare your tiramisu with bizcochos de soletilla.
Mascarpone cheese is the Italian cream cheese used to make tiramisu, it is a cheese that you can find in the refrigerated section of most supermarkets, near the fresh cheese and spreads.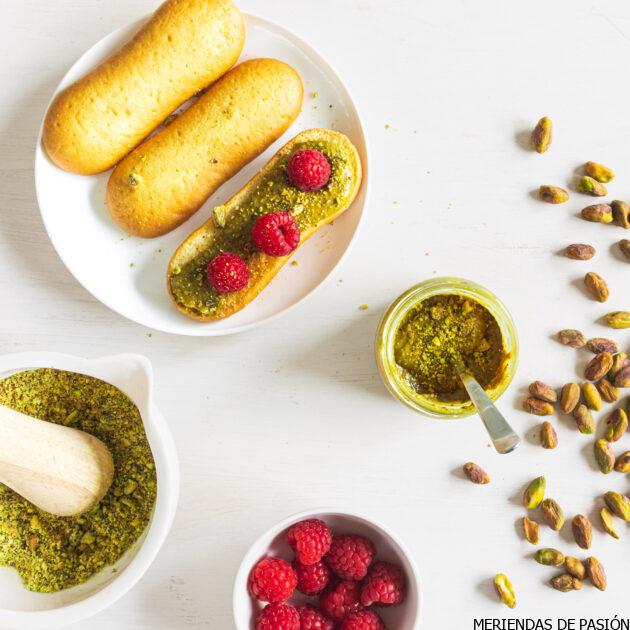 TIRAMISU, ALWAYS BEST COLD
You must serve your tiramisu cold and after some hours into the fridge. It contains raw eggs so you need to keep it into the fridge. 
It is a perfect dessert to prepare in the morning or the night before serve and to take to a dinner party for dessert. 
The authentic Italian tiramisu has raw egg, therefore, it is a recipe that cannot be frozen, and it is advisable to eat it within 24-48 hours after its preparation. 
If you are going to prepare a tiramisu for children you can always substitute the coffee for decaffeinated coffee, and do not add any liqueur to the coffee, and this way you will have a dessert for all ages.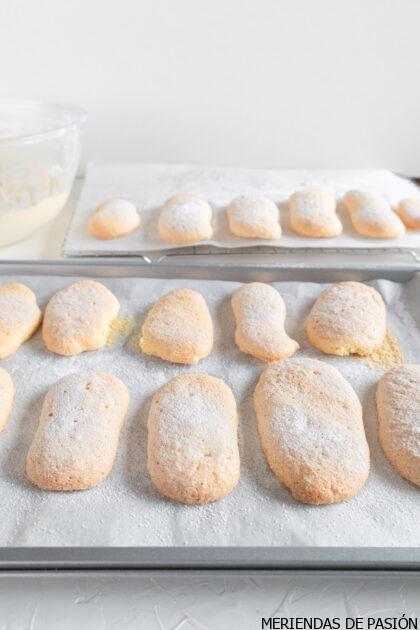 Pistachio Tiramisu
When years ago I tasted for the first time a pistachio tiramisu I fell in love with the recipe, the intense pistachio flavor combines beautifully with the coffee and mascarpone touch. 
Equipment
Whisky, Kitchen Aid or Food Processor

Optional

Refrigerator

Bowl
Ingredients
3

units

Eggs

2

cups

Mascarpone cheese

1/2

cup

White sugar

20

units

Savoiardi biscuits or soletilla biscuits

1/4

cup

Pistachio cream

1

cup

Coffee

1/4

cup

Baileys

Optional

Cocoa

To decorate

Chopped pistachios

To decorate
Instructions
Separate the egg whites from the egg yolks.

In a bowl, beat the egg whites until they have a white and firm texture and form picks. To beat the egg whites until stiff we can use a whisk or a food processor.

Use another bowl to mix the egg yolks and sugar until you have a creamy texture.

With the help of a fork, soften the mascarpone cheese and add it to the egg yolks with the sugar. 

Mix all the ingredients until the egg yolks are integrated with the mascarpone cheese.

Add the pistachio paste and mix again.

Finally, with the help of a spatula, we incorporate the mascarpone and pistachio mixture to the egg whites  with soft movements. Use a spatula to avoid losing the texture of stiff peaks when mixing. 

Now we prepare a coffee and mix it with our favorite liqueur (optional, you may not add liqueur). I've used Baileys.

We bathe our savoiardi or sponge cakes in the coffee and begin to set up our pistachio tiramisu.

We place a layer of savoiardi soaked in coffee, a layer of mascarpone and pistachio cream, another layer of savoiardi, and finally a layer of mascarpone and pistachio cream. 

Decorate with cocoa powder (optional) and chopped pistachios. 

Let it cool in the refrigerator covered with plastic wrap for 4 to 12 hours and enjoy your authentic Italian Pistachio Tiramisu!