BEER TIRAMISU
Beer-a-misú is the beer lovers version of the Italian tiramisu with intense flavors. 
When I discovered that Ordum, a small local beer factory fro Asturias, where I am from, have stout beer I decided to taste them on many sweet recipes and I love the result that the bitter and sweet taste gives. The contrast is just perfect with cocoa and chocolate. 
If you visit Asturias, in the North of Spain, I recommend you to visit their small factory in a tiny town called Borines, in the middle of green fields, mountains and nature.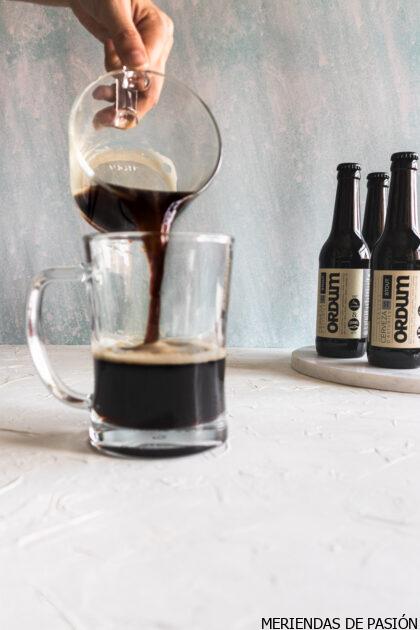 But let's tala a little more about the recipe:
Which ingredients do I need to prepare the beer tiramisu?
First, we need savoiardi or ladyfingers, you can buy them on the store or prepare your own. There is a link to my recipe, just in case you prefer to prepare them. I baked them at home this time to have round savoiardis to prepare my beer-a-misu on a jar. 
Another ingredient we will need is beer, dark beer r "stout" beer. I used around half cup.
Now te ingredients we will use are the classic tiramisu ones: mascarpone cheese, eggs, cream, coffee and sugar. 
Mascarpone cheese is easy to find on the supermercado refrigerated cheeses.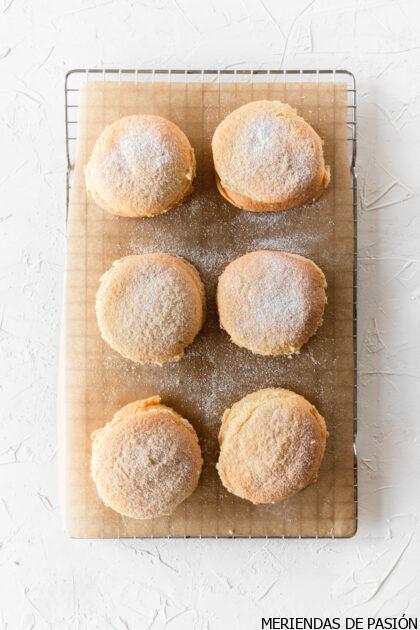 Is it necessary to reduce the beer in the heat with the coffee before soaking our ladyfingers for our beer-a-misu?
No. You can soak the ladyfingers in beer without cooking it before, or even without coffee. 
I heated up the beer low heat for 3-4 minutes with the coffee and a brown sugar spoon because I love the flavor they have togeter, but is not necessary at all.
If you are looking for a Classic Italian Tiramisú recipe without here it is, and you can use decaf coffee if there are children around.
Should I cool into the fridge for some hours the beer tiramisu?
Yes. The tiramisu cream is made with eggs, mascarpone cheese, cream and sugar, if you cool it into the fridge for some hours the texture and flavor will be the right one and you will love it. 
Could I freeze my beer tiramisu?
I don't recommend you to freeze tiramisu. You can preserve t into the fridge for a couple of days, but you must consume it in short term, because we use raw ingredients.
Beer Tiramisu
Ingredients
12-18

units

Savoiardi or ladyfingers

2+1/4

cup

Mascarpone cheese

2+1/4

cup

Heavy cream

5

units

Egg yolks

1

cup

Granulated white sugar
To soak de savoiardi
1/2

cup

Stout beer

1/2

cup

Coffee

Optional

1

tablespoon

Moscovado sugar

Optional
Instructions
Start preparing your coffee and heating it up low heat with the coffee and a tablespoon of sugar and let it cool. You can skip this step if you prefer to soak your ladyfingers in stout beer without coffee.

Separate the egg whites and yolks. We will use the yolks in the recipe.

Beat the egg yolks with the sugar until you have a creamy texture, you can use a whisk to help you.

Soft your mascarpone cheese with a fork and whisk it with the cream, low speed. You will have a creamy texture similar to whipped cream.

With the help of a spatula incorporate the egg  yolks to the mascarpone cheese cream.

Soak the ladyfingers or savoiardis in the mix of stout beer and coffee (or just stout beer)

Start placing a layer of ladyfingers, a layer of cream, another layer of ladyfingers, and another of cream, until you have your beautiful beer tiramisu. The number of layers will depends on the recipient you use. You can use a pipping bag to place the cream or two spoons. 

Finally, dust generously with cocoa powder on top.

Let the beer tiramisu cool into the fridge for 4-12 hours, and enjoy!