ALMOND BUNS (KARLSBADER)
Yes, you read it right. Swedish buns but with almond cream. Could them be better? Of course not!
I don't want to be pain, because I think I have already recommended three times this year The Nordic Baking Book, one of my Christmas presents, that I can't stop following to bake every single recipe.
I love every single almond dessert, and I do recommend to use "marcona" almonds if you can find them, its flavor and scent are the best on sweets, if you can't find it you can use another almond, but if you can, just give them a try. 
If you like sweet breads just tell you that this recipe is a sweet bread, really easy to bake and with a sweet and tasty filling.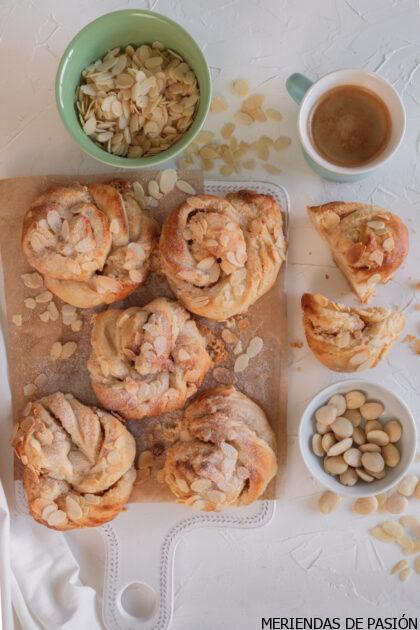 How to prepare almond flour at home?
You can buy almond flour, or if you find good almonds but not good quality almond flour you can prepare it yourself, at least for this recipe, that doesn't need a really thin almond flour.
To prepare your almond flour you must grind the almond in small intervals, just a few seconds, turn the grinder off, and grind again some seconds, and repeat.
If you don't grind the almonds and small intervals, you will have almond butter instead of almond flour, it is important to just grind for some seconds and stop the grinder.
Could I use my kitchen robot or Thermomix to prepare my almond buns?
Of course, I used the kneading program to prepare the buns dough and the grinder program to prepare the almond flour, the confectioner's sugar and the almond paste for the filling. 
How to prepare the almond filling?
Just mixing almond flour, confectioner's sugar and butter, the butter will give the filling an amazing texture to spread the filling on our buns.
What types of yeast are in the almond buns recipe?
First we will use fresh yeast or instant yeast for bread, and we will also add some baking powder to the buns dough. 
That's why we will have a really fluffy and delicious dough. 
How to preserve my Swedish almond buns or karlsbader?
If you can not consume all the almond buns in 2 or three days, we can freeze them once they are cool after baking, this way we can enjoy them just defrosting the buns room temperature. They freeze like another sweet breads.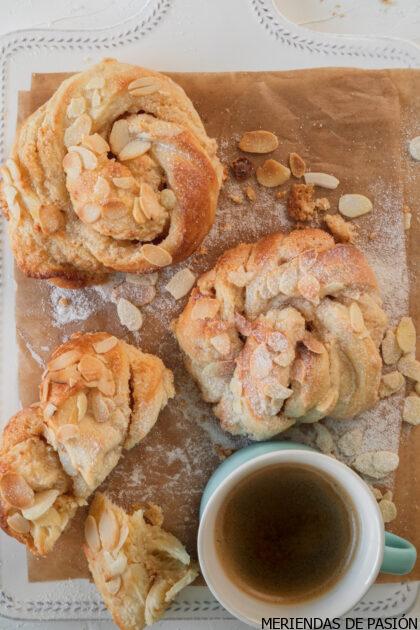 Are there any spices on the karlsbader?
I've baked the buns with no spices on it, just the almond flavor, but if you like cardamom you can add some cardamom powder on the dough when you knead it. 
How to form the almond buns?
The easiest way is to extent the dough on a rectangular form with the help of a rolling pin.
After that you can spread the almond filling on half of the dough using a spatula or spoon.
Fold the other half of the dough over the filling.
Cut ribbons of 1 inch wide. 
Twist the dough into a spiral into a "knot".
Don't worry if the form is not perfect or the almond filling is all over the dough, it will be crunchy and delicious.
If you think this is too difficult, don't worry, just form a log with the dough and cut it like you do to bake cinnamon rolls. 
I've you like nuts as much as I do, here are some other recipes you'll also love:
Almond Buns (Karlsbader)
Ingredients
Dough
1

cup

Milk

2

oz

Fresh yeast

1/2

cup

Sugar

5+1/4

cups

Weak wheat flour

2

tablespoons

Weak wheat flour

2

tablespoons

Baking powder

1+1/2

sticks

Butter

At room temperature

1

unit

Egg
Filling
7

tablespoons

Butter

At room temperature

1/4

cup

Confectioners sugar

1/4

cup

Almond
Instructions
If we use instant yeast, dissolve the yeast in part of the milk previously heated.

Add the sugar, flour, pinch of salt and the baking powder.

Add the milk and the egg and start kneading.

We must knead until we have a nice dough that doesn't stick to our hands.

Leave the dough rise for 1 hour.

We prepare the filling mixing almond flour (I did it myself with the kitchen robot), confectioners sugar and butter.

Extend the dough with a rolling-pin forming a rectangle.

Extend the filling over the extended dough and bend the dough by the middle covering the filling.

With a sharp knife we split the filled dough in stripes. Then form the buns like we are knotting the stripes. Don't worry if some filling gets out of the buns; it will be caramelized and delightful.

Put the buns over the oven tray and let them rest for an hour. Then brush them with the whisked egg and decorate them with almond slices.

Preheat the oven to 356ª Fahrenheit (180º Celsius).

Bake the chocolate rolls for 25-30 minutes 356º Fahrenheit (180ºCelsius) until they brown. It will depend on your oven. 

Cover your buns with some confectioners sugar and enjoy!