HOW TO PREPARE AN ASTURIAN CHEESE BOARD
I love this Asturian cheese board with 5 Asturian Cheeses that have Protected Designation Origin, what means that they can online be made on this Spanish  Northern region that is recognized by official rules to produce certain foods with special characteristics related to location protected.
The Protected designation Origin from these Asturian cheeses means that the production and the ancient and traditional ways of manufacture the cheese, with animals feed on the area, and following traditional methods, will be protected for all of us to still enjoying the tradition of the flavor and the culture of the area.  
Asturias, as you probably know, or need to discover soon, is well know due to its amazing gastronomy and love for food.  I am probably biased, because of course, is my homeland, and I love to eat, as you probably know.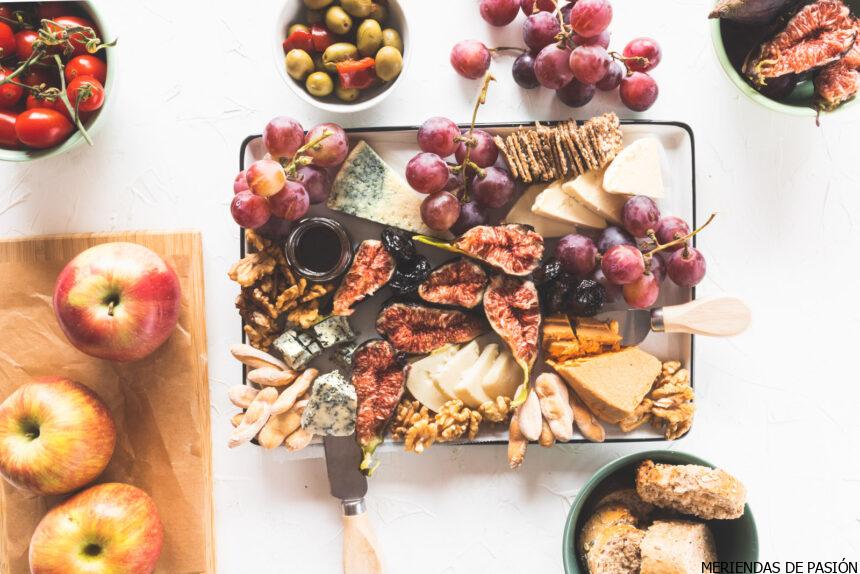 Asturias is a Northern Spanish region, that is very rainy and cloudy, and most of the tourism that travel to Spain is seeking for sunny places, so I suppose, that it will take some time to Asturian gastronomy to be known outside of our borders. In case you want to read a little but more about Asturian gastronomy on this CNN article named "The unsung cuisine of Spain's comfort-food capital, Asturias". With the title you can understand that not many foreign tourists visit the region nowadays. In fact, they describe the region this way "The best part is, Asturias remains so far off the tourist track that — at least for now — you're more likely to run into herds of cows than hordes of selfie-snapping foreigners". Any cons? you will need your google translator if you visit Asturias because most of the restaurant menus are not translated and I always see Way of St James pilgrims struggling with restaurant menus on the cities.  
Part of the famous Asturian gastronomy fame is related to their cheeses, there are more than 50 types of cheeses from Asturias, but I must tell you, if it is the first time that you taste a cheese from Asturias, you must know that most of them have a pretty intense flavor.
I am not an expert on cheese, but just trying to share my love for them, I can tell you some things about the 5 Types of Asturias Cheeses that have Protected Designation of Origin in 2021:
– Afuega'l Pitu.
Afuega'l Pito cheese, and especifically the orange version, with paprika, that you can see on the cheese board, looks different due to its orange color and the flavor is intense, very original and the texture is creamy. It's a cow milk cheese, made with paprika, and easy to find in many Spanish supermarkets. It's one of the oldest Asturian cheeses, and you can find it also "white" or without paprika.
Talking about the name, in Asturian means "asphyxiate a chicken or a neck" that sounds strange, but with some humor we can interpret that was said due to the thick and creamy, crumbly cheese texture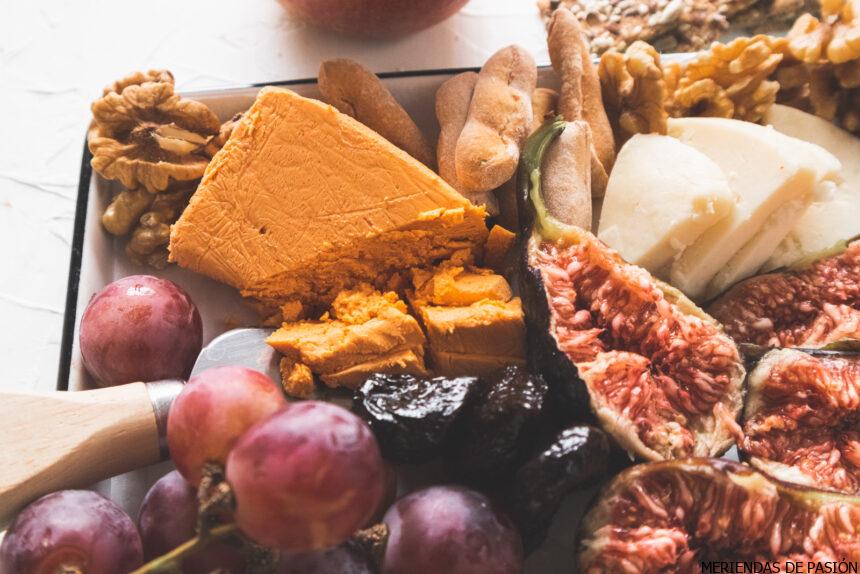 As a curyosity, tell you that Jose Andrés, the famous Asturian chef that works in United States, is investor of Rey Silo, one of the small cheese factories that produce Afuega'l Pitu cheese, and they created, due to Jose Andrés's investment, one new type of blue cheese called "Mama Marisa" that I am looking forward to find in Madrid to taste as soon as possible.
How to serve Afuega'l Pitu cheese?
I've know very fan people of enjoying Afuega'l Pitu cheese with honey or with poached eggs, just tell me what is your favorite combination if you taste them. I prefer the mix of the spicy paprika flavor and the poached eggs, the contact is amazing.
– Gamoneu
This cheese has an intense scent and a "spicy" flavor, that reminds the blue cheese taste, but different at the same time. Blue cheese lovers will need Gamoneu on their lives. This cheese is made on Picos de Europa Mountains and Cangas de Onís, and is made with three different types of milk, cow, sheep and goat. 
Many people told me that is perfect to cook cheese sauces, I am just telling you, because with pasta must be the best cheese ever.
– CASÍN
Casín Cheese is a fatty chese, handcrafted with raw cow milk, and like the other 4 cheese on the board, is protected by Designation of Origin and hac¡ve to be made on the Caso, SObrescobio and Piloña area. 
Again, we are talking about an intense taste cheese. Don't mislead yourself because this cheese looks mild, the flavor is not mild at all. 
– LOS BEYOS
It's a cured cheese, could be firm or semi-firm, made with cow cheese (I know, Asturias has cow cattle and milk production tradition) that is made in Los Beyos gorge, that you must visit because is a beautiful place.
– CABRALES
Probably one of the most well-known cheeses from Asturias that you can find on many supermarkets. 
As you probably know is a cow milk cheese, with an intense scent and flavor, a blue cheese, perfect to serve with dry nuts, and, why not? to cook many sauces with it.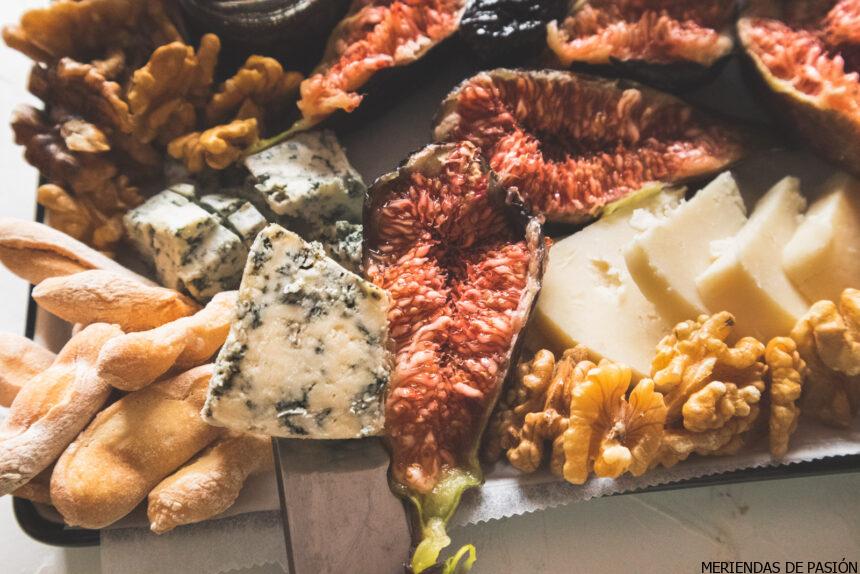 Wich ingredients do I need to create the best Asturian Cheese board?
First of all, of course, you will need to buy your five Asturian cheeses. I know many small shops that ship on Spain, like La Queseria, placed on Gijon,  but for sure there are cheese shops that can sell them all over the world, and if you need any advice we will help each other finding them.
Next, look for seasonal fruits, because they will combine perfectly with the powerful taste of the cheeses. 
Once you will have your cheeses and your fruit is the moment of thinking about the dry nuts. In my opinion walnuts are compulsory; walnuts and Cabrales cheese are always a good idea. 
Finally, bread, you can find a nice french bread and add also some rusks to the board.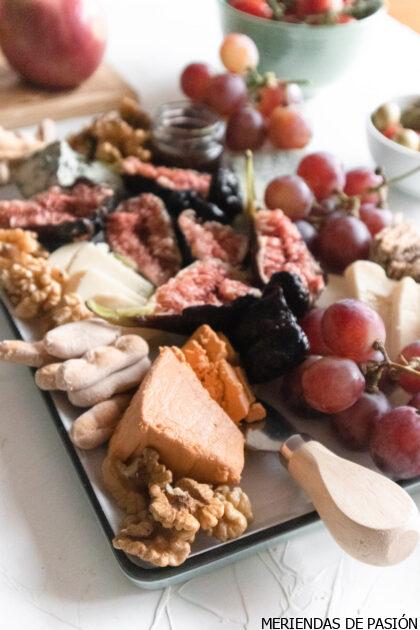 Asturian Cheese Board
Ingredients
30

g

Afuega'l Pitu Cheese

30

g

Casín Cheese

30

g

Gamoneu Cheese

30

g

Los Beyos Cheese

30

g

Cabrales Cheese

20

g

Honey

Dry nuts

Grapes

Figs

Dry plums

Rusks

Freshly baked bread
Instructions
First of all, place the cheese portions on the corners or sides of the board.

After placing the cheeses place the grapes and the fruits in the gaps between cheeses.

Once you have placed the cheese and the fruits is the moment of adding the dry nuts on the space between the fruit and the cheese.

Place also a small bowl with honey or jam to give the sweet contrast with the intense cheeses.

Finally add rusks or toasted bread. 

 If you like it you can place also bread on another board, or even better, bread, tomato and olive oil and ¡enjoy!
If you are looking for more Asturias recipes, you can taste this Asturian Marañuelas. You're gonna love them!