AUTHENTIC TORTILLA ESPAÑOLA RECIPE (SPANISH TORTILLA)
Spanish tortilla or tortilla española is always our favorite savory snack in Spain. It doesn't matter if we are talking about our mid day snack with coffee (yes, we have our piece of Spanish tortilla with coffee) or our afternoon snack, there will be Spanish tortilla. And when we are talking about authentic Spanish tortilla there is olive oil, a frying pan, potatoes, eggs, and in mi case, onion involved.
What to serve with Spanish Tortilla or what we need to organice our Spanish tapas board?
For me it's clear: homemade Spanish tortilla, bread with fresh tomatoes and olive oil, Spanish cured jam and olives, just to start.
To prepare the Spanish tomato bread we use if we can find them "ramillet" tomatoes. They are juicy, and perfect to prepare your bread, but if you can find them, any ripe tomatoes with extra virgin olive oil, salt and french bread will be perfect and delicious .
To be honest, there is not one recipe to cook Spanish tortilla; each family has its own. always happens with typical recipes, but for me onions, potatoes and olive oil are always the winner combination.  Even if you are not a onion lover, just give it a try, cook medium heat the onion and the sweetness will combine with the eggs to have the best Tortilla Española you will ever tasted.
Could I add chorizo to my Spanish Tortilla?
Of course, chorizo is accepted on Spanish Tortilla and you can find my Spanish Tortilla with chorizo recipe on this blog, also green peppers and other vegetables, but the traditional one has the three main ingredientes: potatoes+onion+eggs.
I've been reading many Tortilla Española recipes lately on huge recipe websites that honestly, are not authentic Spanish tortilla. So congratulations to New York Times and some other ones, because happily, their recipes are real, and please, forget about other suggestions. This is not a tortilla!
How to cook prepare the easy Spanish Tortilla recipe?
First things first, you will need a non-stick pan and olive oil. 
To cook the potatoes and the onions I recommend medium heat once the oil is hot enough and wait them to cook until they are tender enough. 
After that you can add the potatoes to the egg batter and cook one side of the Spanish Tortilla medium heat. 
To turn the omelette upside down you must be really careful, there is hot oil involved, you can use a plate and take your time to turn it down carefully. 
How to serve Tortilla Española?
Once again, there are many options. Some people prefer the omelette freshly cooked and another people like it the day after. 
You can just choose your best option and is not a bad idea to cook your Tortilla Española the day before and serve in the moment you have people around, or just enjoy the Spanish tortilla leftovers the day after with a good salad (or for breakfast. It's accepted as breakfast in Spain). 
Could I freeze Spanish tortilla?
Is not recommened. You will loose the texture. Is preferable to have the tortilla leftovers the day after cooking.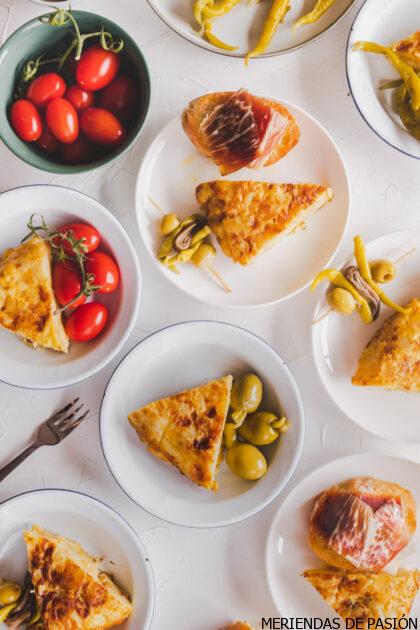 Authentic Tortilla Española Recipe (Spanish Tortilla)
Ingredients
5

unit

Eggs

L size

6

unit

Potatoes

Medium size

1/2 or 1

unit

Onion

1

cup

Olive oil

Salt

Pepper
Instructions
First we peel the potatoes and cut them into small pieces, small squares are perfect. We don't need them to have perfect shapes.

Once we had cut the potatoes we add salt and black pepper.

We cut one onion into small pieces and set aside for later.

In a big bowl enough mix the eggs, add salt and pepper and set aside for later. 

Preheat your olive oil on your pan, around 1 inch will be enough to fry our potatoes. 

Once the oil is hot enough we can start frying our potatoes at medium heat (using a 1-9 ceramic stove, being 9 the maximum heat, 6 is perfect). The oil must almost cover the potatoes to let them cook uniformly. Now we must be patient and let the potatoes cook well until they have a tender-crunchy texture.

When the potatoes are half cooked we can add the onion to the frying oil to let the onion cook with the potatoes.

When the potatoes and onions are fried enough we can take out them from the oil with the help of our slotted spoon to retire the excess of oil. 

Now we can add the potatoes and onion to the bowl where we have the whisked eggs and mix it well together. 

We can use the same oil where we prepared the potatoes to prepare our omelette, but we will have to retire some if there is an excess of oil, we won't need more than half inch. 

With our slotted spoon we put the eggs and potato batter on the hot oil.

We let the batter fry for one side medium heat, be careful not to burnt the base. 

With the help of a plate and being very careful we will turn the omelette upside down.

Before cooking the other side add some oil again not to burn the other side and let it cook again. 

Retire from the stove and enjoy your Tortilla Española.