CHOCOLATE ROLLS
Chocolate rolls? Yes, rolls as delicious and fluffy as famous cinnamon rolls but, this time, our rolls are made with cocoa and chocolate as ingredients. Just the perfect chocolate treat.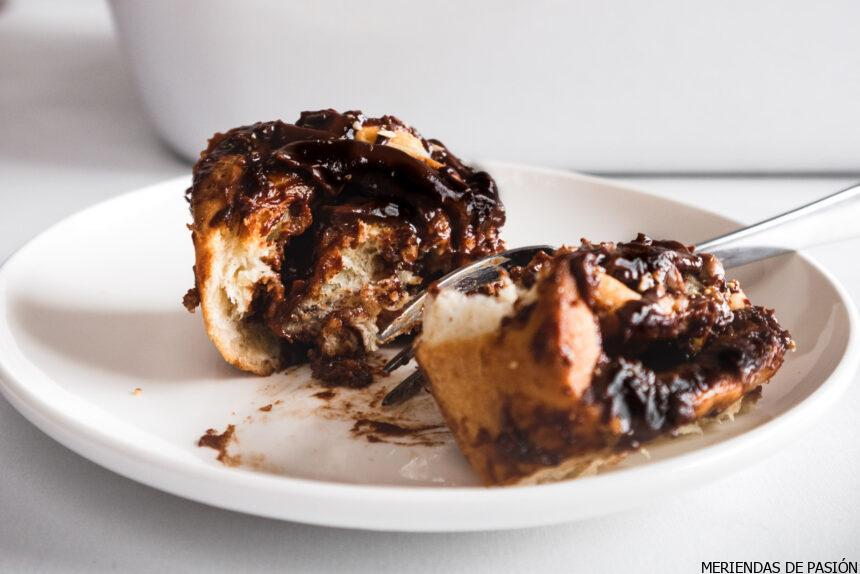 The recipe, with some Swedish inspiration, but not too string, they don't have cinnamon or cardamon as ingredientes, can be filled with chocolate, cocoa, sugar and almond. The result is chocolatey and not too sweet.
The original dough we will use to bake our roll is from one of my favorite books, at least these months. I am talking about "The Nordic Baking Book". In one of its chapters there are many recipes to bake cinnamon rolls, with different textures, so I adapted one of them to enjoy the rolls with chocolate. 
Chocolate rolls recipe takes 2-3 hours to bake, but just because the hour you will need to let the roll dough rest. The recipe is simple and you will have rolls for at least 6-8 people to enjoy these gooey and chocolatey treat that they will love.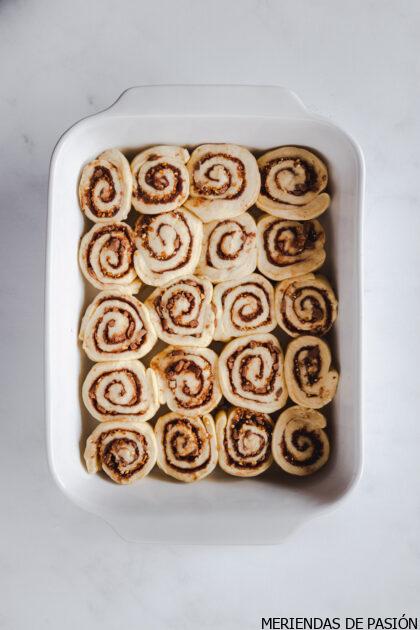 Are chocolate rolls like Papa John's rolls?
If we talk about the dough recipe, is not exactly the same, but the idea is absolutely as delicious as their idea; fluffy and chocolatey buns, really creamy when they are freshly made. So you can bake your own Papa Rolls or Chocolate Rolls  homemade version!
What are the ingredients for the filling?
In this recipe I used cocoa powder (non sugar one) with butter and dark light sugar, and not, I din't add cinnamon. I've read some recipes that add cinnamon too, so if you taste the recipe with cinnamon let me know in the comments if you liked it. 
I also added milk chocolate small chunks, one chocolate praliné that I really love, but any chocolate you like in small chunks will be perfect.
Finally, you can dust with almonds finely chopped to give the chocolate rolls some crunchy texture, just be sure that the chunks are small.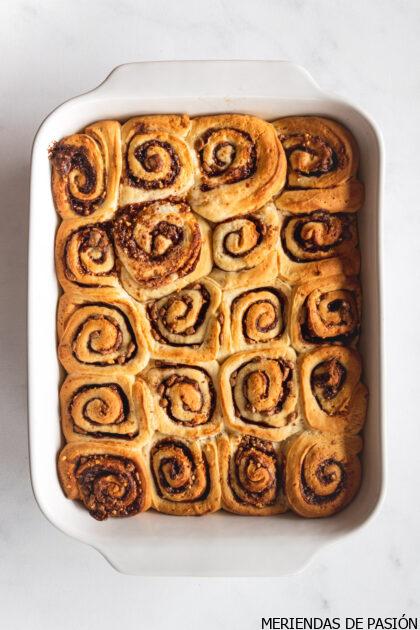 How to prepare the Swedish style rolls dough?
The most important thing is to use bread flour, it will helps you to have fluffy recipe with all the butter. 
On the other hand,  you must knead with patience, 15 minutes on your Kitchen Aid or kitchen robot are not too much, and by hand you will need a dough that doesn't stick to your fingers too and let it rest covered for one hour before forming your rolls. 
How to preserve the rolls if I have some of them left?
Let them cool once they are baked and freeze them. In this case, I don't recommend adding any chocolate ganache or frosting. You can add the frosting just before consuming your rolls.
Chocolate Rolls
Ingredients
Dough
1+1/4

cup

Milk

1

tablespoon

Milk

1

stick

Butter

Room temperature

2

tablespoon

Butter

Room temperature

4+2/4

teaspoon

Instant yeast

1

unit

Egg

1

cup

Sugar

2

tablespoon

Sugar

1

teaspoon

Salt

5+1/2

cup

Bread flour

00 flour
Filling
1/4

cup

Light brown sugar

1/4

cup

Butter

Room temperature

2

tablespoon

Cocoa powder

1/2

cup

Chocolate

Finely chopped

Finely chopped almonds

Optional
Chocolate ganache (optional)
3

ounce

Dark chocolate

6

tablespoon

Cream
Instructions
First, if we use instant yeast, we will mix it with the milk, warm and let it rest for some minutes. 

Now, we can start preparing our rolls dough. We will mix in our stand mixer or a bowl the flour, salt, sugar and fresh yeast.

Next, add the milk and the egg and start kneading. 

Now we add the butter bit by bit while we keep kneading until we have a nice dough that doesn't stick to our hands or the stand mixer bowl. It's a dough with butter and eggs , very rich, so knead for 10 or 15 minutes is not too much.

Let the dough rest for 1 hour covered with film. 

Once the dough has risen cut it in two pieces and knead it with your hands and extend it with a rolling-pin forming a rectangle. You will have two rectangles with the quantities on this recipe, enough to bake rolls for 6-8 people.

Extend  the melted butter using a brush or a spoon, add now the cocoa powder and sugar, and if you want some chocolate chunks and finely chopped almonds.

Roll the dough gently to have a cylindric form. 

Now you can cut the dough into 3 cm sections and place them on your baking mold or cupcake molds if you prefer to bake them individually with some space between rolls to let them rise.

Let them rest covered again for 1 hour room temperature or overnight into the fridge.  

Bake the chocolate rolls for 20-25 minutes 356º Fahrenheit (180ºCelsius) until they brown. It will depend on your oven. 

Now you can prepare the chocolate ganache heating the cream low heat and when the heat starts bubbling retire from heat, add the chocolate chopped and whisk well until smooth. 

Cover your chocolate rolls with the chocolate ganache and add some almond finely chopped to decorate and enjoy!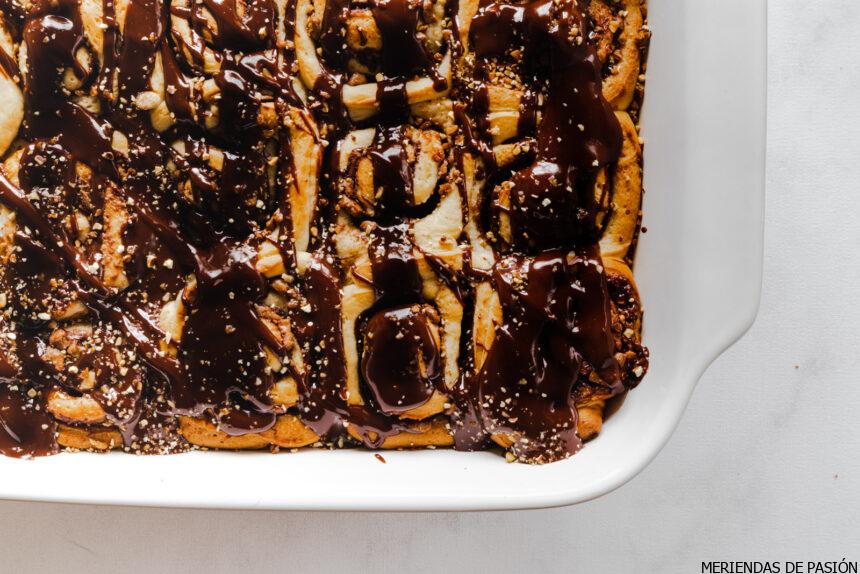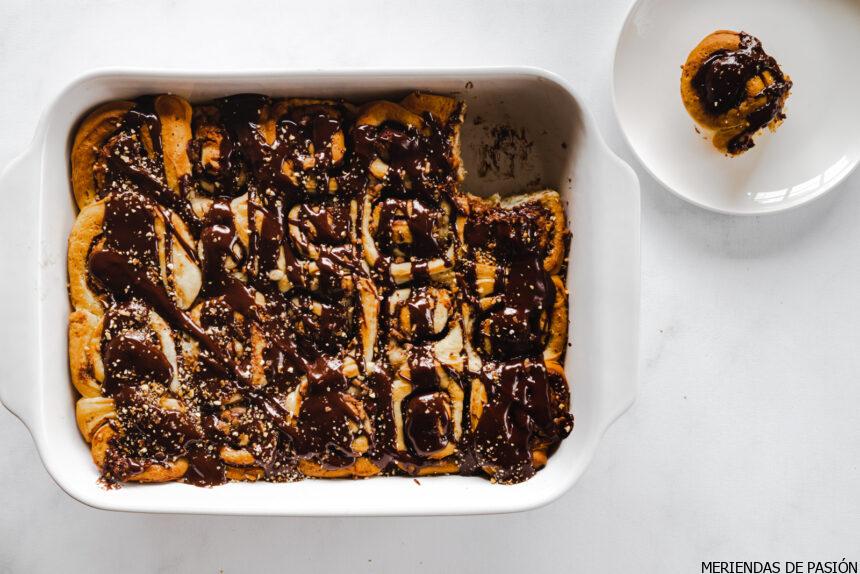 If you still need more chocolatey recipes you can try our Chocolate Babka . It is definitely one of our greatest hits.