GLUTEN-FREE GRISSINI
Grissini  or breadsticks are the perfect snack, this chickpea flour grissini are also easy to bake, vegan  and gluten-free.
Grissini are the Italian version of breadsticks and are crunchy and  delicious served with appetizer or tapas.
This chickpea flour recipe is easy and is made with just a few ingredients, my perfect excuse to test gluten free and vegan recipes, served with hummus and guacamole and baked with different seeds are really healthy and tasty. What about serving a vegan board with these breadsticks and different hummus?
What ingredients do I need to bake gluten free grissini?
Chickpea flour, cornstarch, olive oil, baking powder, baking soda, salt and water. You can also add the seeds you like. 
If you have never used chickpea flour before, is easy to find in big supermarkets and you can experiment with it, coated fish and omelettes can be made with chickpea flour and the results are tasty.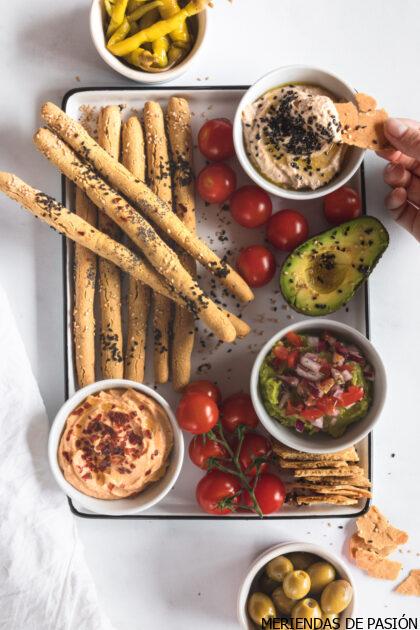 Is there any difference between wheat flour grissini and chickpea flour?
Yes, chickpea flor breadsticks are less crunchy and you will feel satisfied before. When you will prepare the batter you will probably think that is impossible to form them but don't worry. Let the batter rest into the fridge for half an hour and shape your grissini.
You can use a rolling pin and two baking papers and prepare a chickpea thin bread, it will be crunchier, I made it with part of the bread dough and love it too.
How to decorate grissini or breadsticks?
I used a EVOO spray and added sesame seeds, black sesam, poppy seeds and paprika flakes on top, you can choose your favorites.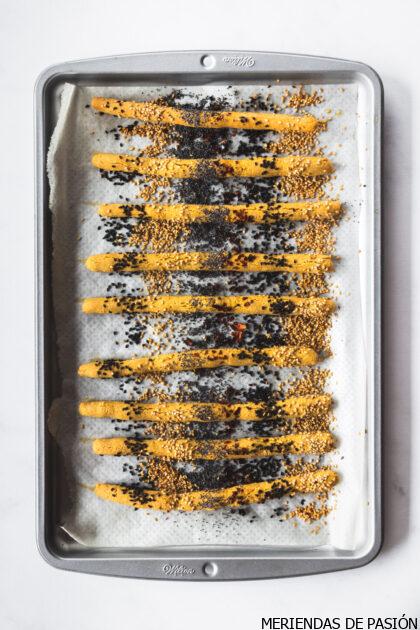 Gluten free Grissini
Ingredients
1

cup

Chickpea flour

1/4

cup

Cornstarch

1

teaspoon

Baking powder

1

teaspoon

Baking soda

1

teaspoon

Salt

1/4

cup

Olive oil

1/2

cup

Warm water

Seeds

Sesame, black sesame, poppy seeds, etc.
Instructions
In a bowl mix all the dry ingredients: chickpea flour, cornstarch, salt, baking powder and baking soda.

Add warm water and olive oil and mix well, you will have a sticky batter.

Cover with film and let it rest into the fridge for half an hour.

Preheat the oven 356º Fahrenheit (180º Celsius).

Shape the grissini, dust with olive oil and add the seeds you like.

Bake for 10-15 minutes until the grissini are golden and crunchy.
And if you want something really good to dip these gluten-free grissini into, I recommend this recipe for Vegan Nut-Free Mascarpone. It's amazing!