CORN FRITTERS
Corn fritters are not an easy to find brunch in Spain, but I discovered them in a restaurant in Barcelona, and since that day I love them. If you have never tasted corn fritters, for me they are similar to pancakes, but savory and with fresh corn and green onions. That makes them crunchy you can add them cheddar cheese to, and they will be the perfect savory brunch.
Reading about corn fritters origin, they are from the Southern EEUU States and Mexico, where they produce lot of corn, and like it happens with omelettes, there are many versions. Egg and corn are common, but the can be made with jalapeños, cilantro, cheese, lime and spicy peppers.
I have cooked with them a huge brunch, hat I reconoce could seem too much, but we have to celebrate that Meriendas de Pasión has been nominated as one of the best 2021 Asturian blogs in the "Best Web of Asturias Award" organized by the local newspaper El Comercio. 
To celebrate it we organized this 4 people brunch with bacon, poached eggs, guacamole and pico de gallo. We served it with the Blueberry Pancakes, I can tell you that there were no pancakes left, and that corn fritters were a success with bacon and with jalapeños and cheese.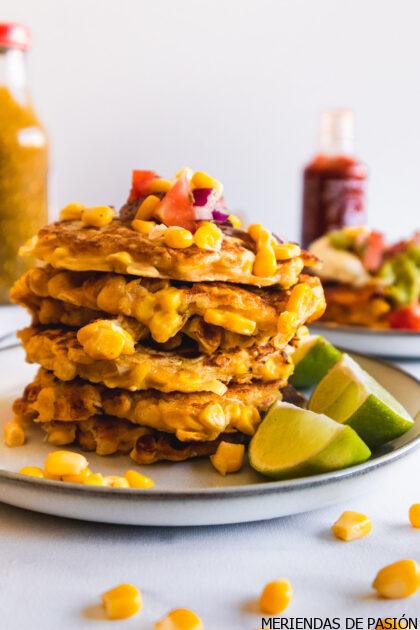 I was in the mood of tasting American recipes, so I marinated the bacon in maple syrup and sriracha and the recipe was a succes. If you don't eat bacon you can use the sauce to marinate tofu or hallow cheese and they will be amazing.
The egg yolks look incredible, I know. That's beacuse I found "country" eggs in a website called Mercado Local, were small producers sale their local products. I've tasted eggs and honey and I am very happy with them, and supporting local producers and, I know, that egg yolk looks amazing.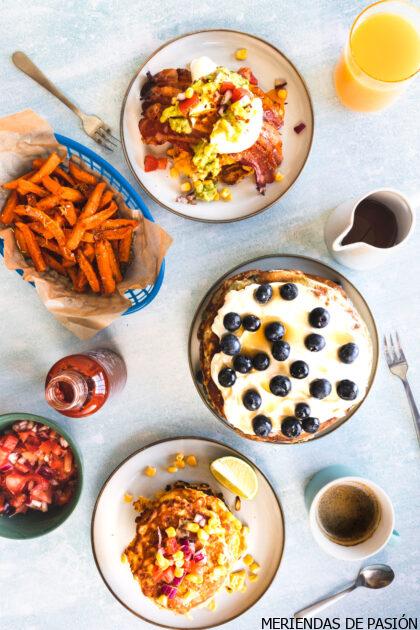 If your don't know how to prepare pico de gallo, I love it for dinner on Summer days. It's so fresh, you can prepare it with tomatoes, onions, lime, salt, and if you like them, jalapeño peppers and cilantro. It's very similar to the trampó that we make in Mallorca Island.
If you like spicy food you can add jalapeños and cheddar cheese to your corn fritters. They are amazing with the spicy flavor, and this option is perfect to cook the corn left from another recipes in 10 minutes, easy and tasty.
If you have fresh corn or freeze corn it would be perfect, and if you are going to use canned corn, try to find the non added sugar one, it will be healthier and perfect for this recipe. Just be sure you drained it.
To cook your corn fritters: the crunchier, the better. You can use a greased pan or bake them in the oven. We tasted both and love the baked ones besucase there are soo crunchy.
Corn Fritters
Ingredients
3

cups

Corn

1

cup

All purpose flour

1

teaspoon

Baking powder

1

teaspoon

Salt

2

unit

Eggs

L size

1/2

cup

Milk

1-2

unit

Green onions

Olive oil to cook your corn fritters

Cheddar cheese grated

Optional
To serve
Bacon

Poached egg

Guacamole

Tomates and onion

Cilantro

Jalapeños
Instructions
If you use canned corn drain it well. 

In a bowl whisk the eggs and the milk, and add the flour, baking powder, salt and pepper.

Mix with the corn, green onions and cheddar cheese (optional). You don't need to cook the green onions before adding them to the batter.

Grease your pan or baking tray with olive oil.

Preheat and serve a spoon of the batter on the pan.

Turn the fritters over until they will be golden and crunchy on both sides.

If you cook them in the oven you will bake them for at least 15 minutes 392º Fahranheith (200º Celsius) to have crunchy corn fritters, but every oven is different, so take a look at them.