GILDA & PINTXOS
When I talk aboya pintxos, gildas or tapas I always think about a relaxing moment you share with your friends or family. I read that in Spain, the main purpose of tapas is not "to eat", but "to socialize" with your friends with food and drinks.
Tapas or "the cultural tradition of tapas" has been declared Inmaterial Cultural Patrimony by UNESCO, so let's celebrate it with some friends. To prepare the "pintxos board" just took me 20 minutes and we really enjoyed it, it's the perfect sunny day plan.
When we talk about Spanish tapas we always need olives, there are hundreds of different olives, and they are healthy, tasty and rich in fiber. Two of my favorite olives types are manzanilla and gordal olives.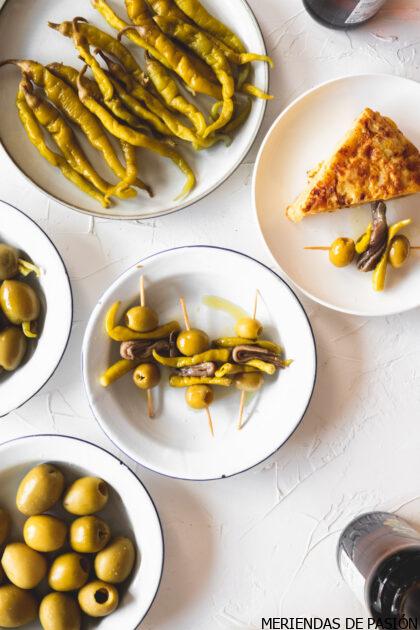 The gordal olives are pretty good to play with them, you can fill them with peppers, or piparras. That gives them a spicy touch, that is perfect with some drinks like wine or cider. I buy them in Spain in the Aceitunas Lopez shop, they have also cheese and pepper stuffed olives and chorizo stuffed ones, that I need to taste as soon as possible.
Talking about tapas we need also some toasted bread with tomate and extra virgin olive oil, such a simple and amazing tasty pleasure. Served with olives and piparras is perfect, because the mild flavor combines well with the spicy. I recommend to use tomates de restregar but sometimes they are not easy to find, so we can use ripe (not too much) tomatoes and a blender. 
Once we have our pan tumaca or toasted bread with tomato and olive oil, we need a good jamón serrando and cheese. Although, if you have vegetarian guest, you can serve some hummus and spiced chickpeas baked in your oven, they are sooo good.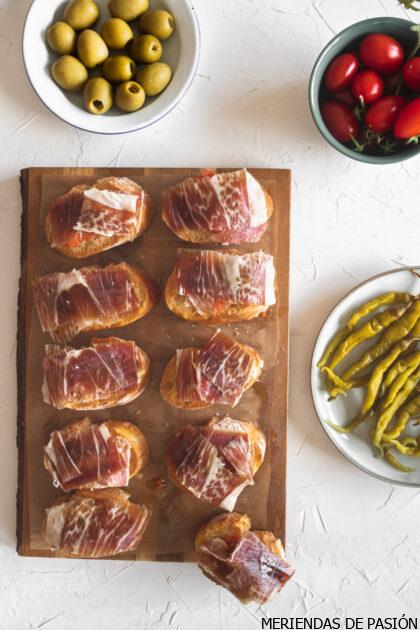 Today that I feel like cooking very typical Spanish, I recommend also to serve a classic Spanish Tortilla with potatoes and onions, or even better, a Spanish Tortilla with Chorizo.The second one is my favorite, the spicy chorizo combines pretty well with the sweet onion. You can find my recipe clicking in the link. Just as a reminder, the best part of Spanish omelettes is that you can cook them the day before and serve cool or just after some minutes into the microwave.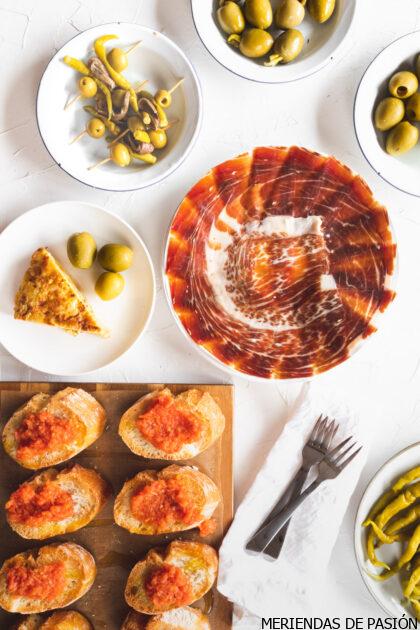 Just in case you need the recipe, here is the link to my Garlic Herbs Twist bread, perfect to serve with cheeses if you have some time to bake the bread before you organize the tapas meeting. The tapas recipes are never too much, that is part of the culture, to have son many recipes that you can tasty and enjoy the different flavors, the excuse to celebrate life with friends or family. 
To finish for today with the pintxos and tapas recipes, that could be too long, I will add the Gildas recipe, one of the easiest and flavorful recipes. 
As a curiosity, Gildas are typical from San Sebastian (Basque Country) a really beautiful city that is defined for their love for good quality food. The Gildas were created in Casa Vallés bar, where they serve them from 1940. Their name, is said to come from Gilda, Rita Hayworth's film, a film from the 40's, that was famous and spicy, as the pintxo.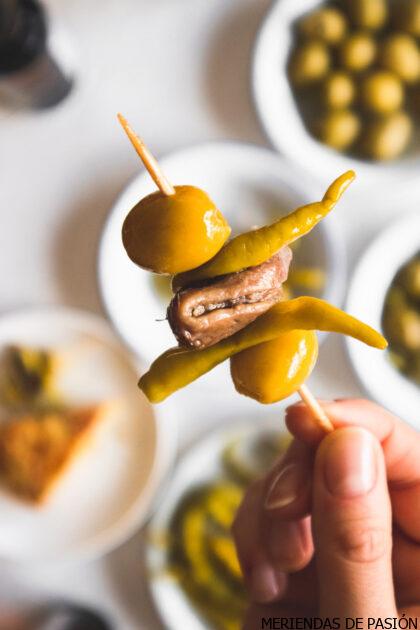 Gildas
Ingredients
Green pitted olives

Manzanilla pitted olives

Good quality anchovies

Green spicy peppers

Piparras

Toothpicks to form the gildas
Instructions
Form the gildas placing on the toothpicks, like a brochette, in this order: one olive, one pepper, one fold anchovy and one olive. 

Serve with olive oil and some bread as a side. 
Notes
You can add to this basic recipe a mussel, red pepper, pickles, good quality tuna chuncks in olive oil or cheese, one of my favorites.
It is recommended to serve your gildas with a good wine or cider, because the spicy touch, salty and with vinager, is perfect to be served with these drinks.