ENSALADILLA RUSA. SPANISH POTATO SALAD
The Spanish ensaladilla or "Russian Potato Salad" is one of our favorite Spanish tapas, is our Spanish potato salad with mayonnaise, what we have as a snack on summer days.
There are thousands of Russian potato salad recipes, this recipe is based on Martin Berasategui's proposal from one of his books, it has pickles, prawns and avocado, just fresh and delicious for our tapas and vermut plan.
If you don't know who is Martin Berasategui, he is one of the best known Spanish chefs, from Basque Country, who owns Michelin's Stars restaurants on Basque Country .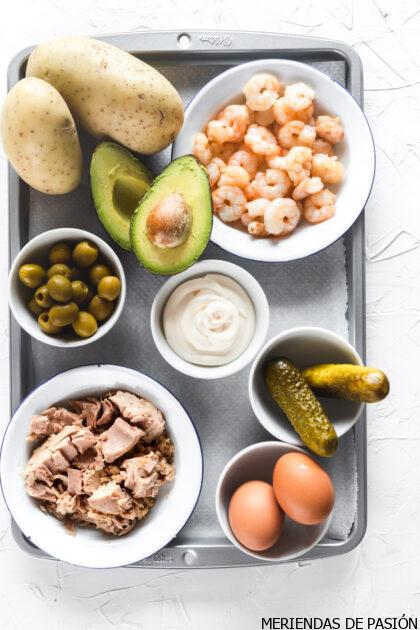 My only cooking tip is to choose good quality ingredients: nice potatoes to boil, tasty avocados and good quality tuna. Tasty ingredients will be the secret to enjoy the perfect Russian Potato Salad. 
You can use the instant pot to prepare the ensaladilla ingredients. Cooking time to prepare he potatoes is around 6 minutes, depending on the size of the potatoes. I use to boil the potatoes using the instant pot and boil the eggs in a small pan at the same time, this way in around 10-15 minutes all the ingredients will be ready and cooling.
I suppose that you all know how to prepare potato salad, but just in case is your first time, remember that ingredients must be cool before mixing and adding the mayonnaise. That's why you can prepare boiled potatoes and boiled eggs in advance, and mixing all the ingredients before serving your Russian salad.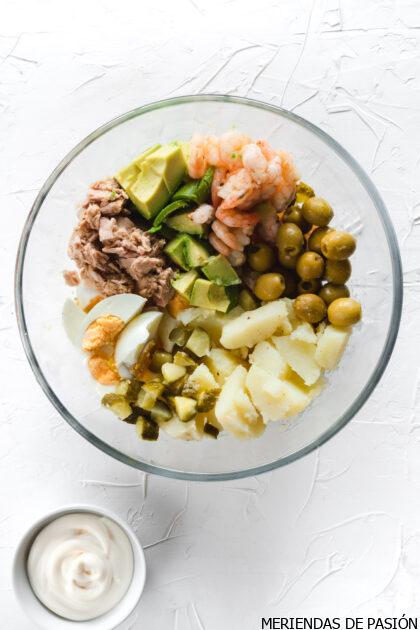 Spanish Potato Salad
Ingredients
3

unit

Medium size potatoes

2

unit

Eggs

1

unit

Avocado

100

g

Cooked prawns

1/4

cup

Olives

(anchovy stuffed if possible)

2

tablespoon

Olives

(anchovy stuffed if possible)

1/4

cup

Pickles

3

unit

Tuna cans (drained)

5oz

Mayo sauce.
Instructions
Cook the potatoes in boiling water for around 30 minutes. If you cook them already peeled and cut by half  they will be more tender. You can use an instant pot to cook your potatoes, they will be ready in around 5-6 minutes.

Cook the eggs for 10-12 in boiling water. If you are adding the eggs to the boiling potatoes in the last 12 minutes, wash the eggs before incorporating.

Let the potatoes and eggs cool. 

Peel the potatoes, and the eggs. 

Chop and mix all the ingredients

Add mayonnaise sauce and enjoy!