COCOA COOKIES
These cocoa powder and butter cookies, also called "Chocolate O Cookies" Yotam Ottolenghi's recipe has an intense dark chocolate scent and flavor, that makes them irresistible for cocoa lovers.
The recipe comes from a Yotam Ottolenghi and Helen Goh book called "Sweet". 
If you don't know the writers yet, he's an Israeli chef with many pastry shops on UK, and an essential cook book called Jerusalem, that teach us how to cook Middle Eastern dishes.   This book focus on sweet recipes, well explained and with stunning photos.
Helen Goh, cowriter of the book, has been working with Ottolenghi for more than 10 years. Born in Malaysia, she is an amazing chef with many years of experience, whose specialty are sweets, and when you will taste her recipes, you will admire her job. 
Personally I have loved another of their recipes, the blueberry and almond mini cakes. I have baked them, but didn't make the photos yet. I promise the recipe will come very soon on the blog, because they are amazing.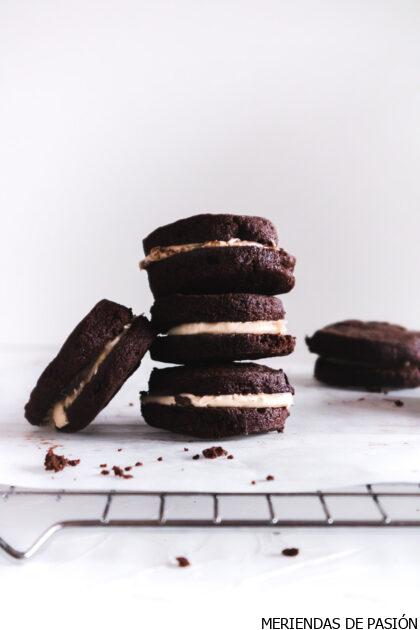 The cocoa powder cookies are easy to bake, perfect for cocoa and intense flavor lovers. They will reming you Oreo cookies, but a little but less sweet, that's why on their book they call these cookies "Chocolate O cookies" thinking about how similar they are to the Oreo ones. I have baked them with a little but more of butter than the original recipe. 
You can enjoy your chocolate cookies by their selves or filled with chocolate cream. I used Nocilla, a Spanish chocolate hazelnut praline, that is perfect with these cookies given them a sweeter touch, but you can filled them with any praline, or eat them with a glass of milk or vegetal milk.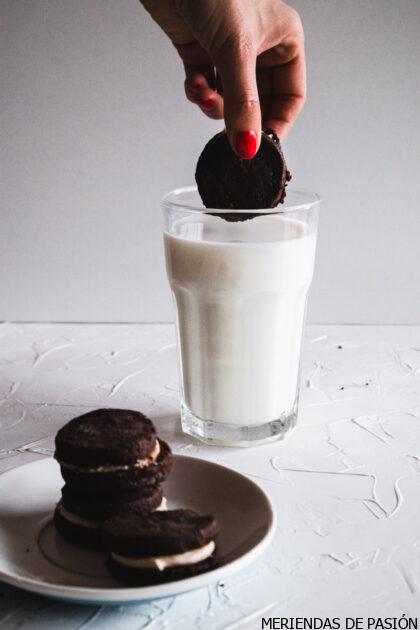 What do I need to prepare these cookies?
Dutch-processed cacao powder without sugar, a bowl to mix the cookie dough ingredients and a cookie cutter, easy peasy!
Baking tips:
To bake cookies, it will always be easier if you cool the dough some hours into the fridge covered with film before shaping the cookies. With the cacao powder, this cookie dough won't be very sticky. 
You can knead the dough slightly before cutting it and placing the cookies on the cookie tray.
Do not touch the cookies after baking for at least 15 minutes, they break easily, you can place them on a tray to let them cool after.
How to preserve the cookie dough?
You can freeze the cookies already shaped before baking or place them into the fridge for a week and bake them before serving. 
Cocoa Cookies
Ingredients
3/4

cup

Unsalted butter

Room temperature

3

tablespoons

Unsalted butter

Room temperature

1/2

teaspoon

Flaky sea salt

1+3/4

cup

All purpose flour

3/4

cup

Dutch-processed cocoa powder

Chocolate praline to fill your cookies

Optional
Instructions
In a bowl mix the butter, room temperature, and the sugar until light and fluffy.

Add the flour and cocoa shifted, the salt and the baking soda and mix until you have your cookie dough.

Cool the cookie dough into the fridge for some hours, covered with plastic wrap, you can form a log to form your cookies just cutting them with a knife.

Prepare our working surface with some flour and cut your cookies with a knife or extending the cookie dough with a rol and shipping them with a cookie cutter. Cookies must be 3 mm thick (1/8 inch). 

Preheat the oven 345º Fahrenheit (180º Celsius) 

Place the cookies on the cookie tray and bake them for 10-15minutes. 

Let the cookies cool, fill with chocolae praline, and enjoy!