SPANISH OMELETTE CON CHORIZO
Every Spanish family have its own Spanish omelette recipe, or even more than one recipe, that's why its really brave writing a post about Spanish potato omelette. I can't say this is the best recipe out there, but I can tell you that is a really good one. 
What makes this recipe special? Fried low heat the onion gives the recipe a sweet taste that gives this omelette and amazing contrast with the spicy flavor of spicy chorizo. Sweet and spicy, what a perfect combination! 
Some pieces of advice for readers overseas, or just not from Spain:
We recommend you to use olive oil. It doesn't have to be the best olive oil because you will fry with it, but olive oil gives this recipe good flavor. 
When we talk about spicy chorizo is a chorizo like this, prepared with spicy paprika, that gives it spicy flavor, but if you can't find it, any chorizo it's good for this omelette. 
To prepare our omelette we will need a bowl to whisk our eggs and mix the ingredients, a slotted spoon and a good non-stick pan. 
In Spain there are special pans to turn the omelette upside down, of course it makes the preparation easier. If we don't have one I recommend use a plate to turn the omelette upside down and be very careful not to burn ourselves with hot oil during the moment we turning it down.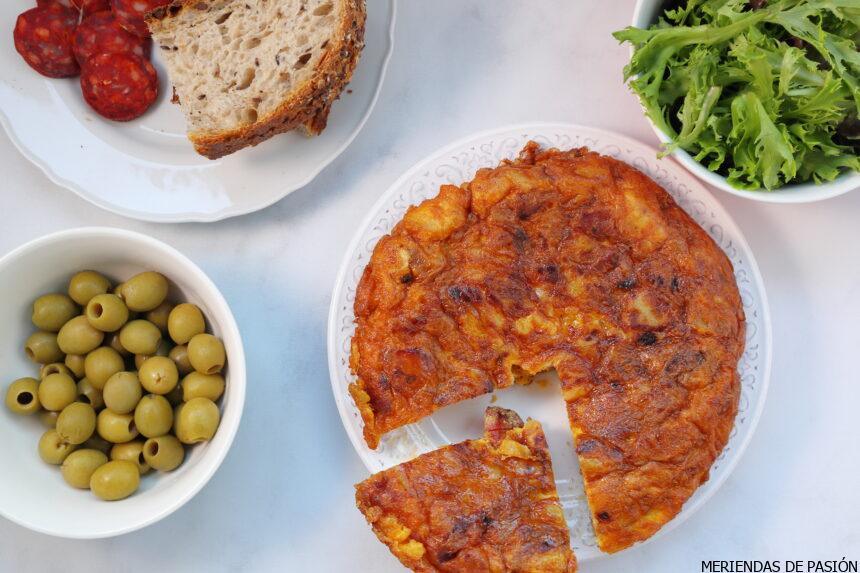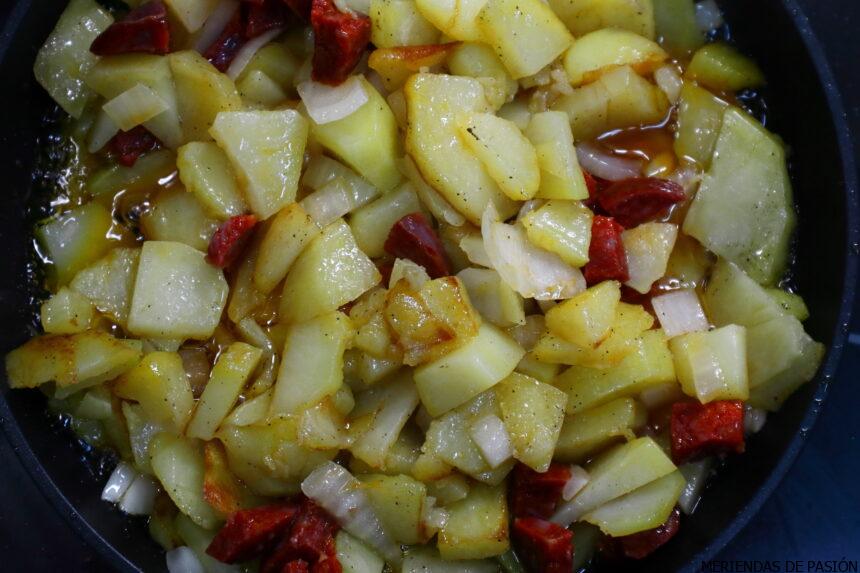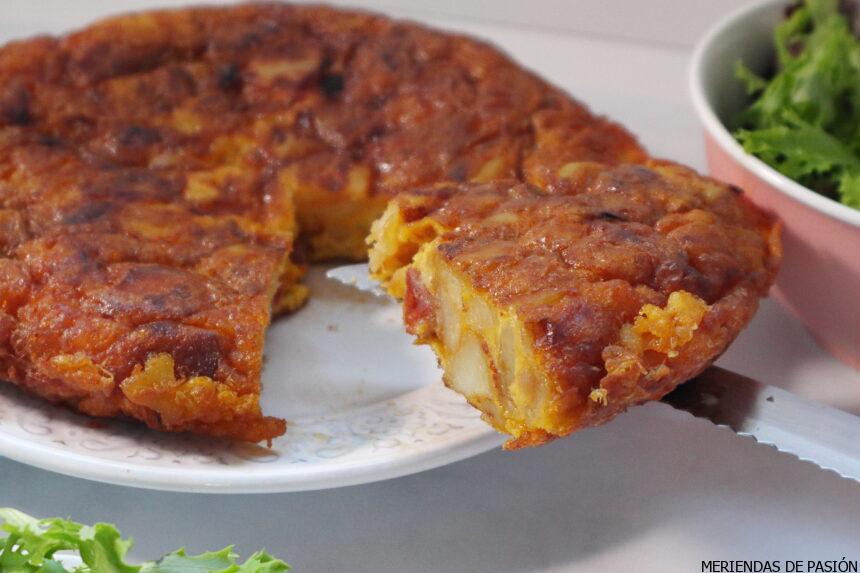 Spanish omelette with chorizo
Ingredients
5

unit

Eggs

L size

6

unit

Potatoes

Medium size

1

piece

Spicy chorizo

1/2

unit

Onion

1

cup

Olive oil

Salt

Pepper
Instructions
First we peel the potatoes and cut them into small pieces, small squares are perfect. We don't need them to have perfect shapes.

Once we had cut the potatoes we add salt and pepper.

We cut the onion into small pieces and set aside for later.

We need to cut now the spicy chorizo into small pieces and set aside too.

In a bowl big enough for the omelette mix we whisk our eggs and set aside for later. 

Preheat your olive oil on your pan, around 1 inch will be enough to fry our potatoes. 

Once the oil is hot enough we can start frying our potatoes at medium heat (using a 1-9 ceramic stove, being 9 the maximum heat, 6 is perfect). The oil must almost cover the potatoes to let them cook uniformly.

Once che potatoes start to soft we can add the onion to the frying oil to let the onion cook with the potatoes.

We add too the spicy chorizo pieces with the potatoes and the onion. 

When the potatoes are fried enough we can take out the potatoes and onion from the oil with the help of our slotted spoon to retire the excess of oil. 

We add the potatos, onion and chorizo to the bowl where we have the whisked eggs and mix it well together. 

We can use the same oil where we prepared the potatoes to prepare our omelette, but we can retire some if there is an excess of oil, we won't need more than half inch. 

With our slotted spoon we put the eggs and potato batter on the hot oil.

We let the batter fry for one side, be careful not to burnt the base. 

With the help of a plate and being very careful we will turn the omelette upside down and adding a little but of oil not to burn the other side and let it cook. 

Retire from the stove and enjoy.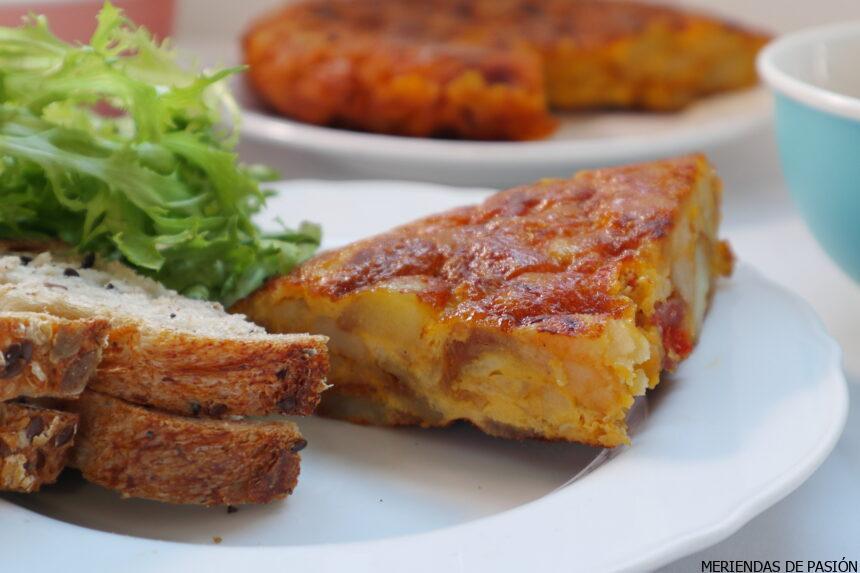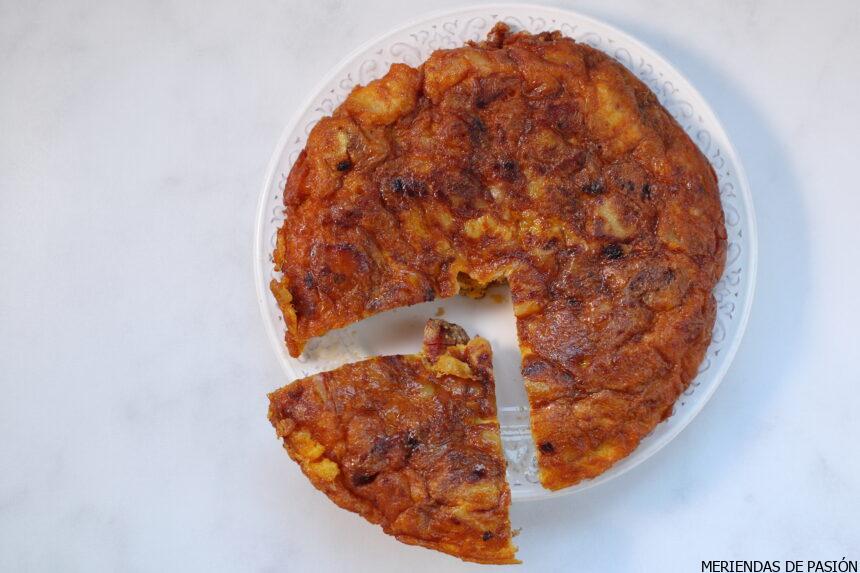 How cooked do you like the omelette depends on your point of vie; some people love it completely cooked and some people prefer to use the higher heat to let to cook on the outside and liquid in the inside. The importante thing is not to burnt the surface. 
Patience will be your friend to prepare with time and cooking slowly all your ingredients. This way the texture will be too good.  Be careful during summer if the eggs are not completely cooked. Keep it on a fresh place to preserve it. 
This recipe would be enjoyed freshly prepared, after some hours or the day after, hot or cold, as you like it.