CHIA AND COCONUT MILK PUDDING
This chia and coconut milk pudding is a healthy, vegetarian, and super refreshing snack recipe.
I know it's not entirely fair to call preparing this chia breakfast or snack a "recipe" because we're going to mix ingredients more than cook them, but if the recipe is an easy snack, all the better.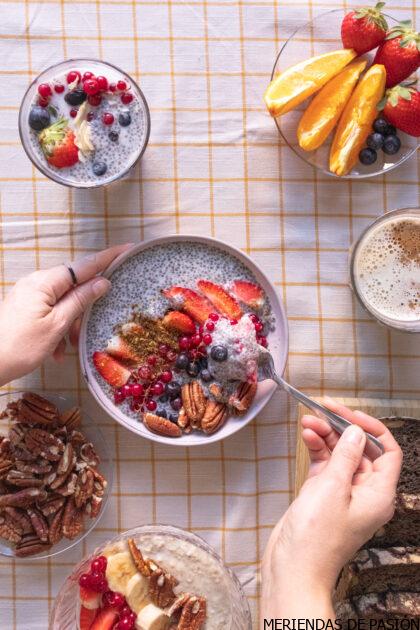 Chia seeds have traditionally been grown in Central America, especially in Mexico and Guatemala. It was cultivated by the Aztecs and Mayas, but was later displaced by the arrival of cereal crops in these countries during the colonial era.
In recent years, we have introduced chia as an ingredient in the European diet due to its multiple advantages, and as a regular ingredient in vegetarian and vegan cuisine.
PROPERTIES OF CHIA
Chia is an easily accessible ingredient nowadays and is known as a superfood.
The main advantages of chia are that it is high in fiber, vitamins, and omega 3, making it a very healthy food that we can easily incorporate into our breakfasts and snacks by pairing it with other ingredients such as fruit, yogurt, or oats.
The texture of chia is crunchy and smooth at the same time. If you try it for the first time, it will surprise you, but I warn you that it is addictive.
As you know, I am a big fan of quality pastry with all its refined ingredients, such as white sugar, but in moderation. However, desserts like this vegan chia pudding that I propose can be eaten almost daily.
If you're wondering what's special about coconut milk and why I chose it to prepare this dessert, it's definitely its aroma and creaminess. When chilled, it gives a texture that almost reminds you of eating a good ice cream. This is something very necessary for these heatwaves that will accompany us in the coming weeks.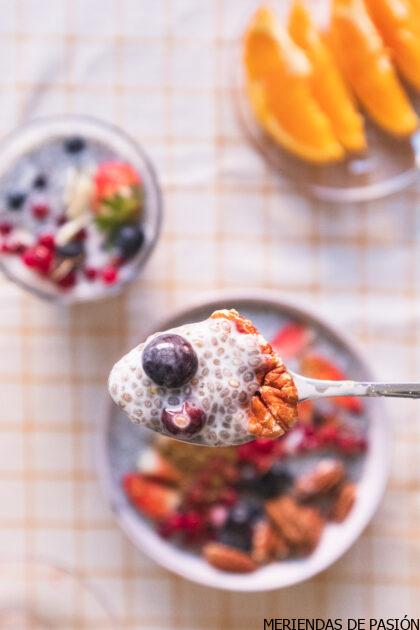 THERE ARE DIFFERENT TYPES OF COCONUT MILK
I have tried this snack with various types of plant-based milks and I'll tell you about the differences:
The coconut milk sold in cans in Spain is usually creamier and denser. It's very tasty, but it's heavier for preparations like this one and is suitable for those who love a very intense coconut flavor.
If you prefer lighter textures, I recommend that you look for coconut milk in tetra pak cartons that are used for mixing with coffee. They are more liquid and, although they are usually made with a mixture of rice and coconut, their flavor is more subtle and their texture is lighter.
If you don't like coconut, you can prepare your chia pudding with almond milk, oat milk, or yogurt. You will enjoy a less creamy, but equally delicious and healthy snack.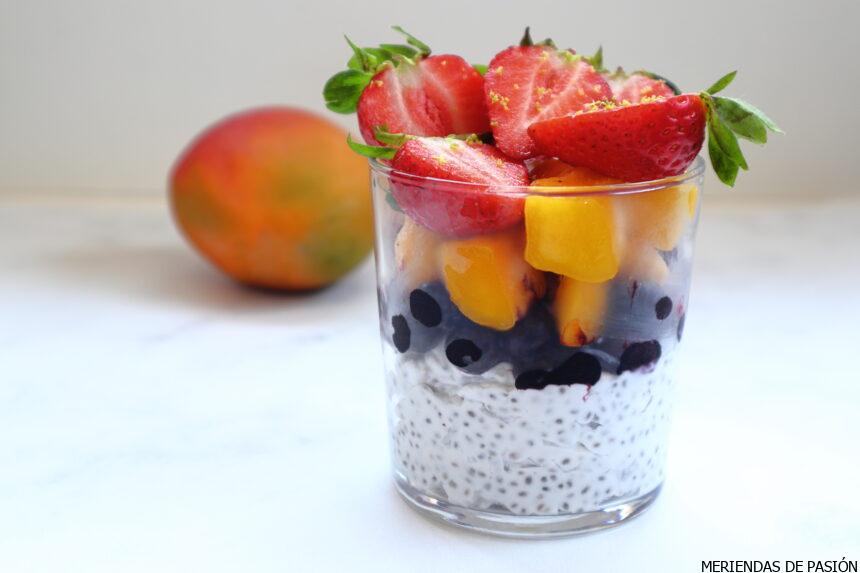 HOW TO PREPARE CHIA PUDDING?
We mix the plant-based milk and chia seeds and let it rest for at least 10 minutes. If you can leave the chia to soak overnight, the texture will be creamy and dense, as the seeds create a creamy layer when they absorb the liquid.
WHAT TO SERVE WITH CHIA PUDDING?
If you're looking for a vegetarian snack, you can serve it with any plant-based milk, seeds, and various fruits. My favorite fruits to pair with coconut milk are mango, strawberries, and blueberries.
Chia and coconut milk pudding
Ingredients
3

tablespoon

Chia seeds

1

cup

Coconut milk

Mango

Fresh or frozen blueberries

Strawberries

Lime zest
Instructions
Use a glass recipient to mix your chia seeds and coconut milk. It's important to shake your coconut milk before serving. 

Stir and cover the chia seeds and coconut milk and let it cool overnight into the fridge. A lid recipient could be really useful. 

Take your chia pudding out of the fridge, add your fresh fruit and lemon zest and enjoy.
If you like you can add some maple syrup or sweetener to this recipe. I just add a little at the end to decorate, you choose.