CHOCOLATE CHIP AMERICAN WAFFLES
American waffles are easy to prepare. If you feel confortable cooking pancakes for brunch you will love this easy recipe you can cook with common ingredients.
I tought about waffles watching the amazing TV serie Stranger Things before the Fourth Season premiere and I cooked these waffles inspired in the TV serie. If you had watched Stranger Things you know there is nothing that Eleven loves more than waffles, and if you hadn't watched it yet is appealing for science fiction  and the eighties lovers.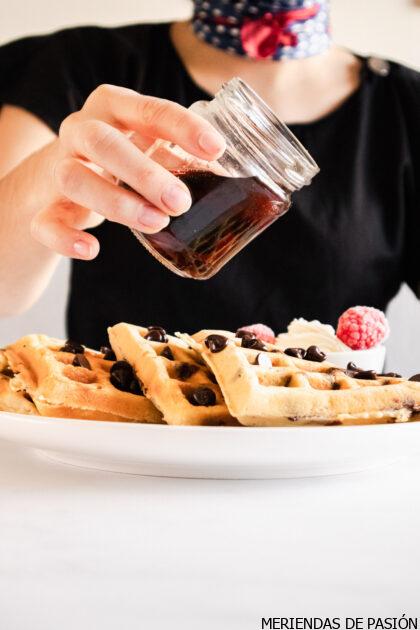 I have cooked my waffles with chocolate chips, because as you know, any food is better with chocolate, so you can imagine how good these waffles are. The batter is not too sweet, so the bitter of chocolate makes them delicious. 
American waffles, what is this? What is the difference with Begian waffles?
I am not highly qualified, but I can tell you that Belgian Waffles, that you can find in one on my recipes, are crunchy in the outside and tender in the inside. They are yummy, but require some preparation in advance, as if we were baking sweet bread, they need strong flour and bread yeast, and need to rest for two hours before cooking the in the waffle iron. 
American waffles on the contrary, can be made in 20 minutes just preparing the batter, very similar to pancakes batter, that we will cook in our waffle iron.
What do I need to prepare my homemade waffles?
A bowl to mix all the ingredients and our waffle iron.
How to prevent my waffles to stick in the waffle iron?
Three tips:
First, grease your waffle iron. I used mild olive oil and a brush.
Second, preheat your waffle iron before pouring the batter.
Third, let the waffles cook for at least one minute (green light waffle maker) before opening it.
Finally, just telling you that the Stranger Things decoration will be perfect for very sweet tooth. The ingredients you will need are 4 waffles, whipping cream and smal M&M's (not peanut ones).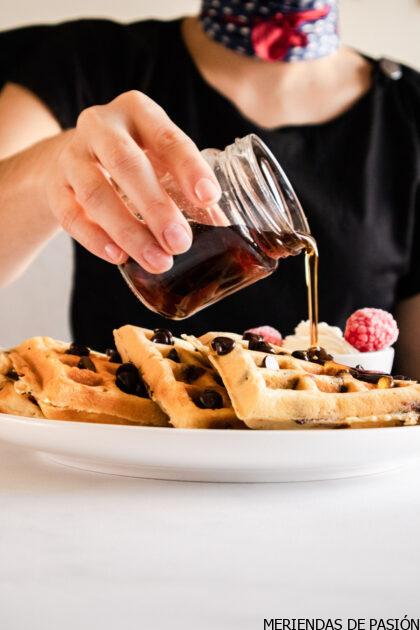 Chocolate Chip American Waffles
Ingredients
2

cup

All purpose flour

1+1/3

cup

Whole milk

2

unit

Eggs

1/2

cup

Butter

Melted

1

tablespoon

Granulated sugar

4

teaspoon

Baking powder

1

teaspoon

Vanilla extract

1/2

teaspoon

Salt

1

cup

Chocolate chips
Instructions
In a bowl we mix the eggs, slightly whisk, the milk, and melted butter.

We add the flour, baking powder, salt and sugar, mixing by hand all the ingredients.It's an easy to mix batter, you won't need a whisk.

When we have our batter ready add the chocolate chips and mix using a spatula. 

Grease your waffle iron. I used mild olive oil and a cook brush. You need to grease the waffle iron well before pouring the batter.

Preheat the waffle maker and add a ladle of waffle batter. The quantity may vary depending on your waffle maker. 

Cook your chocolate chips waffles for 1-2 minutes, without opening the waffle maker before they are cook to prevent them from breaking.

Serve freshly made and enjoy!

You can serve them with maple syrup, cream or fresh fruit.

To prepare your Stranger Things waffles add whipping crea, and M&M's to your waffles.