THYME SAVORY COOKIES
This recipe arrives a little bit late. Routines are coming back after Covid. In mi case I finished civil servant exams and went up North to Asturias and visiting my family while I enjoy the cold weather and avoid Madrid on July for some days, and the hot temperatures we are having. 
Between bags and driving I published this recipe stop motion, as my first attempt with this technique that I hope to still improving. 
Now I can finally publish this recipe that I hope you will love as much as I do. 
This savory cookies with thyme and rosemary are that easy to make that I am think I won't buy salted cookies again on the supermarket.
You choose if you want to combine them with tomato jam, they are good enough, but the sweet-savory contrast it's amazing with salty cheeses as parmesan cheese. You have to taste this combination!
If you are one of that people that thinks about how food look and taste, the tomato jam has a beautiful color that makes these cookies taste and look even better. It's important to add the jam just before serving to preserve the cookies crispy texture.  
I added 30 g of olive oil sun-dried tomatoes that I chopped using part of the olive oil they have. If you don't have olive oil sun dried tomatoes you can add 25-30 g of olive oil to the recipe. 
This recipe is for two people, if you are baking more cookies just double the quantities.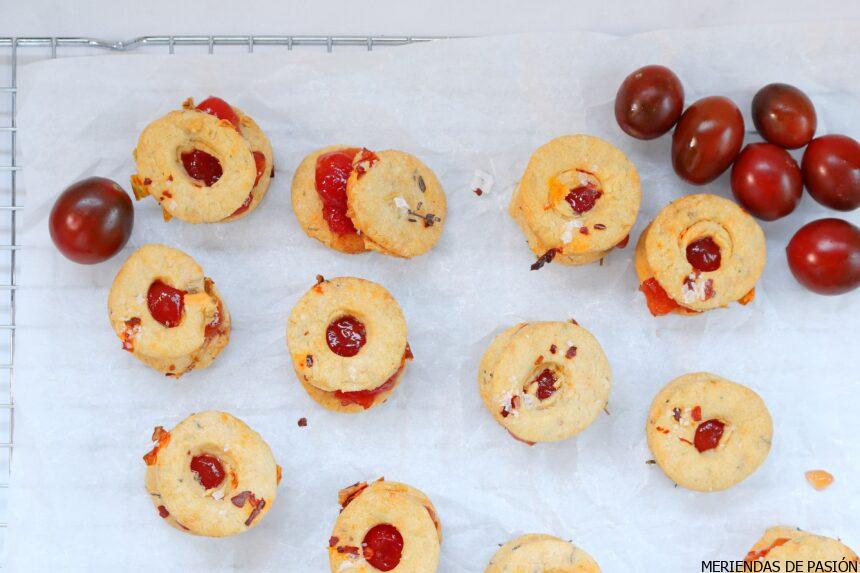 Thyme savory cookies
Ingredients
1+1/2

cup

All purpose flour

1/2

stick

Butter

Room temperature

2+1/2

tablespoon

Olive oil sun-dried tomatoes

1/2

teaspoon

Thyme

1/4

teaspoon

Rosemay

1/2

teaspoon

Salt

1/2

teaspoon

Baking powder

Like Royal

1

unit

Egg

1/4

teaspoon

Crushed chillies

Optional

Tomato jam

Optional
Instructions
First of all chop the sun-dried tomatoe, by hand or with a blender.

Now you can add all your dry ingredients: flour, salt, thyme, rosemary and crushed chillies. 

Add the butter ad mix with your whisk or by hand. 

Now you can add the egg and mix until you have your savory cookie dough. 

Roll your dough and let it cool into the fridge for a couple of hours covered with film or baking paper. 

Preheat your oven 180º Celsius. (356º Fahrenheit) 

Prepare your baking tray with baking paper if needed. 

With you cookie cutter or a knife form your cookies. In this moment you can add some thyme or salt on every cookie to decorate. 

Bake them 180º celsius (356º Fahrenheit) until the cookies are brown enough. 

Let them cool on a rack and serve them. 
When we use herbs is always better if we can use fresh herbs, taste is always better. 
You can store this cookies for some days in a cookie box.