JALAPEÑO TUNA MELTS
You can prepare your jalapeño tuna melts with a pan or using an oven tray and have them all prepared with a few minutes of grill into your oven so fast. 
Spending a summer in Madrid means surviving the extremely hot temperatures that will help you forgetting which day are you in and what's the weather forecast for tomorrow (just in case will be even worse than today). 
To be honest, I've been thinking for some days on fast and easy snack or informal dinners. What a surprise when I found this recipe! It's probably very common in the UUEE, but not in Spain, and all the ingredients are delicious together, so I decided to give it a try with some jalapeños to make it more spicy.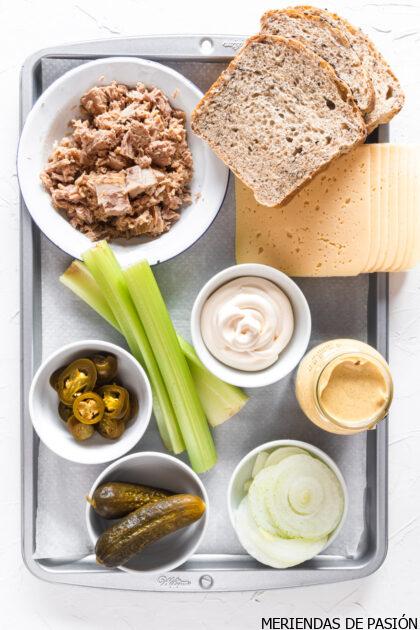 Ok, maybe I am not the first person that makes this recipe with jalapeño peppers, but if this is the first time you read about this recipe, just give it a try, it's sooo good!
I could have them for dinner with a good salad and any cold drink with plenty of ice the rest of the summer. You will tell me what do you think
You can prepare your tuna melts with a pan or using an oven tray and have them all prepared with a few minutes of grill into your oven so fast.
If you have homemade sandwich bread even better, I used one of the recipes you can find on the "bread" section on this website. Of course any store sandwich bread you can buy it's perfect if you are in a hurry.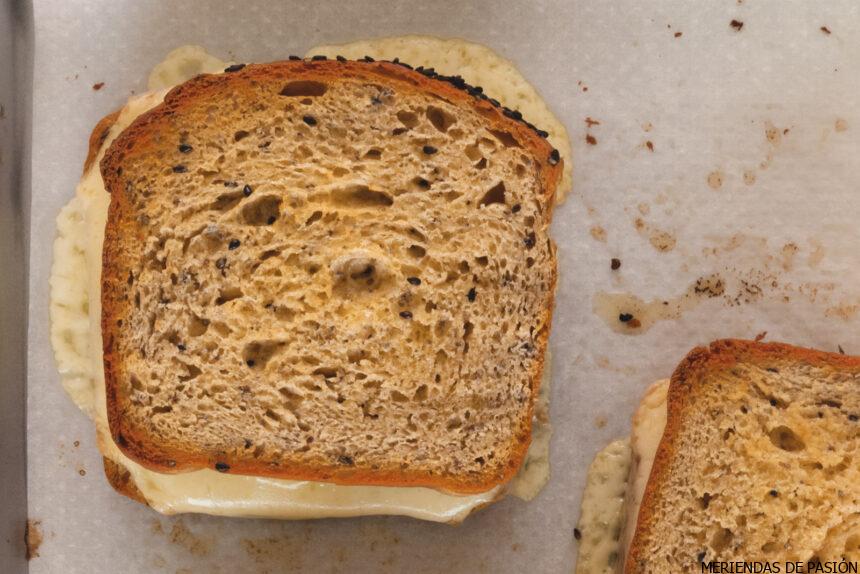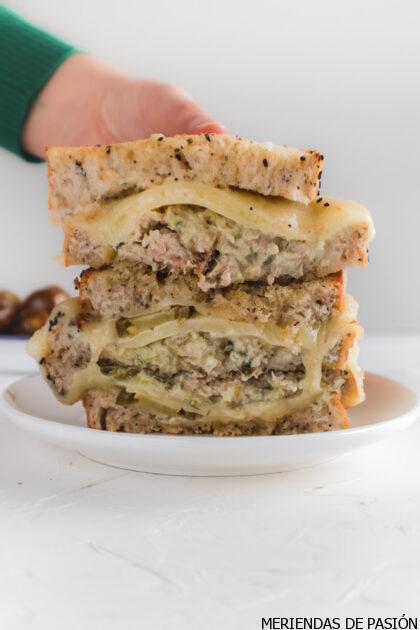 Jalapeño tuna melts
Ingredients
3

unit

Tuna cans drained

5 oz

1

tablespoon

Mayonnaise

1

tablespoon

Dijon mustard

2

tablespoon

Celery

Finely chopped

2

tablespoon

Sweet or red onion

Finely chopped

1

tablespoon

Pickles

Finely chopped

12

unit

Bread slices

1/2

stick

Butter

50g

6

unit

Cheese slices

As cheddar

1

teaspoon

Jalapeño pepper slices
Instructions
Prepare a bowl that you will use to mix all the ingredients.

Now you have to drain the tuna and place the drained tuna into the bowl.

Add the celery, onion, pickles and jalapeño peppers finely chopped with the tuna. You can chop them with a knife or using your kitchen robot. 

Once you have all the dry ingredients in the bowl you can mix them using a fork. 

Add the mayonnaise and dijon mustard. You can start with one tablespoon each and add more depending on your taste. 

Spread the butter on the external side of the sandwich bread and stuff your sandwiches with the tuna mixture.

Place one cheese slice (or two) on top of the tuna filling and put the other slice of bread to prepare your sandwich. 

Grill your tuna melts using a pan, or if you have an oven try is even easier to grill your tuna melts preserving the cheesy filling into your oven. 

Cut each tuna melt and enjoy.