IRISH SCONES
This is the amazing Irish scones recipe we can enjoy during tea time in Ireland. Easy to bake and absolutely delicious with jam and butter.   
I know, scones are also very common on England, and recipes are similar, but today I will bake the Irish recipe, that is the recipe I know better and I can confess I am a big fan. Every day at 10 am with freshly madre tea it was impossible not to eat at least one butter scone, or two.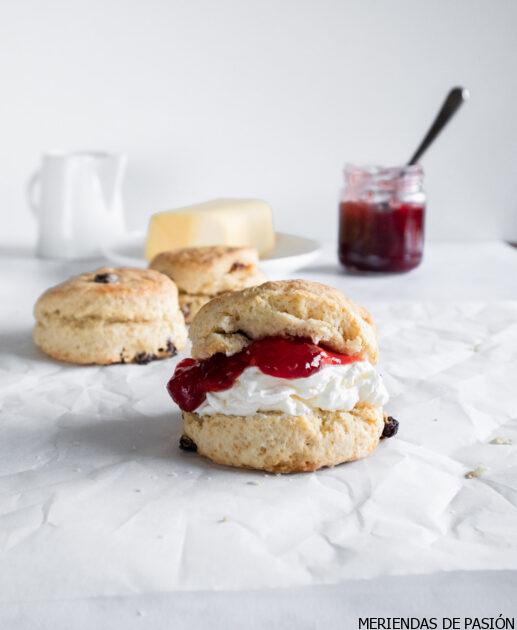 To bake Irish scones I recommend, first of all, to buy some good quality Irish butter. The recipe has a few ingredients, and we need the best butter to enjoy the better flavor. This is one of the things I can remember about my visit to Ireland, the amazing taste of dairy products, especially salted butter.
Next rainy and cold day that you will feel like preparing something sweet try to bake these scones, serve with butter, jam, crea, cheese and a good tea, you will tell me if the day turns better or not.
It seems that some families use a buttermilk recipe. I decided to bake the scones recipe made with  milk, cream and butter, that is also typical and made with ingredients that are easier to find in Spain, where buttermilk is not common at all.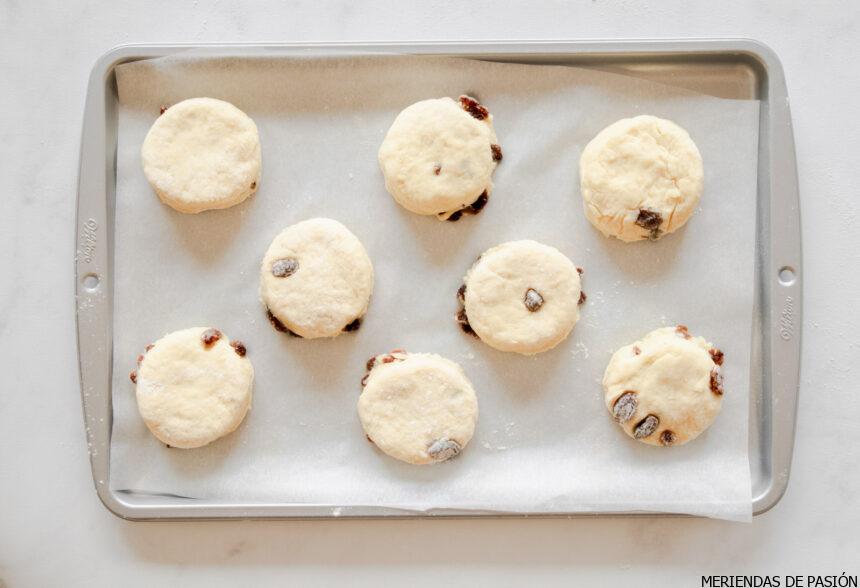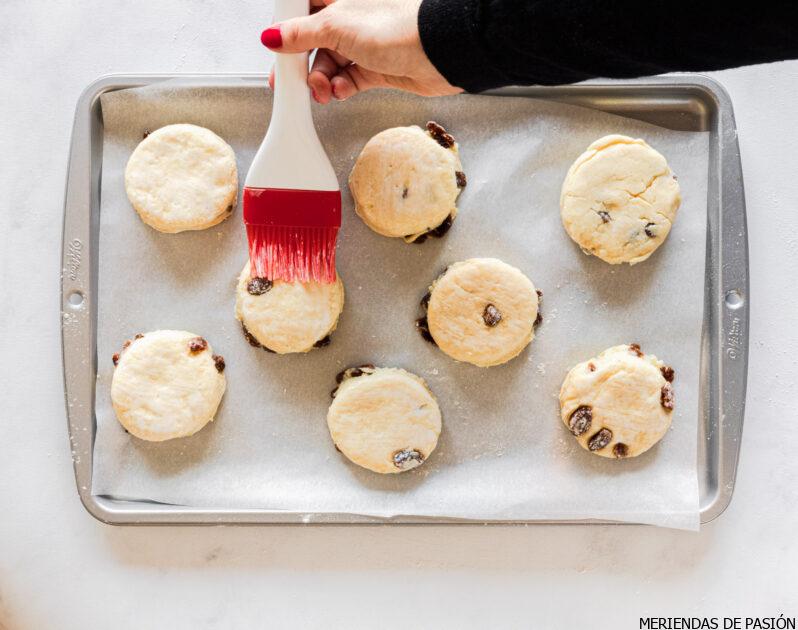 Any piece of advice before baking Irish scones?
Use cold ingredients. It is very important to use cold butter cut in cubes.
When mixing the flour, salt and butter think that we are looking for a sandy texture, just mixing dry ingredients and butter with a fork , we will even have some clumps, is not necessary to overmix it, we are not looking for a creamy texture, just the opposite.
What do I need to prepare my freshly Baked Irish Scones?
One bowl, one fork or potato press to chop the butter.
I don't recomed to use Kitchen Aid or kitchen robot to mix it. We don't want to overmix the ingredients in this recipe.
Could I use low-fat cream to prepare my homemade scones?
NO. Y ou can't he recipe needs whole milk and cream with at least 35% fat, the one we use to prepare whipping cream. 
Could I use salted butter to bake Irish scones?
Yes, there are people who baked them with salted butter and don't add the 3/4 teaspoon of salt to the recipe.
Could I bake my scones without raisins?
Yes, you can use dry cranberries or just no fruit. They will be delicious without raisins, but if you haven't taste them without raisins probably you will love them this way.
How to preserve my scones left?
You can freeze them already baked and enjoy them whenever you want.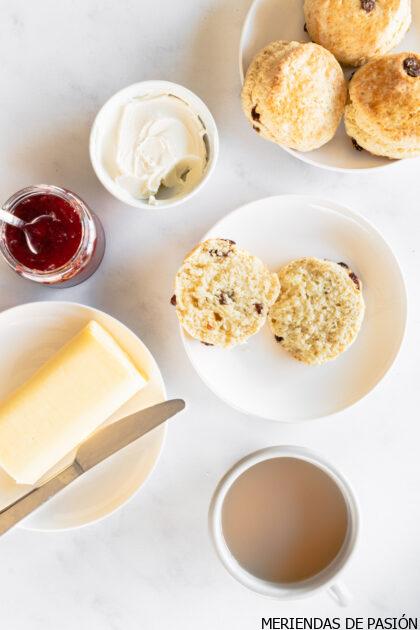 Irish Scones
Ingredients
2+1/4

cup

All purpose flour

3

tablespoons

Granulated sugar

2

teaspoons

Baking powder

3/4

stick

Cold butter in cubes

1/3

cup

Milk

1

tablespoon

Milk

1/4

cup

Cream

Over 35% fat

1

unit

Egg

3/4

teaspoon

Salt

1/2

cup

Raisins

Optional
Instructions
Preheat the oven 345º Fahrenheit (180º Celsius) 

Mix the butter, very cold cut in cubes, with the flour and the salt (do not add salt if you use salted butter). We will use a fork or potato press to mix it until you have a gritty, sandy texture.

Add the baking powder, the egg slightly bitten and the cream.

Remove the ingredients with the help of a spatula or wooden spoon, do not overmix.

Dust your working surface with flour and extend the dough with the help of a rolling pin.

When you have a dough with at least 1" tickness dough use a  scone cutter, a cookie cutter, or a glass if you don't have and cut your scones.

Brush the top of the scones with the beaten egg left.

Bake 345º Fahrenheit until the surface turned brown, for around 20-25 minutes.

Serve with butter, jam or cream cheese and enjoy!