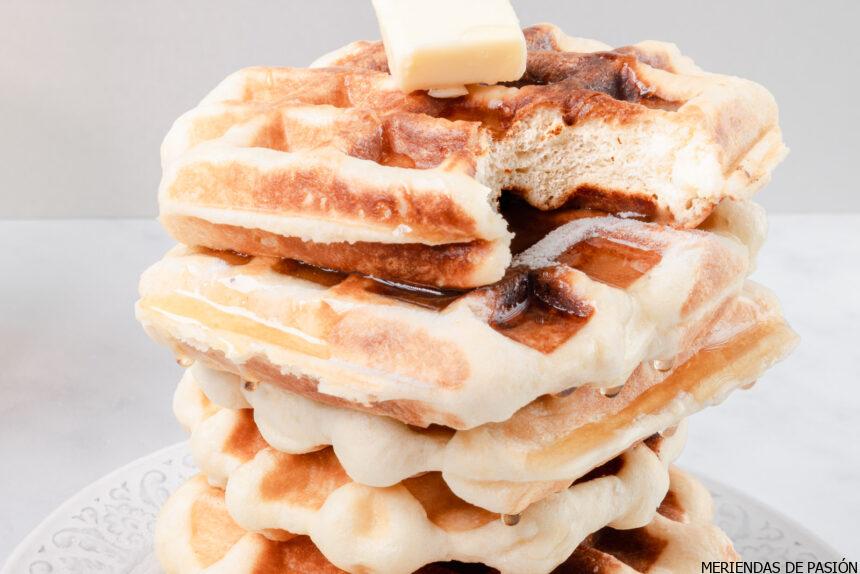 WAFFLES
Homemade waffles are sooo special. I love to prepare them, crunchy on the ours and fluffy in the inside. For me, every sweet is very addictive, but these waffles are impossible to resist, I could have a dozen of them!
I can thanks Oriol Balaguer, on of the best Spanish pastry chefs for the recipe, is from his book Bake it Simple. This book has beautiful photos and even better recipes. My only advice is that even with this title, recipes are not that simple, is not a good present for a person than never bakes, although is perfect for amateur bakers like me that love to cook. 
Talking about Oriol Balaguer, the splendid pastry chef that writes that book, if you visit Madrid don't forget to visit La Duquesita, they have the best praline croissants, you will definitely enjoy them.
These waffles, that I think are Belgian style wafles, are made with fresh yeast (or bread instant yeast), thats why we have to let them rest for an hour before forming balls with them, same way we prepare donuts, and next to the waffle iron.
Nowadays there are many affordable options to buy a waffle iron, mine is from Lifl supermarket, but if you know better options let me know. 
Another important ingredient for our waffles is pearl sugar, here is the Iink in ase you have any doubts, but I've seen it on many supermarkets, and on a Swedish furniture big shop. Don't be afraid adding this sugar to our homemade waffles, the outside will be crunch and fluffy in the inside , the perfect texture.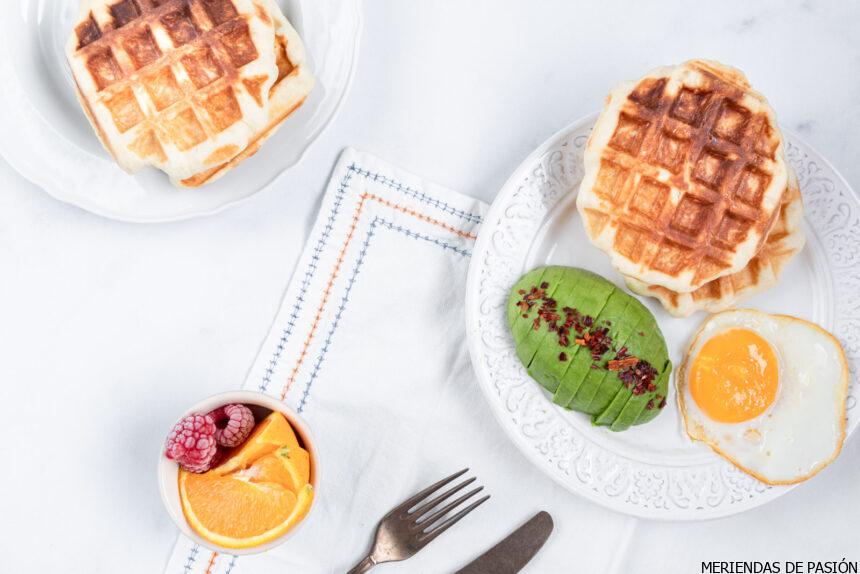 Waffles
Ingredients
1+1/4

cup

Strong flour

Type 0

1/8

cup

Granulated sugar

1/2

cup

Pearl sugar

1/2

tablespoon

Salt

1

unit

Egg

1/3

cup

Milk

About 100 ml

1/3

cup

Butter

Room temperature

1/2

teaspoon

Instant yeast
Instructions
Start kneading the strong flour, milk, egg and granulated sugar.

When you have your dough add, little by little, without stop kneading, your butter room temperature. 

After kneading for 5-10 minutes, add the pearl sugar, you must knead until the dough doesn't stick to your hands or the sides of your bowl. You can knead with your kitchen robot or by hand with patience. 

Cover the dough with film or a wet cloth and let it rest for half an hour room temperature.

After 30 minutes, divide your dough on similar portions (around 80 grams each) shape them as balls and let them rest for 1 hour more. 

Place each portion into the waffle iron and cook them. Most of the waffle irons will allow you cook two waffles at the same time. 

Add your favorite toppings and enjoy them freshly made. We can tell you that these Belgian waffles are perfect with chocolate, with fresh fruit, with avocado, with maple syrup, agave syrup, cream, cheese, or without any topping, just taste them!!
Honestly, you must taste them freshly made, but if you have any waffles left you can freeze them, like bread, after defrosting you can eat them tender and fresh.