SALTED BUTTER CHOCOLATE CHIPS
Chocolate chip cookies with a glass of milk. I think we all agree, but, what about baking them with salted butter?
This is one of the best American recipes with chocolate chips I've ever tasted, and we must thank David Levobitz for it.  Once again I must recommend his blog and his books, we must thank him many amazing chocolate recipes. He's just the best!
This recipe is really simple. As a piece of advice you can chill the cookie dough before baking. I'm always in a hurry, that's why each cookie has a different shape.  If you have patience enough your cookies will look fancier tan mines.  
On the other hand, as I explained on previous posts this cookies have light brown sugar.  I use this one. In Spain is not easy to find, but nowadays there are many supermarkets that have it, and in other countries is more used. Any doubt you can write me and I'll be happy to help.
You will be delighted after tasting this recipe, it doesn't matter if you bought the salted butter by accident and look for a recipe to use it (it has happened to all of us), or if you consciously buy your salted butter to bake these amazing cookies. You will love them anyway!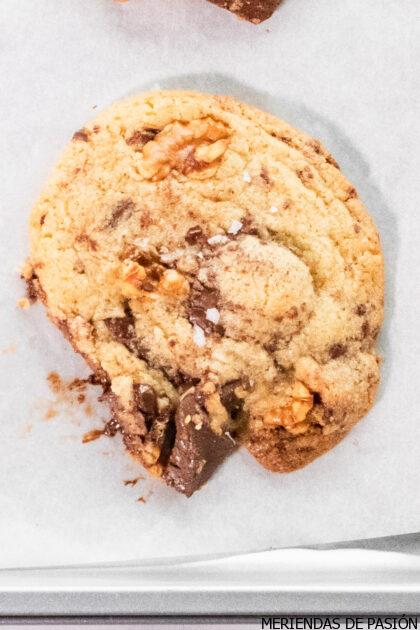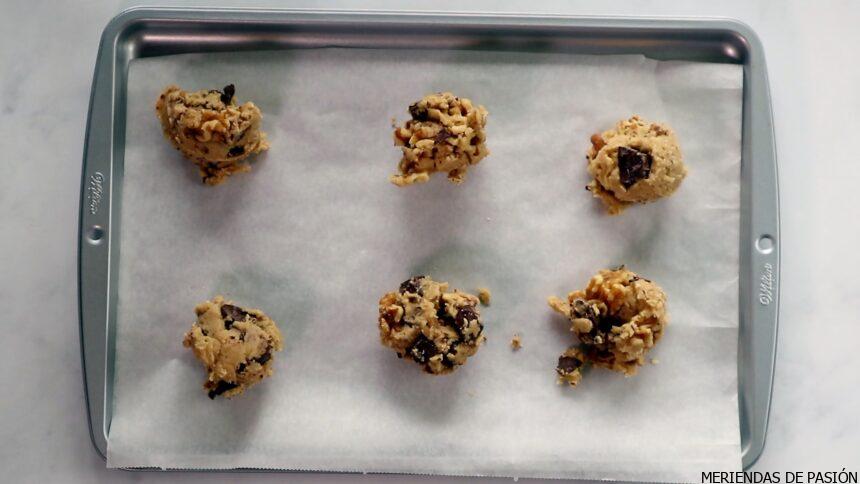 Salted butter chocolate cookies
Ingredients
4

ounces

Salted butter

Room temperature

2/3

cup

Light brown sugar

1/2

cup

Granulated sugar

1

unit

Egg

1/2

teaspoon

Vanilla

1+1/3

cup

All purpose flour

1/2

teaspoon

Baking soda

As Royal

1/2

teaspoon

Salt

1+1/2

cup

Dark chocolate

1

cup

Walnuts
Instructions
First we mix the room temperature butter, the granulated sugar and the dark light sugar. We can mix it by hand or with a stand mixer, until we have a smooth texture.

Add the egg and mix again.

Add the flour, salt, vanilla and baking powder and mix again until you have your cookie dough. 

Incorporate the chocolate and walnuts using a spatula. You don't need to chop the chocolate in small pieces.  

Cover with film and chill into the fridge from half an hour to overnight. 

Preheat your oven 356º Fahrenheit (180ºCelsius) 

Form your cookies on your cookie tray with an ice cream spoon or two spoons.

Bake for 10-12 minutes, depending on your oven. If you bake two trays at the same time you will have to switch them after 5 minutes. 

Let the cookies cool for some minutes before move them not to break them and let them cool over a rack. 

Add some sea salt flakes and enjoy!
Follow the quantities you will have around a dozen of cookies, but if you need to chill the cookie dough it will last some days into the fridge and some weeks into the freezer.