CHOCOLATE BABKA
This homemade babka recipe filled with hazelnut and chocolate praliné is a delicious sweet bread for any occasion.
Don't be afraid looking at this babka, is beautiful, but simple to make, like any other sweet bread it just takes some time to rest before baking.
The origin of babka is not clear, is thought to be bought to United States by Polish and Eastern Europe Jewish comunities, becoming popular New York nowadays. 
In Polish it's also called babka (or babka ciasto) a cake similar to bundt cake. A Polish friend explained me that later all the Polish sweets were called "babka" and maybe this was the origin. 
To bake this recipe I inspired myself in the recipe by Carolina Gelen. If you don't know her blog is full of delicious kosher recipes with loads of Mediterranean ingredients like legumes, olive oil and vegetables.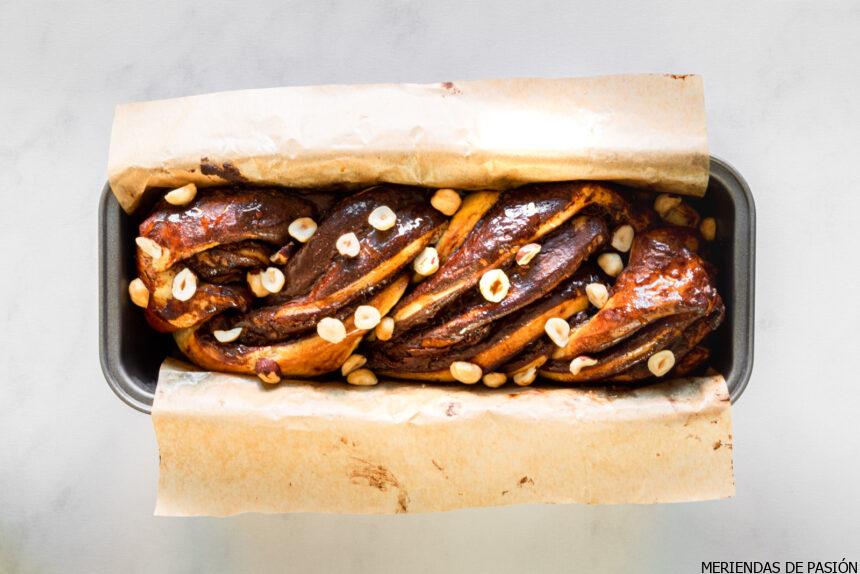 How long does it take to prepare a homemade babka?
It's a sweet fermented bread, that's who we should prepare the dough, let it rest for one hour, filled it and let the dough rest again for another hour. 
It is about waiting, not about complicated preparations. Just keep in mind that you must mix the dough 3 hours before enjoying your chocolate babka. 
Another option if you want to bake your babka early in the morning is to prepare the dough the day after, filled it and keep it covered overnight into the fridge. Just bake it in the morning and enjoy your sweet bread freshly baked in the morning.  
Wich flour do I need for my babka?
You will need bread flour or strong flour, also called 00 flour. 
Could I use Thermomix, Kitchen Aid or any stand mixer?
Of course, if you have any stand mixer to knead the dough it will help. You can also knead by hand, but be patient and knead at least 15 minutes that you have a nice dough that doesn't stick to your hands.
Filling ideas for my babka?
I filled my babka with delicious chocolate and hazelnut praliné that I bought at Cabo Busto, a lovely pastry shop.
You can use Nutella, berries jam, cinnamon, nuts or any other cream, just think that you will need to "spread" the filling, as we do  with cinnamon rolls, so any creamy texture will help.
Do I need any mold for my babka?
I recommend using a bread pan, place your babka into the mold will help to keep its form. 
How to form the babka braid?
Extend the dough forming a rectangle and spread the chocolate praline. 
Next, roll the dough and cut the roll in a half. Form a braid with the two halves forming a braid. I know, this step could be messy using Nutella or praline, but the result will be sooo good. 
How to preserve my homemade babka?
It's a sweet bread, that's why if you are not consuming it in 1-2 days you can freeze it baked and enjoy it on any moment defrosting it some hours before consuming.
If you liked this babka maybe you would love to visit another sweet breads: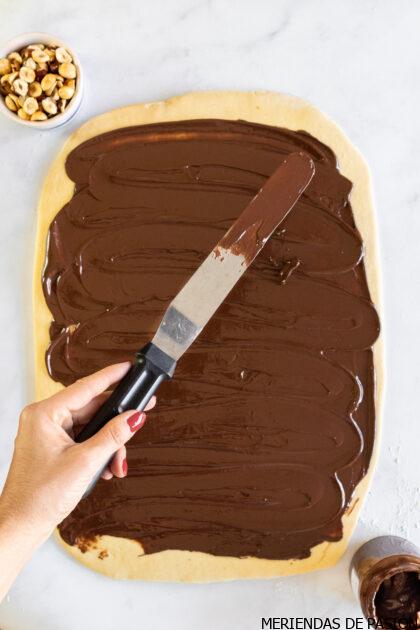 Chocolate Babka
Ingredients
1

tablespoon

Instant bread yeast

Or 25 g fresh yeast

4

tablespoon

Granulated sugar

6

tablespoon

Butter

Room temperature

2/3

cup

Warm milk

2

tablespoon

Warm milk

3

cup

Bread flour

Or strong flour

3

tablespoon

Bread flour

Or strong flour

2

unit

Eggs

Separate egg whites and yolks

1+1/2

teaspoon

Salt

1

cup

Chocolate and hazelnut praline

Or any spreadable cream
Syrup (optional)
1/3

cup

Sugar

1/3

cup

Water

1

tablespoon

Orange juice
Instructions
We will start preparing our babka dough. We will mix in our stand mixer or a bowl the flour, salt, sugar and fresh yeast. If we use instant yeast we must let it rest for some minutes in two tablespoons of milk before adding. 

Next, add the rest of the warm milk and the egg yolks and start kneading. 

Now we add the butter bit by bit while we keep kneading until we have a nice dough that doesn't stick to our hands or the stand mixer bowl. It's a dough with butter and yolks, very rich, so kneading for 10 or 15 minutes is not too much.

Let the dough rest for 1 hour covered with film. 

Once the dough has risen knead it with your hands and extend it with a rolling-pin forming a rectangle.

Extend  the chocolate praline using a spatula or a fork. 

Use a knife to cut the roll in a half and braid the two halves together forming a "braid".

Place the babka braid into the mold and let it rest again covered for 1 hour. 

Preheat the oven 345º Fahrenheit (180º centigrades)

Brush the babka with the egg withes we had set aside.

Bake for 40-45 minutes. You can cover it the last minutes not to burn the top at the end of baking. 

To prepare the syrup (optional) use a pan to cook medium heat water, sugar and a orange juice tablespoon until we have the sticky consistency we are looking for. 

Brush your babka with syrup. This step os opcional but will help your babka to stay fresh longer and look brigther.