CHRISTMAS STOLLEN
The stollen or German Christmas Bread is one of my favorite Christmas's recipes.
It's a sweet bread with raisins or candied fruits and filled with almond paste, incredibly delicious.
It seems that this recipe is tipycal from Germany, from the city of Dresden and Germans enjoy this amazing bread all Christmas as a rich dessert.
It's a really sweet and buttery bread, that's why I recommend you to use strong flour or bread flour if you can't find strong and knead with patience, if you can use a stand mixer or kitchen robot it will be really useful.
The almond filling you can see into the stollen is completely optional, I love it, but if you prefer to enjoy your German Christmas Bread without almond paste it will be delicious anyway.
Talking about raisins, I let them rest for an hour with a rum teaspoon and tangerine zest, but it's also optional, you can drain them in orange juice, or add them directly to the dough, the option you choose will be delicious.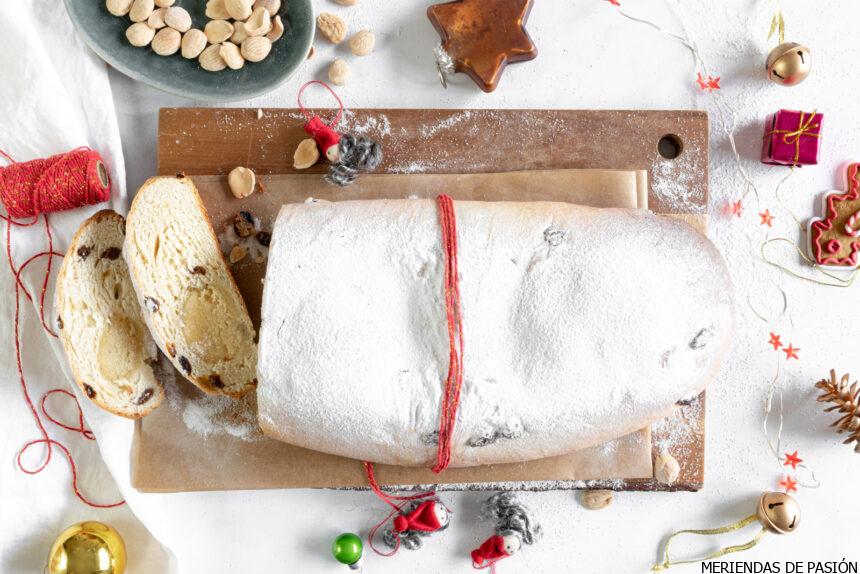 Christmas stollen
Ingredients
2

cups

Strong flour

3

tablespoons

Strong flour

2+1/4

teaspoons

Dry yeast

Or 25 grams fresh yeast

1/2

cups

Warm milk

1/2

cups

Granulated sugar

2

tablespoons

Granulated sugar

3/4

cups

Unsalted butter

Room temperature

2

units

Eggs

1

cup

Raisins

1

teaspoon

Rum

1

unit

Tangerine or orange zest (optional)

1

pinch

Salt

1

cup

Confectioner's sugar to dust

As much as you want
Almond filling
1+3/4

cups

Almond flour

1+1/2

cups

Confectioner's sugar

Or granulated sugar.

1

pinch

Salt

1

unit

Egg white
Instructions
You can sarta preparing the filling. Mix the almond flour, sugar and egg white and l et it cool into the fridge with film forming a log.

To start with the stollen we mix the sugar and flour, a pinch of salt and fresh yeast. If we use instant  yeast let it rest for some minutes on two tablespoons of warm milk before adding to the flour (and use two tablespoons of milk less later)

Now we can start adding the rest of the warm milk, the eggs and start kneading.

When we have a nice dough and without stop kneadning we can add the butter bit by bit and keep kneading until we have a nice dough that doesn't stick to our hands or the kitchen bowl.

Now we can add the raisins and knead for a minute and let the dough rest for an hour covered with film until it doubles its size.

With your hands knead for a minute and extend the dough with a roll and place the almond filling in the middle

Fold the dough covering the almond paste and let it rest again for an hour covered on your baking tray, it will need some space left because it will double its volume again

Preheat your oven  356º Fahrenheit.

Bake for 30-35 minutes, depending on your oven and being careful not to burn it, you can cover the stollen with foil the last minutes of baking.

Let the stollen cool and dust with  abundant confectioner's sugar.
This recipe is plentiful of sugar, butter and almonds, so baking one stollen with the quantities I propose means dessert for at least 6-8 people.