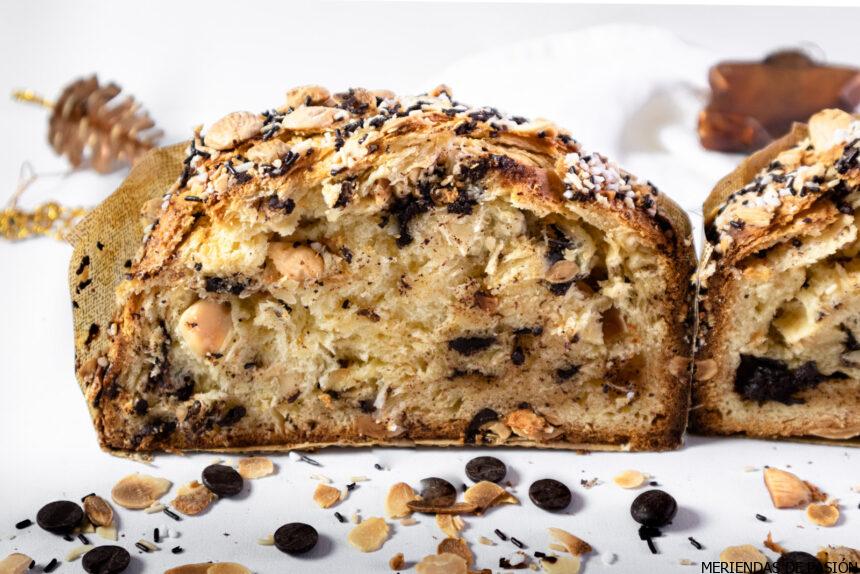 PANETTONE
Hard decisions season is here, Panettone or Pandoro? Churros or King Cake?
My proposal is baking this Panettone cake, I suppose most of you have already taste this Italian Christmas bread, and if not, believe me, you will love it. 
Searching for recipes I found many recipes, and mostly two groups of them: the fast panettone cake, with a different and compact center different that real panettone one, and the amazing and real panettone that takes three days to be made.
If you are looking for the three days recipe I've made this one (Spanish language sorry) from Maria Lunarillos and I loved it, here my recommendation that I know you can follor, just in case is useful.
For this Year I decided to take a risk with an intermediate recipe, I called it "two days panettone" in my home it took me two days to be made, one day for the biga, and the day after preparing the two steps panettone dough. I inspired my self on this amazing recipe from Food&Wine adding some milk and small modifications.
Timing to prepare the two days panettone:
First day: morning, prepare your buga
8 hours later, prepare your initial dough
Second day: prepare your second doughlet the dough rest and bake.
I think you can notice the results were delicious, really tender and it looks like an amazing panettone bread, although is true in the three days panettone you can observe a more alveolar dough. I recommend you this panettone cake for a festive weekend, you will love it.
Some tips before baking your homemade panettone: 
This is my first Christmas Bread, is a good recipe to start?
You can bake panettone whenever you want, of course, but in my blog there are easier homemade breads, I can recommend you the Stollen German Christmas Bread, it takes only one day to be baked, and could be a good start before baking a panettone, but of course you can choose where to start. 
Where to buy the panettone cups?
I bought them in Madrid, but your baking supply store probably will have, or Amazon, the paper ones are really cheap, but you can find pans also. 
How
 

to cool my panettone once baked?

If you can cool them face down is recommended, you can use knitting needles or brochette ones and two recipients to place the panettones face down. 
Do I need 10 egg yolks?
Yes yo do, It was not a mistake, but don't panic, you will have enough panettone for 6-8 people repeating.
And you know, you can cook a really good egg whites omelette to enjoy the egg whites left. 
What ingredients could I add to my panettone cake?
Traditional ones you can add candied orange and raisins. If you choose this option you can let the raisins rest in rum for some hours, they are too good. 
Another popular option is to add chocolate chunks and hazelnuts.
I also saw panettones with white chocolate and pistachios, just in case you prefer to innovate.
I baked one of my panettones with raisins and candied orange and the other one with chocolate and almond and both were amazing! So just choose the ingredients you prefer
Could I use my Thermomix, Mambo or kitchen robot to prepare my panettone?
Yes, actually I kneaded my panettone with Thermomix, is a really buttery dough, so is not easy to knead by hand, the help of a kitchen aid or thermomix will be good for you. 
Any recipes if I have panettone leftovers?
If you have panettone leftovers, I can't hardly imagine this situation, but could be.. you can prepare this amazing french toast. 
How many serves will I have with this recipe?
Between 6-8 serves, think that you will need 2 big panettone molds.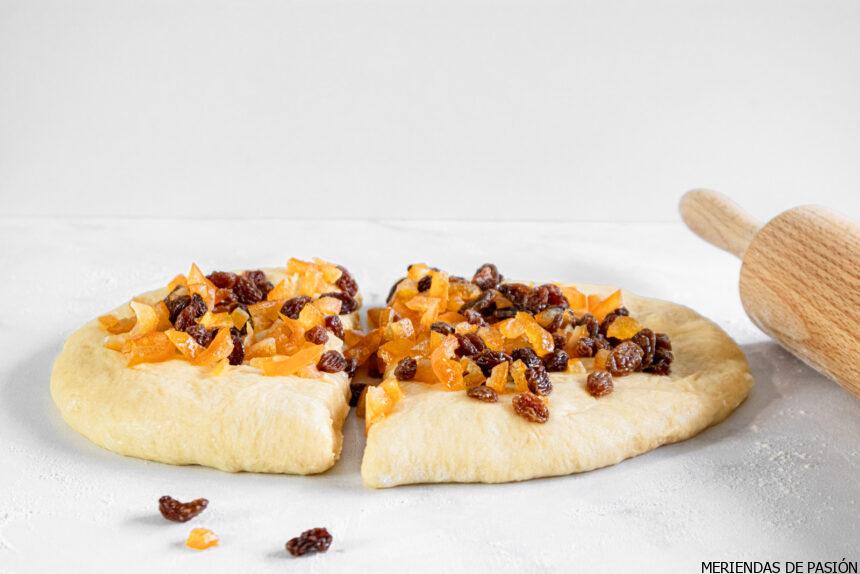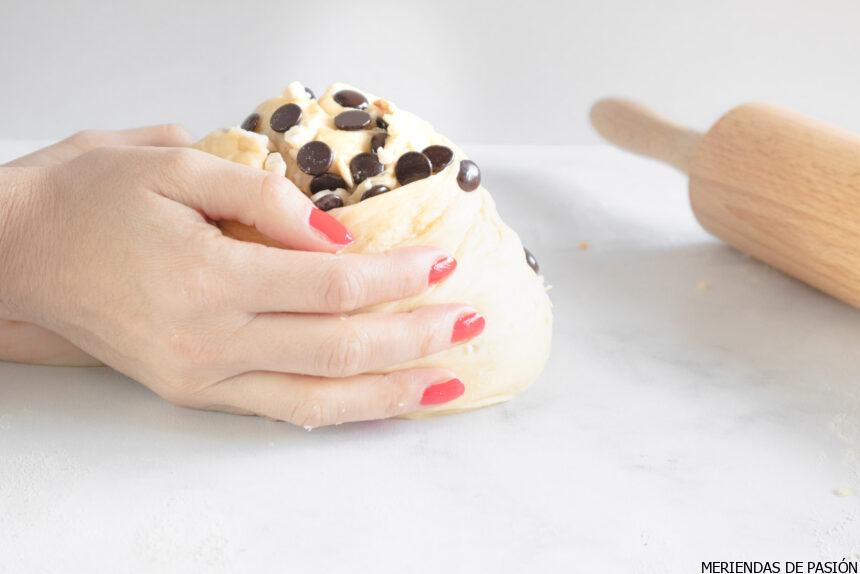 Panettone
Ingredients
Biga
1/4

cup

Milk

2

tablespoons

Milk

1/2

teaspoon

Instant yeast

Or 12g fresh yeast

1/2

cup

Strong flour

Or bread flour
Initial dough
2+1/2

cup

Strong flour

Or bread flour

1

tablespoon

Strong flour

Or bread flour

2/3

cup

Milk

1/2

cup

Granulated sugar

8

units

Egg yolks

14

tablespoons

Butter

In cubes, room temperature

1

Orange zest
Final dough
1/2

cup

Strong flour

Or bread flour

2

tablespoons

Strong flour

Or bread flour

2

tablespoons

Granulated sugar

1

teaspoon

Granulated sugar

2

units

Egg yolks

2

teaspoons

Salt

3

tablesoons

Unsalted butter

Room temperature

1

unit

Egg

To brush

Pearls sugar

To decorate
Stuffing (for 1 chocolate panettone and 1 raisins panetonne)
1/4

cup

Dark chocolate

Chunk or chips

1/4

cup

Almonds

1/4

cup

Raisins with rum

1/4

cup

Candied oranges
Instructions
Biga
To prepare your biga mix your instant yeast with warm milk and flour and let it rest for 8 hours (or overnight into the fridge)
Initial dough
Place in your kitchen aid or thermomix (kneading position) the big you had already made. 

Add the flour, egg yolks and milk and start kneading.

Once all your ingredients are well mixed and without stop kneading add the butter bit by bit. 

Keep kneading por 10-15 minutes until the panettone dough doesn't stick to the kitchen bowl. 

Let the dough rest covered with film for 8 hours, I let my dough overnight into the fridge.
Final dough
Add to the dough you had resting the flour, sugar, salt and 2 egg yolks and knead. 

Add the butter bit by bitand keep kneading until you have a nice dough that doesn't stick to your hands or the bowl. 

Extend the dough with a roll and divide it into two pieces.

Add each part the ingredients you choose and place them into the dough kneading with your hands. 

As you can see in the photo you can place the ingredients above the dough, cut it in to pieces again and form a ball with the dough easily. 

Place the two dough balls into each panettone mold and let rest covered for another 1-2 hours or until it doubles its volume. 

Brush with beaten egg and decorate with pearl sugar or whatever you like.

Bake 356ºFahrenheit (180ºCelsius) for around 50 minutes, it will depends on your oven. If it browns too much on the top you can cover with foil at the end of the baking. 

Let them cool face down if possible, you can pierce them with a knitting needles or brochette ones and let them cool two hours before serving.