DAY OF THE DEAD BREAD
If you had ever read me before, you probably know that I am a big fan of Mexican food. We are already planing our Todos los Santos, Halloween or Día de Muertos (Day of the Dead) in México. Their tradition these days it's beautiful and really interesting, the perfect moment to bake this Fall recipe, known as Pan de Muerto or Day of the Dead Bread, concretely for the 1st November. I hope you will love this recipe as much as I honestly do.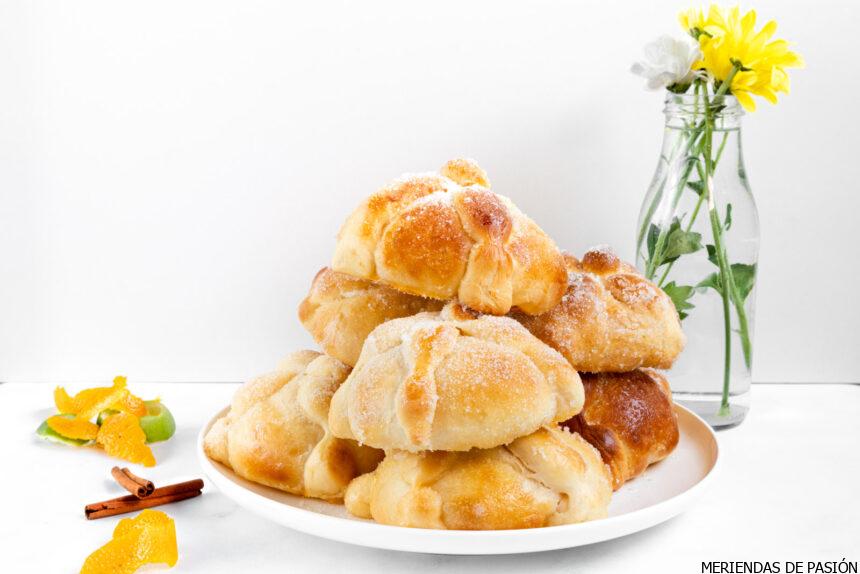 Where to find some mexican inspiration
There are many essential Mexican cuisine books, if its useful for any of you, recently I received the new book published by Esteban Castillo, know as Chicano Eats, I will start baking his recipes pretty soon!
If you wonder, why do you mention his recipes if you didn't follow his pan de muerto's recipe? The reason is even more important, his pan de muertos photos were that beautiful and look sooo delicious, that I though: I have to cook this recipe!!!  I have also taste one of his chicken recipes and believe me, it's amazing!
To bake this pan de muertos I inspired my self on original recipe from another essential book about Mexican Cuisine "México, Gastronomia", one of the best cook books I've had, but I must recognize I am not an expert on Mexican food, just loving the path to learn. On my kitchen I changed some aspects f the original recipe, adding more spices, and the final recipe of these day of the dead bread reminds me the Spanish roscón de reyes in some aspects.
Can I make Pan de Muerto by hand?
This recipe is not really fast if you are thinking about kneading by hand. The dough is similar to the brioche ones, requires strong flour and long kneading. I am not trying to discourage you, just recommend you to be patient with the kneading, or use a kitchen robot or kitchen aid, but if you decide to knead by hand is perfectly fine.
I promise the result it's amazing! A tender, buttery bread, with citric scent and really, really yummy. That's why, this recipe makes around 14 individual size breads, we will get the best of this kneading!
As I always said when I use strong flour (brioche and sweet breads), if you can't find it, I recommend you to ask on a homemade bakery or bakeries supplier. If you can't find it anyway you can use bread flour from the supermarket, but I can guarantee the same results or the bread to be as tender as the original one. If you bake with different flours, please tell me how good was the result.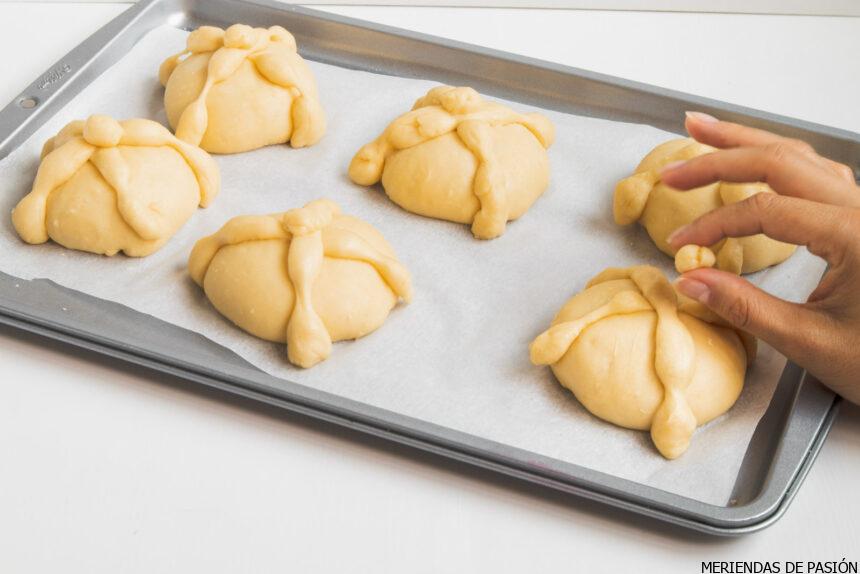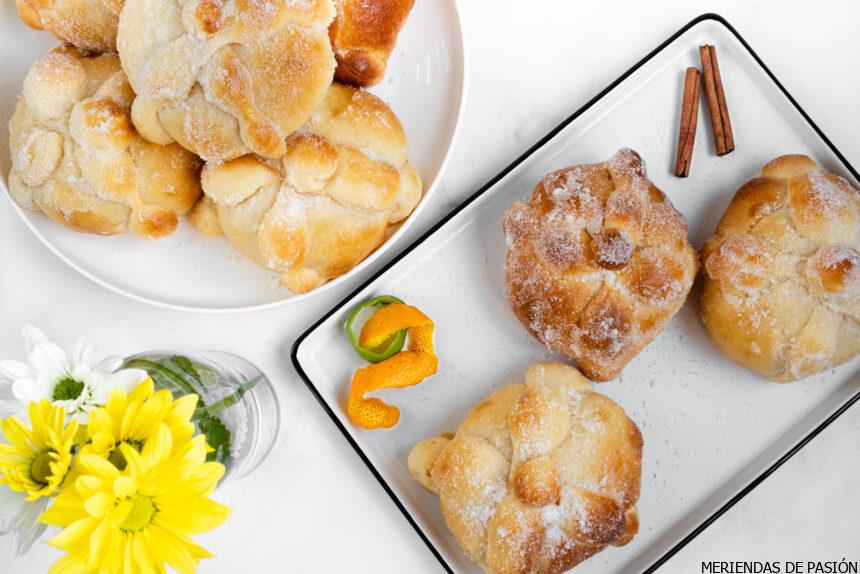 Day of the dead bread
Halloween or Day of the Dead sweet bread.
Ingredients
1

cup

Milk

5 + 1/8

cup

Strong flour

1/2

cup

White sugar

+ more sugar to decorate

7

tablespoon

Butter

cold

1

teaspoon

Instant yeast

Or 3 teaspoons of fresh yeast

4

unit

Eggs

For the dough

1

unit

Egg

To brush

1/2

teaspoon

Salt

2

tablespoon

Orange blossom water

1

unit

Cinnamon stick

1

Orange or lemon/lime peel
Instructions
Use a casserole or pot to heat up the milk with the orange and lime peel, the orange blossom water and the cinnamon stick until it start boiling. when When it comes to the boil turn off the heat and let it cool. Once the milk its cooled retire the peels and the cinnamon stick and measure it, we will need 250g (1 cup) of this milk to prepare the recipe. This is more or less the milk we will have after boil it and let it rest, but you can set aside the rest of the milk.

Mix the milk and the yeast (instant or fresh) and let it rest for some minutes.

Now you can start kneading using your dry ingredientes: flour, salt and sugar and the milk room temperature. 

Keep kneading and add 4 eggs one at a time. 

Once we have a nice dough we start adding the butter in cubes and keep kneading until the dough doesn't stick to your hands or the sides of your bowl (15 minutes kneading are not too much). 

Let the sweet  bread rest cover with a film or a wet cloth for 1 hour room temperature (or overnight into the fridge)

Divide the dough into 12 balls with similar weight and form balls. Two of the balls will be divided to form "bones" with your fingers, cross them above the balls (forming a cross) and place a small ball on the top of each on (see photo).

Let the breads rest again for 1 hour to let them rise room temperature. Brush them carefully with beaten egg.

Bake 180º Celsius (360º Farenheith) until they brown, around 15 minutes, it will depends on your oven. 

Let them cool over a rack.

You can brush them with some melted butter and cover them wit sugar, this step is optional, but they will be delicious and sooo beautiful this way!

Enjoy them, if posible with hot cocoa!!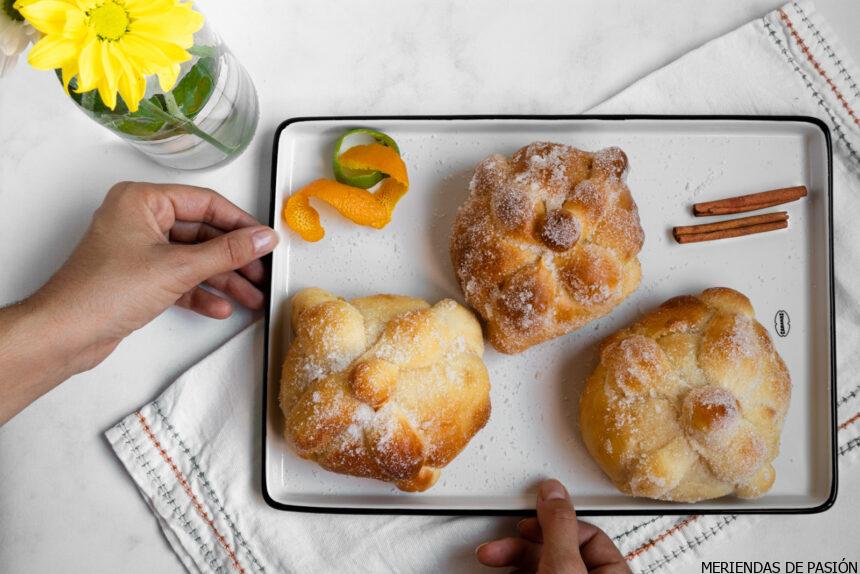 Ok, I know 10-12 breads are pretty much, but you can freeze them individually and enjoy them tender on any moment.
If you have some leftover milk with cinnamon and citric flavor I recommend you to use it to prepare some homemade hot chocolate, it's going to be one of the best drinks you will ever taste.