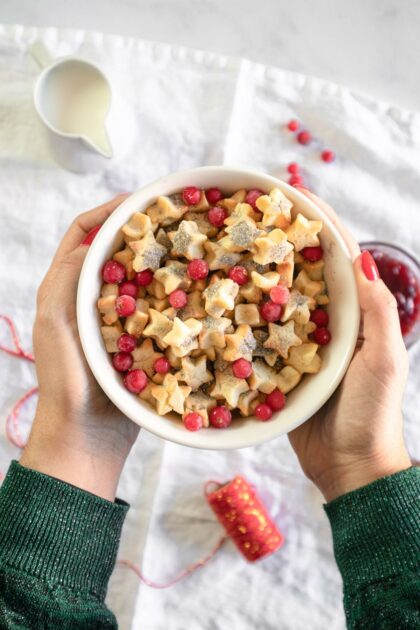 MINI LINZER COOKIES
Some weeks ago I published an easy Christmas Cookies recipe and the idea of baking this mini linzer cookies with the dough came to my mind. 
My idea this time is using the same recipe to create these mini Christmas cookies, you can use some cookie dough to bake them the same day you prepare your Christmas cookies or go ahead with a bunch of mini biscuits. 
These mini butter Christmas's cookies are a perfect homemade gift for this holiday season.
It's important to know, that the effort is worth it, because these cookies are so cute, but they require patience, it's a perfect recipe to bake with children, you will need a couple of hours, like if you were assembling a puzzle.
Some tips to enjoy this Christmas recipe:
-Chill your cookie dough before forming your cookies. 
-Use a Christmas cookie cutter, like the one I used with star shape.
-Prepare a recipient with some flour to put into your cutter before cutting every cookie, it will help the cookies not to stick to the cutter.
-Watch out your oven, due to the small size of the cookies, with just 5 minutes, or even lees into the oven they will be ready.
-The most important thing, it doesn't matter the shape, you will enjoy these cookies when you taste them.
Before I will remind you the recipe, there are some frequent questions, any other doubts just let me know in comments, I will be happy to answer.
Could I prepare these cookies with Themromix or kitchen robot?
Of cpurse, I've made them with whisk and with Thermomix and both are perfect.
If you use Thermomix you can first prepare the confectioner's sugar and set aside.
After that you can prepare the almond flour and set aside, to prepare it you can grind the almonds for some seconds, stop, and grind again for some seconds three or four times, this way, you won't form an almond paste, and you will have your almond flour.
After this moment you can follow the recipe steps in the same order.
How to decorate my Christmas's cookies?
There are many options, one of my favorites is to fill the cookies with red jam and dust them with confectioner's sugar like linzer cookies (in fact, this recipe is the almond linzer cookie recipe)
Another option is to use colouring, is really common to find it on supermarkets on this season, the have pencil shapes, really useful to use them with children.
Mis your cookies with red berries is another beautiful option, and always remind us to Christmas season, I used berries as you see in the photo.
Finally, and the most festive option, you can use edible glitter, I used the silver one, is not discreet, I know, but it's wonderful. 
Can I bake regular cookies and mini cookies at the same time?
If you are going to bake "regular cookies" and "mini cookies" I recommend you to use two different baking trays. 
Mini cookies will need 5 minutes into the oven to be ready, or even less, and the oven tray with regular cookies will need to be into the oven until the cookies will be beaked for 10-12 minutes, so you can get out of the oven the mini cookies before.
Can I prepare the cookies in advance?
Of course yes. You can let the cookie dough prepared in the fridge and give them their form whenever you want.
How to preserve the Christmas cookies leftovers?
 You can keep the cookies in a closed cookie jar. I have also tried to frozen them. I recommend you freeze the cookie dough raw.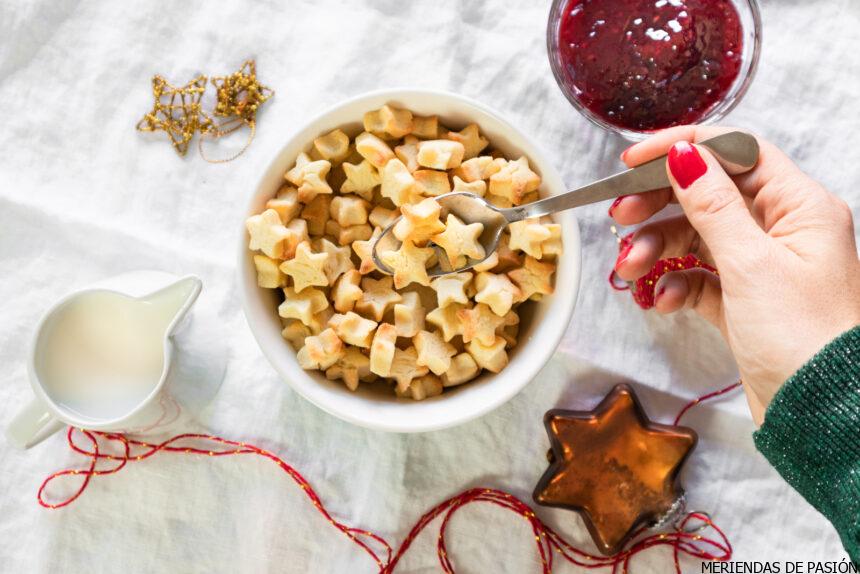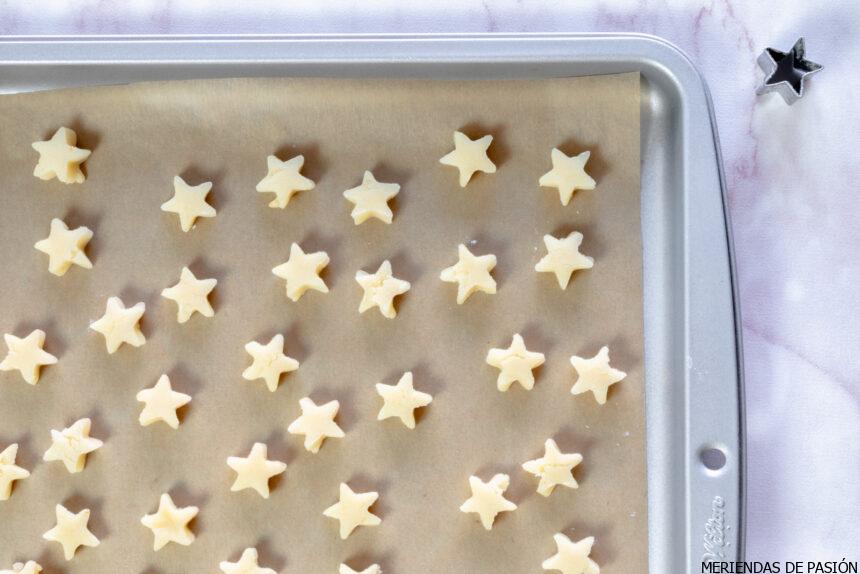 Mini Christmas Cookies
Ingredients
1

cup

Unsalted butter

Room temperature

1+1/2

cup

Confectioner's sugar

A little more to decorate

4

unit

Egg yolks

1

tablespoon

Lemon zest

1/2

teaspoon

Vanilla extract

3/4

cup

Almond flour

3

cups

Cake flour

1/4

tablespoon

Baking powder

1/4

tablespoon

Salt

Strawberry or cranberry jam

Optional.
Instructions
First mix the room temperature butter, the granulated sugar and the dark light sugar. We can mix it by hand or with a stand mixer, until we have a smooth texture.

Add the 4 egg yolks, vanilla extract, lemon zest and mix again.

Now you can add the cake flour, almond flour, baking power and slat and mix until you have your cookie dough.

Let the dough chill for 1 hour or overnight into the fridge. This way will be easier to form your cookies. 

Extend the dough with a roll on a surface with flour and using a cookie cutter from your cookies.

Plan your cookies on your cookie tray or oven tray. You can use some baking paper too. 

Preheat your oven 356º Fahremheit (180ºCelsius).

Bake for 10-15 minutes, until they brown.

Let them cool, fill them with jam and decorate with confectioners sugar.