SARDINE AND OLIVES FOCACCIA
Last week I tasted arbequina olives for the first time baking this Mediterranean Focaccia and its flavor was sooo intense and rich that I started to think about recipes. I know, I can't help it!
Probably you know I'm a huge fan of carbohydrates, so an olive focaccia ended into my oven, to make our week a better and tasty week.
The basic recipe that I adapted for the dough comes from the book "Bread and Italian Sweets" write by Simili's Sisters.
Her Genovese focaccia's recipe it's easy and "always perfect", the type of focaccia you will bake will be tender and fluffy, perfect with intense flavors like canned sardines.
The step by step to bake this focaccia is easy, just a bit of patience is needed with some bread flour. Patience will be necessary to let the dough rest for half an hour first after kneading all your ingredients, and later one hour and a half more after forming our focaccia with all the toppings.
As always happens, if we use good quality products, in recipes like this one, we will have a far better result. The good canned sardines, olives and sun-dried tomatoes give the focaccia the deep flavor and scent it requires. And please, don't forget with quality Olive Oil.
My last piece of advice: take care if you use olives "with stone" don't hide them into the focaccia to avoid accidents. There are a good topping, just keep them on top.
Focaccias are perfect to eat with salads, filled with charcuterie or enjoy with olive oil freshly made, hope you will love this one as much as I do.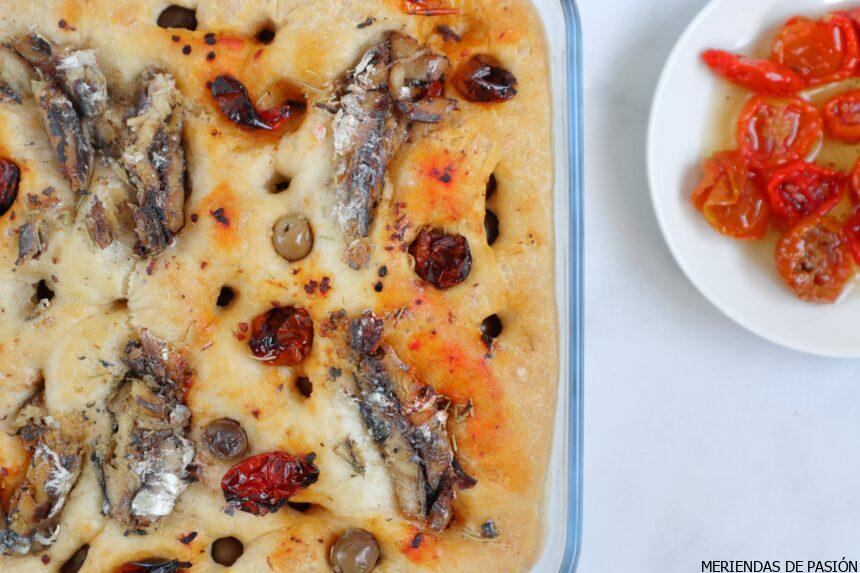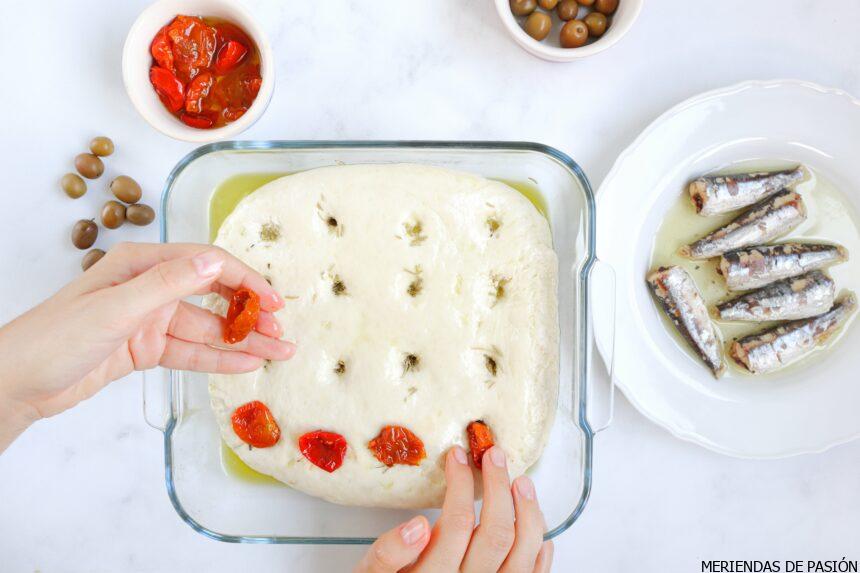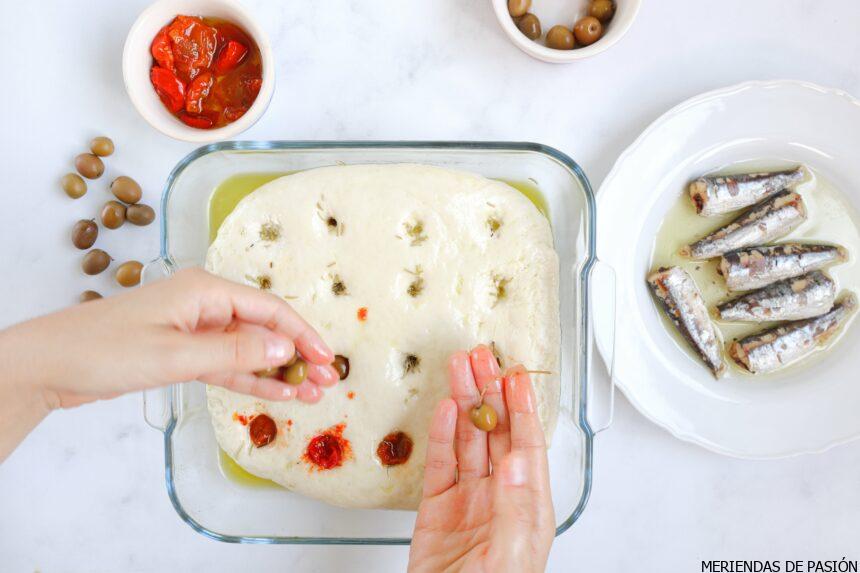 Sardine and olives focaccia
Notes
INGREDIENTS:
-500g bread flour, 00. (4 cups)
-275 g de agua. (1 cup + 1 tablespoon)
-10 g fresh yeast- 1 tablespoon. (or 3 g instant yeast, 1 teaspoon)
-10g salt. (1 tablespoon)
-3 tablespoons Extra Virgin Olive Oil.
-3 tablespons water.

 
-1 can of sardines.
-Sun-dried tomatoes in olive oil.
-Olives.
INSTRUCTIONS:
1. First of all we mix and knead all the ingredients (flour, yeast, water and salt) and we keep kneading until we have a dough that doesn't stick to our hands. This step will be easier with a mixer, but you can knead by hand with some patience.
2. Let your focaccia rest for 30 minutes covered with a wet cloth or film to double its volume.

 
3. Knead again with your hands and place it on a grease mold, I recommend a bug mold or two small ones, the focaccia will double its size again.

 
4. Now we press the dough with our hands to make some "holes" and place or ingredients. In this case sardines, sun-dried tomatoes and arbequina olives.

 
5. Cover the focaccia again and let it rest 1 hour and 30 minutes.

 
6. Preheat your oven at 200 Degrees Celsius (392º Farenheit).

 
7. Mix 3 water tablespoons and 3 olive oil tablespoons and cover the dough with it.
8. Bake the focaccia until it browns and has a crunchy texture in the outside,
9. Once the focaccia it's out of the oven you can splash it with another pinch of olive oil if you want.

 
This focaccia it's perfect to enjoy warm and freshly made with a good salad or aperitif, or you can stuffed it and have a really good "focaccia sandwich".