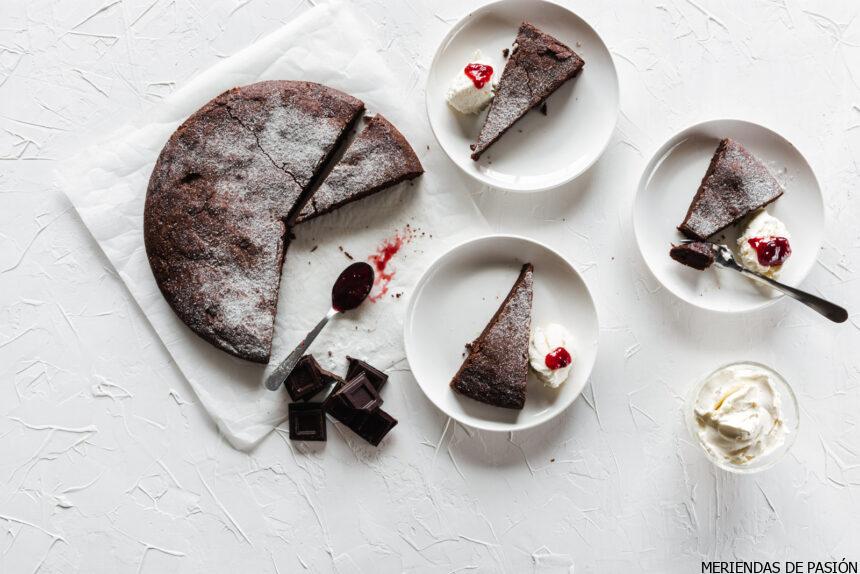 KLADDKAKA. SWEDISH CHOCOLATE CAKE
This is the fast perfect cake: chocolate is the main ingredient and is really easy to bake. You just need to serve a piece of this Swedish chocolate cake with whipped cream to enjoy the perfect chocolate dessert.
The idea of baking this simple chocolate cake has come, once again, from a good cook book, I just reduced some sugar to adjust it to our taste. The book is called " The Nordic Baking Book". Of course in this book there are many nordic recipes, Swedish mostly. It's a really good book for bread and nordic sweets lovers. You can follow the link if you are interest in the book. 
The book is published by Phaidon, what means that is elegant, complete and with amazing photos. Concretely in this one, there are many nordic landscapes photos, recipe photos, and I can tell you that the results when you follow the recipes are delicious.
Magnus Nilsson, well known Swedish cook is the author. He ran Faviken, a Swedish restaurant with Michelin stars, but don't panic, the recipes in the book are easy to follow, traditional and authentic. 
An important strength about this book is that all the ingredients are in different measurements: grams, cups, etc. Whenever you read it, you will be happy enjoying nordic food. In addition to this, the author introduce you to the history of the recipes, so, apart from baking, you will learn about nordic culture.
What do I need to bake this cake?
A cake pan, greased or prepared with baking paper and an oven. It's a good chocolate recipe if you don't have many time to bake and you have chocolate lovers guests.  
Dark chocolate is the main ingredient, and what gives the cake all its flavor, so my piece of advise is that you look for a good quality chocolate that will gives the Swedish chocolate cake an amazing flavor and scent.
Any cream or side to serve with my Gooey Chocolate Cake?
In the recipe I explain how to prepare a whipped cream with a bit of cream cheese, that makes it even creamer than whipped cream. 
The sugar quantities I used are low. You can taste the cream and add the sugar you like. I prefer the contrast of the low sugar cream with the sweet chocolate piece of cake, but you choose. 
You can also serve your chocolate piece of cake with store bought whipped cream, berries jam or ice cream. The chocolate flavor is pretty intense, so any creamy side will be perfect. 
How to preserve the Kladdkaka?
If you have any cake left you can freeze it covered without any problem. As it happens with pound cakes you can preserve it for some weeks.
What makes this Swedish chocolate cake different to other chocolate cakes?
Besides how simple and fast to bake is this cake, there is no baking powder on it, that's why is soo gooey and sticky and perfect for chocoholics.
The cake surfaces tends to break, giving the kladdkaka a rustic appearance perfect for a winter dessert. 
How to bake my Swedish chocolate cake?
How long to bake your cake will depends on your cake pan and your oven, it will be around 15 minutes. Don't overcook your cake, it must be tender on the inside. You can use a toothpick to check if the cake is baked in the middle, it will be baked when the pick will be clean pricking the cake in the middle.
Ingredientes below are for 12 serves. I used a round 24 cm (9,5") diameter mould.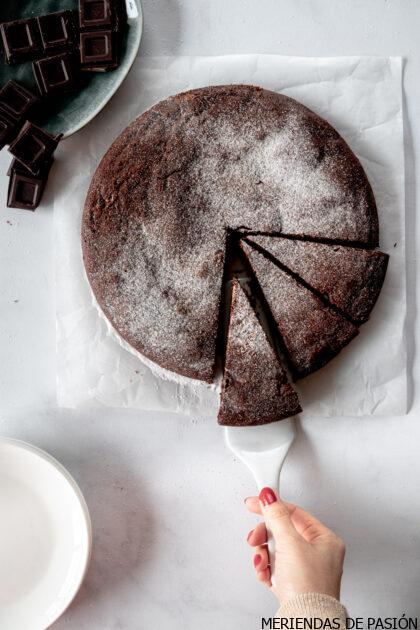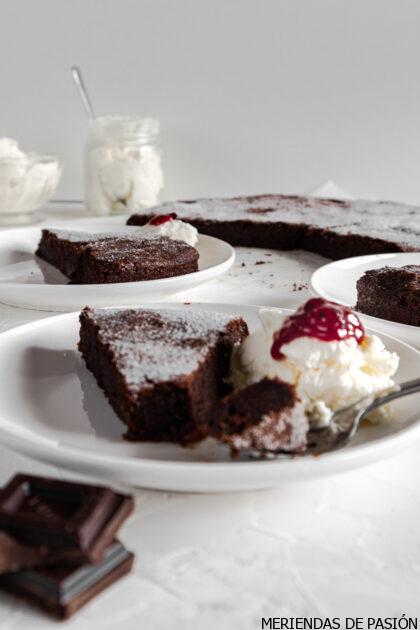 Kladdkaka. Swedish Chocolate Cake
Ingredients
1+3/4

sticks

Unsalted butter

7

oz

Semisweet or dark chocolate

4

units

Eggs

1

cup

Granulated sugar

1/3

cup

All purpose flour

1

pinch

Salt
Whipped cream with cream cheese (optional)
1+1/4

cup

Whipping cream

1/4

cup

Granulated sugar

3

tablespoons

Cream cheese
Instructions
To start we will prepare our cake pan. We can grease ir with butter and add some flour or cover it with baking powder.

Preheat the oven 345º Fahrenheit (180ºCelsius). 

Next melt the butter. You can use the microwave with brief intervals or double boil it on a pan. 

Melt the chocolate, using the microwave with brief intervals carefully not to burn it or double boiling it and stir it with the butter using a spatula. 

Keep mixing and add the eggs.

Add now the flour shifted, sugar and a pinch of salt. You can use a spatula to avoid bubbles on your cake batter.

Bake 15-20 minutes, it will depends on your oven. It's normal if the surface looks "broken", and you can cover with foil not to burn the surface the last baking minutes.  If you can prick the middle of the cake and the pick is clean the cake will be ready. 

To prepare the cream cheese whipped cream, you need to whip the cream and the sugar and add the cream cheese until the cream will have the dense consistency we are looking for. You can add more sugar if you like the whipped cream sweeter. 

Let the cake cool and serve with whipped cream and enjoy!