MUHAMARA (RED PEPPER AND WALNUT DIP)
This Syrian veggie red pepper and walnut dip called muhammara is full of flavor and spices that is prepared in just 20 minutes, a healthy savory snack. 
To prepare it we will use mainly two nutritious ingredients: red peppers and walnuts.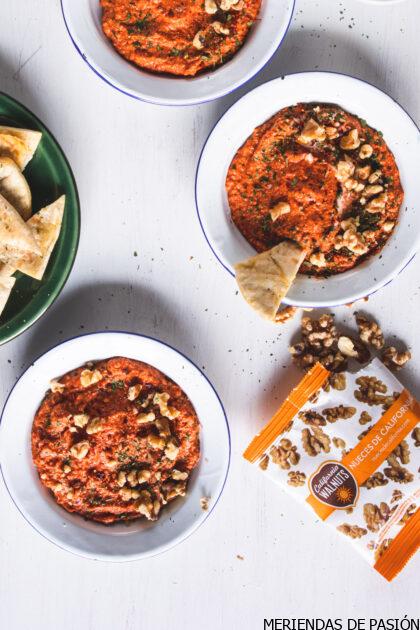 Let's start by roasting the red peppers.
If you choose to roast the red peppers at home you can prepare them in the oven with a little salt and olive oil for 25-35 minutes and then remove the more toasted skin. 
If you need a quick recipe and in 10 minutes you can buy without problem roasted peppers, in which case I recommend you to drain them well to prepare your muhammara. The type of peppers used are what in Spain we call "red peppers" with a sweet flavor and not spicy at all. 
If you are looking for a vegan muhammara you can use agave syrup instead of honey to have your vegan red bell pepper paté.  
The original recipe uses molasses or pomegranate syrup, a very common ingredient in Arabic cuisine, but difficult to find in Spain, you can replace it with a spoonful of honey and a squeeze of lemon.
Another original ingredient in the Syrian muhammara is Aleppo pepper, the city where the recipe comes from, we can use chili flakes or ground cayenne to substitute Syrian pepper to give this entable of peppers the spicy touch that gives it such a special flavor along with the nuts and peppers. 
The rest of the ingredients are mainly spices such as cumin, paprika, ground cayenne (optional, you can remove it if you don't like it spicy), black pepper and a clove of garlic. I have also used a little parsley and olive oil to serve and it is delicious.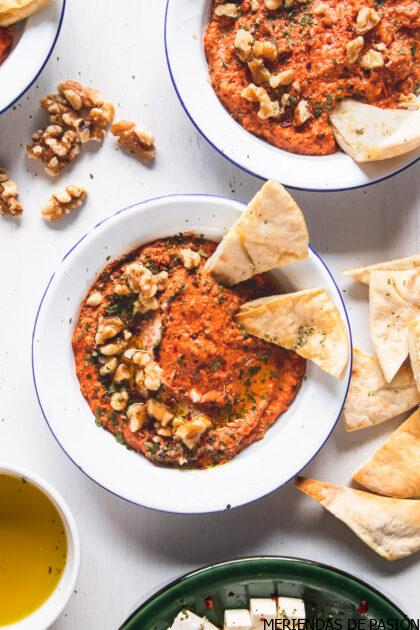 What to serve muhammara with?
As a good Mediterranean recipe you can serve it with extra virgin olive oil, pita bread, feta cheese and black olives to enjoy a snack inspired by Middle Eastern food. 
You can also serve your muhammara  with hummus, nuts and crudités to have your veggie dip board. 
If you want to get a slightly denser pate texture you can add some breadcrumbs once the peppers and nuts are mixed, but this is completely optional, and if you are looking for a gluten-free appetizer, you can of course do without the breadcrumbs. 
As equipment to prepare this red bell pepper and walnut dip you will need an oven if you want to roast your own peppers, and a food processor or blender. Of course you can prepare this muhammara recipe in Thermomix or kitchen robot.
Muhammara (Red Pepper and Walnut Dip)
Equipment
1 Food Processor

Or blender

1 Oven
Ingredients
2

unit

Red bell peppers

1

cup

Walnuts

1

clove

Garlic

1

Tbsp

Honey

1

Tsp

Lemon

1

Tsp

Salt

1

Tsp

Sweet or hot paprika

1

Tsp

Ground cayenne

1

pinch

Black pepper
Instructions
Start roasting the peppers in the oven at 200º Celsius (392 Celsius) on a tray with olive oil and salt for 25-35 minutes, until the outside is toasted.

Let the peppers cool and remove the most toasted (almost burnt) part. If you prefer to buy already cooked or canned roasted red bell peppers, drain them before grinding the  peppers and walnuts. 

Add to our blender or food processor all the ingredients: the roasted peppers, the walnuts, the clove of garlic, the tablespoon of honey, a teaspoon of lemon, salt, paprika, ground cayenne, cumin and black pepper.

Blend all the ingredients until you get a perfect creamy texture.

If you wish, in case the dip is not dense enough, we can add a little breadcrumbs and beat again until we get the desired texture. 

Serve sprinkled with nuts, parsley, cayenne flakes and olive oil and enjoy with a good pita bread!