WATERMELON LEMONADE
This watermelon lemonade is an easy and healthy drink, perfect for a summer day. 
The base of this recipe, as every good lemonade is lemon juice. To have this beautiful pink color and sweetness we will add watermelon. If you can find seedless watermelon perfect, if not, don't worry, you can use any watermelon and strain the lemon and watermelon seeds.
How to sweeten watermelon lemonade?
I used brown sugar. The quantity is illustrative; I added 6 tablespoons of brown sugar in my lemonade, the flavor stills acid, but you can always sweeten your lemonade or serve with sugar to adapt it to each person, as we do with coffee.
Of course, you can sweeten your lemonade with honey or any other sugar free sweetener, start with 3 tablespoons and taste the drink to adjust the quantities. 
How to prepare our watermelon lemonade mocktail with kitchen robot or Thermomix?
You can use any blender or kitchen robot to grind the watermelon with a glass of water and later strain it with a strainer to avoid seeds obtaining your tasty watermelon juice. 
You can repeat the same method to prepare your lemon juice. You can grind your lemons (with or without peel, you don't need to peel the lemons, just clean the peel before grind them), and strain the lemon juice using a strainer or the Thermomix little basket to obtain the juice.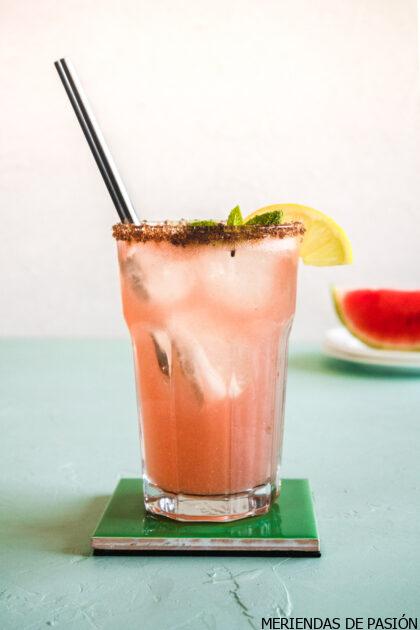 How to make watermelon lemonade slush?
Follow the same steps as with the watermelon lemonade: prepare the watermelon juice with sugar and water, the lemon juice, and later grind everything with 3 ice cups to have an amazing pink lemonade slush.
Could I make watermelon lemonade with mint?
Of course, I prefer a subtle mint flavor, adding a mint leave on every lemonade glass, but if you really like mint you can extract the mint oil with your kitchen mortar and mix it with the lemon juice.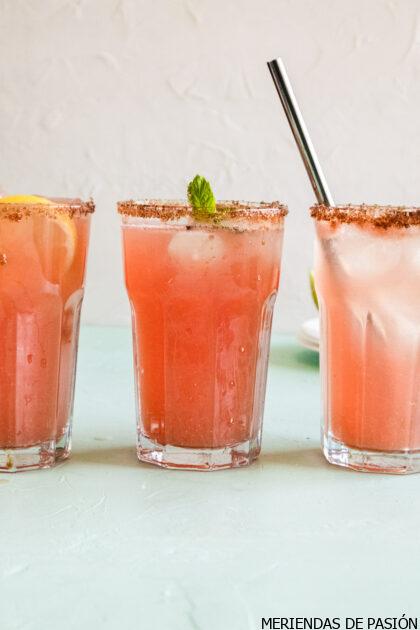 How long it takes to make my homemade watermelon lemonade?
This is the best part of this homemade drink. In 10 minutes you will make your homemade pink lemonade with watermelon.
Do I need natural or sparkling water to prepare my watermelon lemonade?
You choose, it depends of how much you love sparkling drinks. I love them so I used sparkling water, but you can add natural water and the drink will be delicious anyway.
Is there any artificial colourant on the pink lemonade with watermelon?
No, the pink lemonade with watermelon you see in the photos doesn't have any artificial flavors on it, the pink color comes from the natural watermelon juice and the brown sugar. 
Watermelon Lemonade
Ingredients
1/2

cup

Chopped watermelon

6

tablespoons

Brown sugar

1/2

cup

Lemon juice

4

cups

Water

Natural or sparkling
Instructions
We will start cutting into pieces or watermelon , if possible seedless watermelon, and set aside 1/2 cup of cut watermelon.

Prepare your lemon juice, at least 1/2 cup and strain it to move away the seeds, and set aside.

Using your mixer glass or kitchen robot, place the chopped watermelon, a cup of water, the lemon juice, and sugar or sweetener.

Grind the watermelon until you have watermelon juice.

With the help of a strainer move away the seeds and the watermelon pulp, this way you will extract the watermelon juice, that you can pour in your lemonade jar.

Add to the lemonade jar 2-3 water cups and ice.

Taste the watermelon lemonade to adjust the sweetness and add more sugar or sweetener if needed.

Serve with lots of ice, mint, a lemon slice, and enjoy!
Notes
I recommend served watermelon lemonade very cold and with lots of ice, even with crushed ice as a lemonade slush.
To decorate the lemonade glasses you need to wet the glass edges with lemon or a wet paper towel and dining it on a sugar bowl. You can also place a piece of watermelon, a slice of lemon and mint leaves.