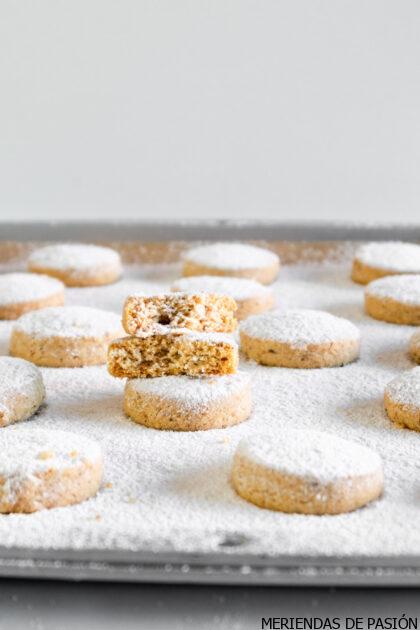 WALNUT SNOW COOKIES
These snow cookies are my favorite butter and walnut cookies, soft and tender, they almonst fell apart when you touch them. Sooo delicious!
Are you looking for a delicious and simple tea biscuit recipe?
This is your recipe, once again I inspired my self on Bake It Simple, Oriol Balaguer's book. I promised I am not sponsored, is just that I am spending my winter like the main Julie & Julia character, the film where she baked Julia Child's recipes, but swapping Julia Child by Oriol Balaguer, that is closer.
Any tips before baking these walnut and butter cookies?
Cool the cookie dough before forming your cookies. When you finish mixing the cookie dough you can think you made a mistake because is a really sticky dough. The only secret is to cool the dough into your fridge for some hours. 
Once cooled the batter will easy to form, you just will need to dust with flour the working surface and your cookie cutter.
How could I bake really soft and tender cookies?
We will need 0,5 cm (0,20 inches) thickness for this cookies. If it's difficult with your cookie cutter you can place two cookies and press on top of both forming one.
In the book Oriol Balaguer uses a cookie mold filling with the cookie dough, but we can bake really good cookies without the mold, I didn't have one either. 
To bake our tender cookies is important do not overtake them. When they brown, after 15-20 minutes just take the cookies out of the oven. 
There is no sugar in the cookie dough?
No, we didn't forget; there is no sugar in the cookie dough, what makes them slightly slaty, to add the sweet flavor. Once the cookies are cool you must dust them with confectioner's sugar.
Are these cookies Christmas cookies?
They remind me to "Nevaditos" (Spanish Christmas cookies) but are made with butter and not lard, and the batter has tonka bean.
I've baked them as Christmas cookies and they seem, and as tea biscuits during winter and they pair perfect with afternoon tea. They are Christmas and tea cookies. 
Tonka bean? What is that?
 

Where could I find it? Could I replace it?

I must confess: I didn't knew what tonka bean are before readin this cooking book. It has a Christmas cookie flavor, and it's sooo special and yummy. 

I've bought tonka bean online, with half or one bean is more than enough to flavor many desserts. Later on I've seen tonka beans in different spice shops at markets or spice shops

If you can't find tonka bean, or you don't like it, you can just bake your cookies with the walnut and vanilla flavor they already have. 

If you prefer a spice flavor, I would substitute the tonka beans by half teaspoon of cinnamon or cardamon, but you will have a spice cookies really different than the original ones, but for sure really good. 
How to prepare walnut flour?
Using your kitchen robot or Thermomix, just grind the walnuts for 3 seconds, stop and grind again, this way you won't have a "walnut cream" just you will hav a sandy texture with your walnuts. 
How to preserve the walnut snow cookies?
You can keep the cookie dough into your fridge for some days or weeks into the freezer. 
To freeze them you can shape your cookies and place them over baking paper, and just bake them whenever you need freshly made cookies. You can also freeze them already baked without dusting them with confectioner's sugar or preserve them for some them for some days into your cookie can. 
Quantities are for two cookie trays, for 2-4 people. If you need cookies for 6-8 people double the quantities.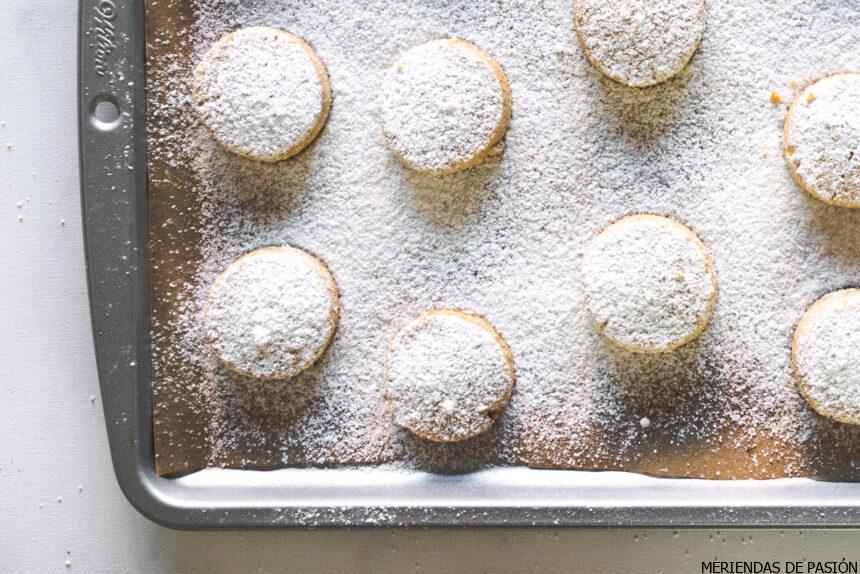 Walnut Snow Cookies
Ingredients
2/3

cup

Unsalted butter

Room temperature

1,5

unit

Egg whites.

45g. aprox.

1/2

teaspoon

Salt.

1/4

teaspoon

Vanilla.

3/4

cup

Walnut flour.

1+1/2

cup

All purpose flour.

2

tablespoon

All purpose flour.

1/8

teaspoon

Baking powder.

1/2

cup

Confectioner's sugar

1/2

unit

Tonka bean

Grounded
Instructions
Mix the room temperature butter with the egg whites. 

Add the salt and vanilla and mix it again.

Mix with the sifted flour, walnut flour and baking powder.

Add the tonka bean grounded and stir again.

Cool the cookie dough into the fridge for some hours, don't panic if the batter is too sticky, the cookies will be easy to form after some hours.

Preheat the oven 356º Fahrenheit(180º Celsius).

Dust with flour your working surface and shape the cookies with a cookie cutter.

Prepare your baking tray with baking paper or a silicon mat.

Bake 356º for 15-20 minutes. When your cookies start to brown you can take them out of the oven. 

Let the cookies cool , handle them with care when they are warm, and dust them with abundant confectioner's sugar and enjoy!