PISTACHIO PESTO
The easy Italian pistachio pesto is a delicious vegan sauce for our pasta or our toast that we can cook in just 5 minutes.
HOW IS PISTACHIO PESTO DIFFERENT FROM OTHER ITALIAN PESTO SAUCES?
Basically it is made with pistachios instead of made with pine nuts, walnuts or hazelnuts and you can also add lemon zest for flavoring. As with other pesto sauce recipes, it is also made with extra virgin olive oil, fresh basil and garlic. 
DOES THE PISTACHIO PESTO HAVE CHEESE IN IT?
In my pesto recipe I have not add cheese because I was going to serve it with a fresh cheese on toast, but you can add pecorino, grana padano or any cured cheese.
A pistachio pesto sandwich or toast, combined with ricotta cheese and prosciutto or Spanish cured jam are simply delicious. I know, it's a bit of a risky Italian-Spanish combination, but the mild flavors and the saltiness of the prosciutto are a downfall. 
The pistachios give this pesto a green tone and a toasty nutty flavor that pairs great with cottage cheeses like ricotta or any fresh cow or sheep cured cheese.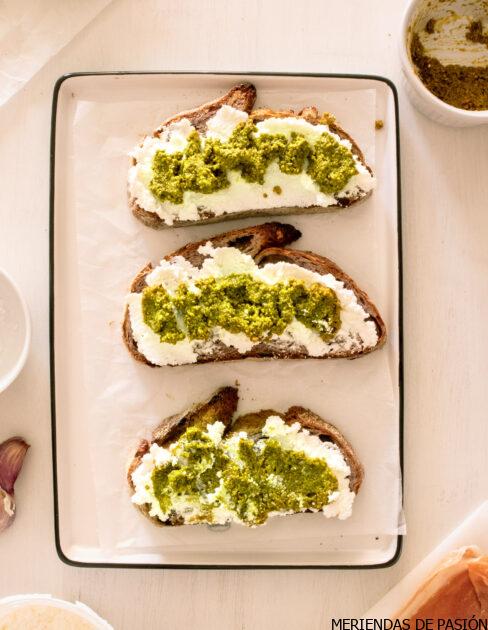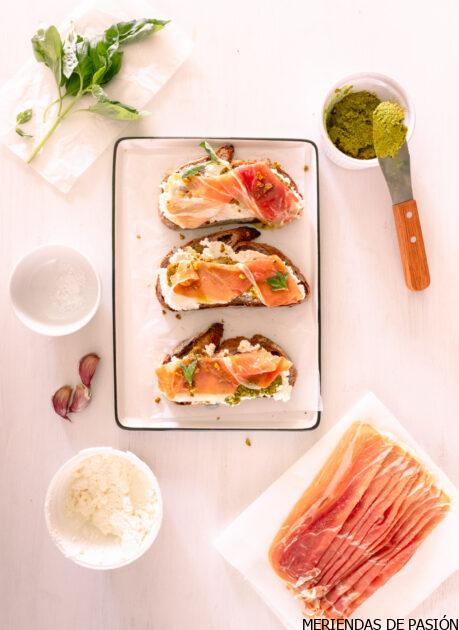 WHAT EQUIPMENT DO I NEED TO COOK HOMEMADE PISTACHIO PESTO?
Simply a mortar and pestle or a blender to mix the ingredients. 
WHAT INGREDIENTS ARE IN THE PISTACHIO PESTO?
-Peeled pistachios, if they have skin we can put them in hot water and dry them by rubbing them with a cloth to remove part of the skin. 
-Extra Virgin Olive Oil, as always, better quality will mean better flavor of our homemade pesto. 
-Fresh basil, with two or three basil leaves will be enough, but it is essential that you use fresh basil leaves. 
-A clove of garlic, it can be raw or roasted. 
-Lemon zest, we will wash a lemon and use some zest (1/2 teaspoon) to add a fresh aroma to our pesto.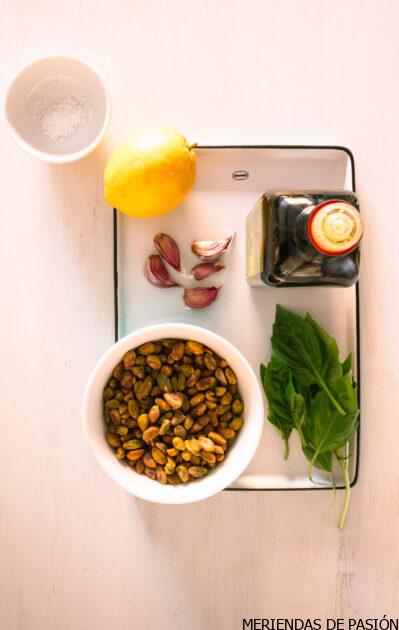 This is a vegan pistachio pesto as it does not contain cheese or any animal ingredients, its toasted flavor due to the pistachios with the garlic and basil is tasty enough and does not need cheese among its ingredients. But if you are a cheese lover, of course it is optional to use this ingredient. 
We can serve pistachio pesto with toast, with pasta (it is especially delicious with spaghetti), with grilled tomatoes, with vegetables, with ham, and of course we can serve a burrata with pesto or use it as an ingredient in our pizzas.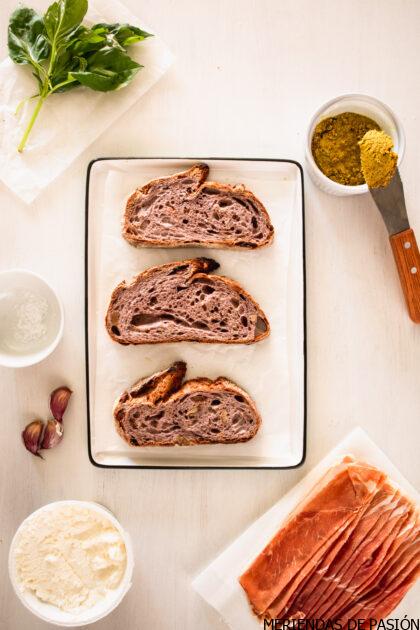 CHEESES THAT GO GOOD WITH PISTACHIO PESTO?
In my humble opinion ricotta or goat cheese are perfect for pesto sandwich or toast.
Of course you can also serve the pesto with Italian cheeses as fresh mozzarella, burrata or with goat cheese. 
Halloumi cheese sandwich with pesto(a Greek cheese that is served after being grilled) with pesto is one of those inventions that must be patented as the best vegetarian sandwich ever made.
The texture of this pesto is thick due to the nuts, but if you are looking for a more unctuous Italian style sauce to serve with your pasta you can add more olive oil and whisk your ingredients even more to get a smoother texture. You can also add more basil and you are looking for a more intense fresh herb flavor for your spaghetti. 
HOW TO PRESERVE THE PISTACHIO PESTO SAUCE?
You can preserve your homemade pesto in the refrigerator and consume it in 4-5 days. If you are not going to consume it within 5 days you can freeze it in individual bags for a couple of months.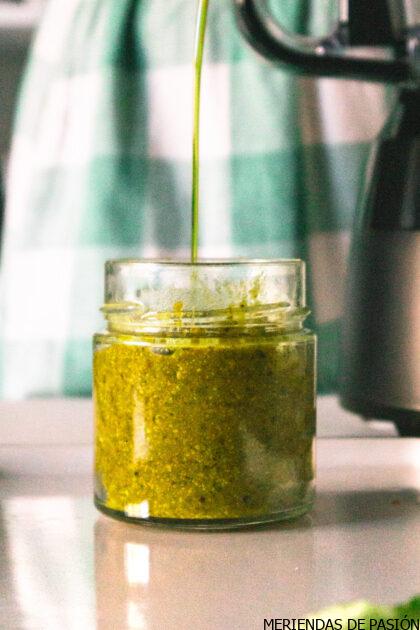 Pistachio Pesto
Equipment
Food Processor

Or mortar and pestle.
Ingredients
1+1/2

cup

PIstachios

Peeled (200 g)

1

clove

Garlic

1/2

cup

Extra virgin olive oil

3

leaves

Fresh basil

Lemon zest

1

pinch

Salt
Instructions
If we buy unshelled pistachios, we start by peeling them. To remove the pistachio skin, soak them in warm water and rub them with a kitchen towel to remove the excess skin.

Peel a garlic clove and if you wish you can also remove the garlic germ inside the clove. If you have roasted garlic of course you can use roasted garlic instead of raw garlic. 

In the glass of our blender we add the peeled pistachios, the garlic clove, olive oil, 3 fresh basil leaves, lemon zest and salt. 

Blend with our blender (or mix with a mortar and pestle) until you have a smooth pesto sauce.

Taste the salt and add another pinch of it if necessary.

If you are looking for a creamier pistachio pesto sauce for your pasta, add more olive oil, blend again and serve in your sandwich or sauce and enjoy this homemade Italian sauce.
Some other pistachio recipes for pistachio lovers like me:
If you're looking for a delicious and juicy recipe with pesto, you can do in your air fryer, here you have this easy Trader Joe's Pesto Chicken in the Air Fryer