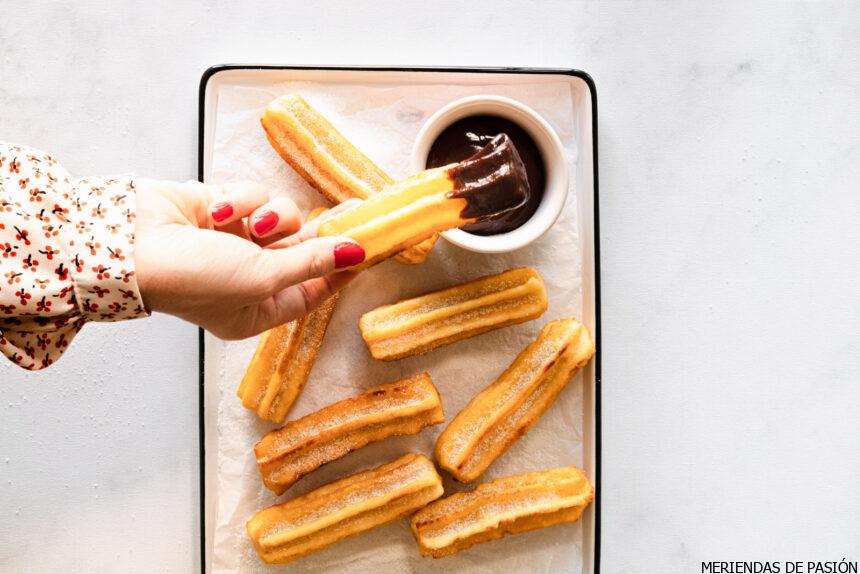 HOMEMADE CHURROS
If you ever wondered how to prepare homemade churros, good news! They are reeeeeally easy.
When I started reading about churros in Spain, I was amazed about how easy they are; just 5 ingredients (the Spanish recipe doesn't have butter). I think that, like Spanish jam croquetas that we also do love, the secret is to enjoy them freshly made and being careful when you fry them, I mean, with fresh oil and serve them freshly fried.
To form the churros there are different options, one is to use a piping bag. If you choose this option I must warn you that the churros dough is dense, so you must manage the piping bag with a little strength.
I used a biscuit press like the one I link, they are similar to a piping bag, but It's easier to form them. There are also old fashioned churreras that some people here in Spain would be lucky to find in their grandma's houses. If you are one of those you must use it, you will celebrate it later. 
About oil, you can use mild olive oil or sunflower oil. I used sunflower oil as suggested in many recipes. I really believe that olive oil is the best oil, but for this recipe the results with sunflower oil are perfect, crunchy in the outside and not oily.  
For the chocolate, there are some dense chocolates perfect to prepare with churros. You can prepare them over a low heat and enjoy with your churros.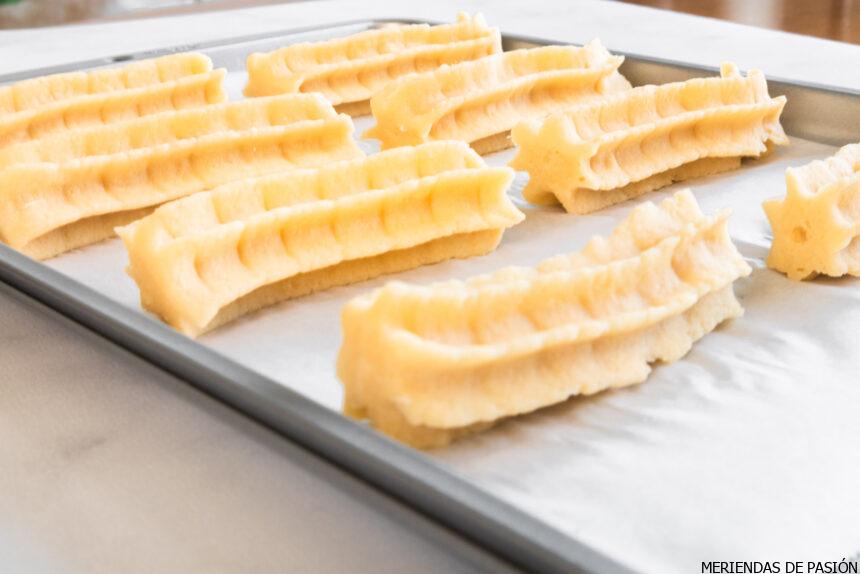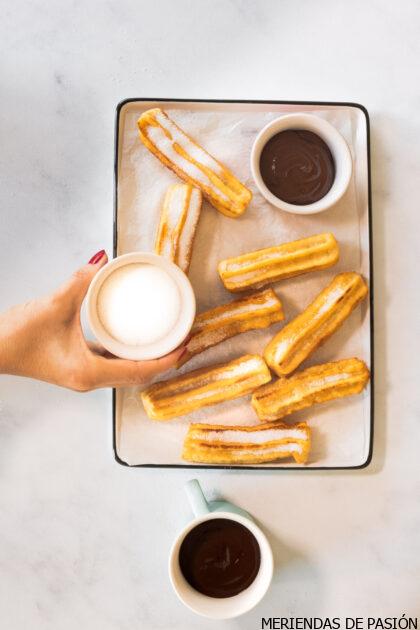 Homemade churros
Ingredients
1

cup

Full fat milk.

3

tablespoons

Full fat milk.

1/2

teaspoon

Salt

1+2/3

cup

All purpose flour

1

unit

Egg

2

cups

Sunflower oil to fry

1/2

cup

Granulated sugar to dust your churros
Instructions
In a pot heat up the  milk (1 cup and 3 tablespoons) and salt until it boil and retire from the heat. 

Add the shifted flour and mix with a wooden spoon being careful not to burn it until the dough separates from the sides of the pot. 

When it started to boil retire from the heat and add the egg, The dough will be dense. You can use an electric mixer to whisk if you have one. If the dough is too dense you can add 1 milk tablespoon. 

Let the dough cool for some minutes not to burn you, and form the churros with your pipping bag or biscuit press.

Heat up the oil to fry the churros and fry them for 1-2 minutes each side.

Serve your churros freshly fried and dust them with granulated sugar generously. 

Enjoy your churros with hot cocoa.
Once you form the churro dough with the pipping bag or cookie cutter you can freeze them and fry them to enjoy a freshly made breakfast. Take care with the splash of hot oil in this case.