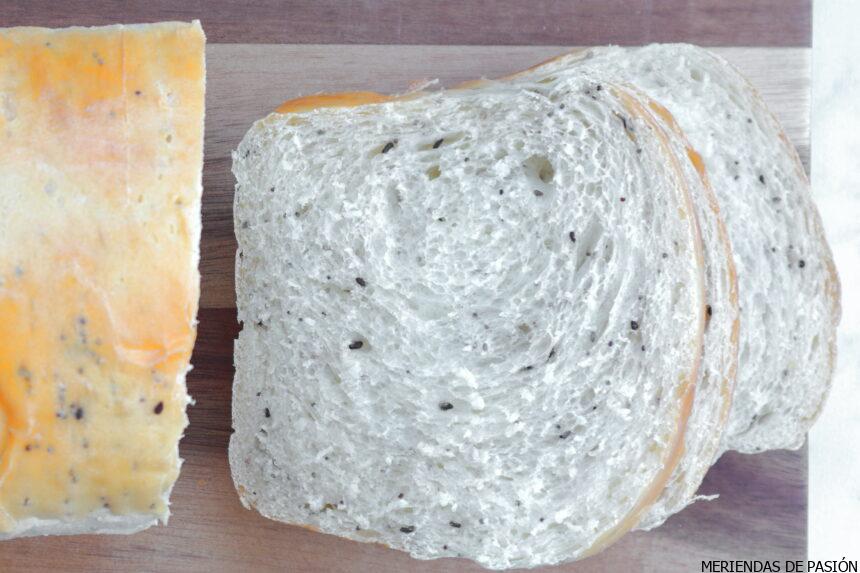 CHIA MILK BREAD
Believe me when I tell you that when you will try homemade bread sandwich you won't ever buy it again. Well, maybe  you will buy some when you won't have time to bake, I know, sometimes happens. 
What I mean is that baking homemade sandwich bread with this recipe it's always a good idea. You will enjoy this tasty and bake from scratch milk bread. Quantities are thought to bake one bread, but you can always make double and freeze some using two molds. If you have an oven big enough you can bake both together. 
The day I cooked this bread I taste it by to self and preparing tuna melts. OMG, amazing! They were soooo good. I couldn't believe how tender and delicious an easy bread like this one could be. 
To bake this recipe I inspired myself on Chompmom's Instagram. She has many interesting bread recipes, always fluffy and tender, although I adapted flour and yeast quantities to bake my version. I hope you will love it as much as I do. 
If you can't find black sesame don't worry. I decided to add black sesame, chia and poppy seeds because their dark colors look beautiful on this recipe, but you can add any seeds you like.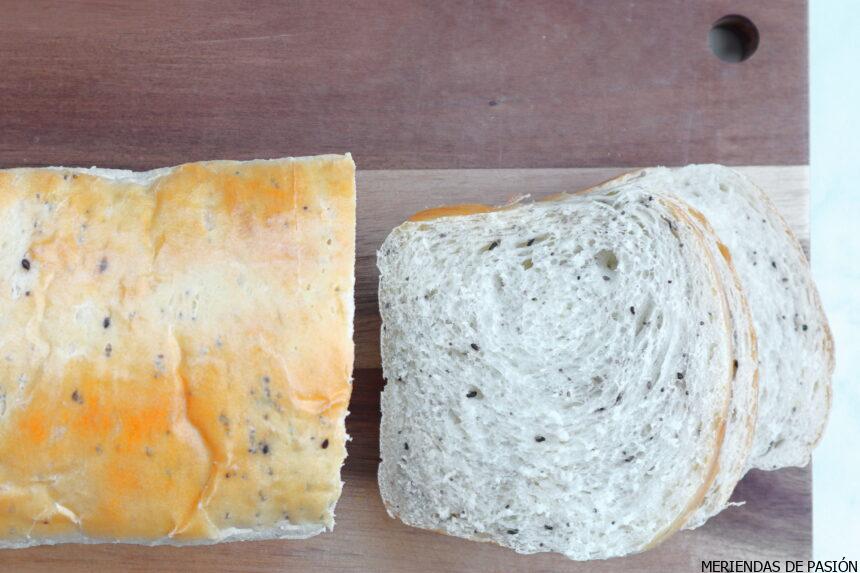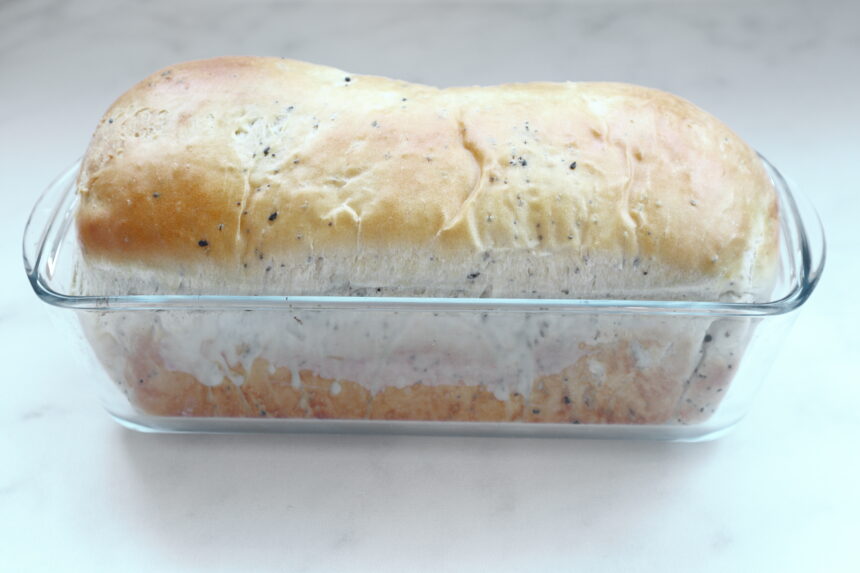 Chia milk bread
Notes
INGREDIENTS:
-400 g bread flour (4+3/4 cup, flour 00)
-6 g instant yeast (1 teaspoon) (or 18g fresh yeast).
-24 g

 

brown sugar (2+1/2 tablespoons).
-8 g salt (3/4 tablespoon).
-20 g butter room temperature. (2 tablespoons).

 
-300 g whole milk. (1+1/4 cup).
-1 teaspoon chia seeds.
-1 teaspoon poppy seeds.

 
-1 teaspoon black sesame seeds.

 
INSTRUCTIONS:
1. First, if we use instant yeast we can dissolve it on one warm milk teaspoon and set aside. This way you have to use one tablespoon less of milk later on. This step won't be necessary if you use fresh yeast.

 
2. Mix all the dry ingredients, except the seeds: bread flour, salt, sugar and yeast.

 
3. Add little by little the mild and start kneading, by hand or with your kitchen robot.
4. When you have your bread dough add bit by bit the butter, room temperature, and still kneading. You must knead until your dough doesn't stick to your hands or the sides of your bowl (15 minutes kneading are not too much).
5. Once your dough is ready add the seeds and knead for two minutes more.
6. Let it rest in your bowl cover with film for 1 hour (or overnight into your fridge).
7. Once the bread doubled its size, grease your bread mold.

 
8. Knead your bread again with your hands for a minute, extend it and place into your mold. You can easily roll the bread and place it into the mold.

 
9. Let it rest again covered for 1 hour and brush it with beaten egg.

 
10. Pre-heat your oven 180º Celsius (360º Fahrenheit) .
11. Bake it for around

 

25 minutes, depending on your oven.

 
12. Let it cool on a rack and enjoy your tender milk bread freshly baked.

 
Of course you can freeze this sandwich loaf freshly baked. You have to let it cool and freeze it, to enjoy it any day. What a pleasure!
If you hadn't taste yet my jalapeño tuna melts recipe, with this bread are just amazing!