BREAKFAST AND BRUNCH IN GIJÓN
If you are going to spend a few days in Gijón (or Xixón), here are some of my favorite places for breakfast and brunch in this vibrant city by the sea.
Gijón is a city overlooking the sea, with its tides, industrial and seafaring history, and always full of people enjoying a stroll along the wall of San Lorenzo beach.
In this city you can find different areas, such as Cimadevilla, with its famous Cuesta del Cholo, an old fishing neighborhood now filled with cider houses where you can have a glass of cider outdoors if the weather is nice.
One of the things that makes Gijón a perfect city for your vacation is that it is dog-friendly. If you are traveling with a dog to Gijón, I guarantee that almost 100% of its establishments have the "good dogs welcome" sticker, which allows us to go to almost any establishment, both on the terrace and inside, accompanied by our pets.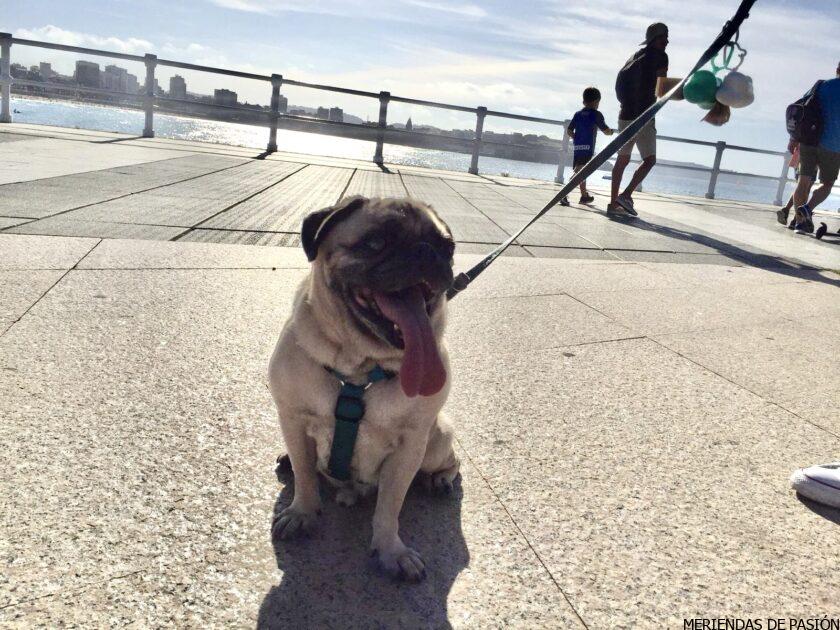 Another thing I love about Gijón is that after years on the shores of the Mediterranean, where tides are not talked about, I am fascinated to hear the loudspeaker of San Lorenzo beach in Gijón, where the water temperature, flags flying on the beach, and the hours of high and low tide are announced every hour, when the beach gains or loses meters of sand.
To those visiting Asturias who like coffee, a small warning: if you want a café con leche (coffee with milk) in a large cup and not a cortado (coffee with a small amount of milk in a small cup), remember to order it as "café con leche de desayuno" (breakfast coffee with milk).
Focusing on breakfasts and snacks, below I share some of my favorite places, some traditional and others with a slightly more modern twist. If your favorite is not on the list, do not hesitate to leave it in the comments and we will continue adding places to have a snack.
CATLOVE.
DOG-FRIENDLY, BRUNCH, AND GOOD COFFEE.
Catlove is one of the new openings in Gijón with a menu for all tastes.
In Catlove, you can find people of all ages and with very different tastes. Among its tables, you will see people having their classic breakfast coffee with toast and juice, and people enjoying brunch or toast with avocado, yogurt with fruit, and even New York-style bagels.
Their brunch is highly recommended, and it is a quiet and cozy place where you can go with your dogs. In fact, in one corner of the place, their dog is always lying down and behaving well, accustomed to ignoring the crowds.
Their coffee is rich and smooth, specialty coffee made with a Marzocco coffee machine that presides over their bar, and for me, it is one of the best coffees I have tried in Gijón.
In addition to breakfasts, they have a daily menu (€12) with salads, bowls, and vegetarian options.
Price: €4 for a basic breakfast of coffee/tea and sourdough toast; €15 for a complete brunch
Address: C/ de la Merced 42, Gijón
Located near San Lorenzo and 10 minutes from Cimadevilla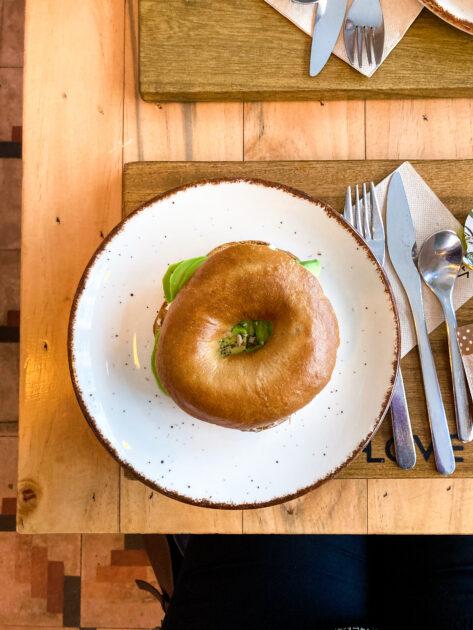 ARGÜELLES
TRADITIONAL PASTRY SHOP AND GOOD ICE CREAM
If you follow my social media, you will know that Argüelles Pastry Shop is my favorite place to enjoy traditional Asturian sweets or ice cream, and yes, they are also dog-friendly.
I love Argüelles' philosophy. Toño Argüelles, from a family of pastry chefs, is behind their ovens, and you can feel the traditional recipes in their pastry shop. At the same time, it is clear that there is a person with training in Italian pastry behind their ovens, combining chocolates, traditional Asturian pastries, real ice cream, and Panettones with so much fame that they must be ordered months in advance.
Visiting Argüelles means trying their "bartolos," an Asturian pastry with a puff pastry base and almond filling, juicy and crispy at the same time.
If you want to try their bartolos, they are sold by the dozen and disappear from their display case in the blink of an eye, no matter the time of year. The solution: if you call the day before and ask them to reserve half a dozen bartolos for you, they have no problem saving a small tray in your name, and you can pick them up during their opening hours. Argüelles has decided to make it easy for us.
Their breakfasts and snacks also include chocolate cakes, chocolates, and savory options such as small puff pastry turnovers filled with tuna (and yes, it is good puff pastry).
It's hard to highlight just one product from Argüelles, but their panettones have won awards and their chocolates are the perfect gift. And that's not all. In the summer, they offer artisanal ice cream that is on par with any traditional Italian gelateria. This summer, I was lucky enough to try their "crema Argüelles" flavor, which includes Earl Grey tea, vanilla, and cookies, and it was spectacular.
If you're not feeling adventurous, their vanilla and cream ice cream will leave you speechless. Although it may seem trivial, their ice cream tastes like real cream, which is hard to come by these days.
It's no coincidence that Pastelería Argüelles has been awarded a "Solete" by the Repsol Guide.
The shop has only a few tables, about 4 or 5. If you go early in the morning, you can have a coffee and a good Asturian pastry there. Otherwise, you can always order some good "bartolos" to go.
Address:
C/Celestino Junquera 4, Gijón
It's located in the center of Gijón, 10 minutes from the San Lorenzo promenade.
Prices: €5 for a pastry and coffee.
CORAL CAFÉ
BEACHFRONT CAFÉ
This unpretentious café is located in front of the 13th staircase of San Lorenzo Beach, and of course, they are also dog-friendly.
It's a no-frills café where the waiters usually serve you in a hurry, but you can have a typical breakfast of coffee with a "pincho" at a very good price for being a beachfront café. In Asturias, they call "pincho" a small-sized sandwich that is usually eaten mid-morning or mid-afternoon.
In addition to "pinchos" and toast, Coral Café serves freshly made churros, making it a great place to have a coffee with churros if you happen to get caught in a rainy afternoon, Asturian style.
Address:
Av Rufo García Rendueles 16, Gijón
In front of the 13th staircase of San Lorenzo Beach.
Prices: €4-5 for breakfast and afternoon snack.
RAWCOCO
HEALTHY AND FRESH
Rawcoco's menu is full of healthy proposals using seasonal products that catch your eye.
On their menu, you can find toast, porridge, waffles, juices, and toast with egg, avocado, or hummus.
It's the perfect place for visitors to Gijón who follow a diet focused on consuming fresh or vegetarian food to enjoy a good and healthy breakfast or snack.
At noon, they serve salads and some fast dishes like burritos or burgers, they have a terrace and are located near the beach.
Their waffles and juices are a very Instagram-worthy snack in Gijón.
Of course, they welcome dogs, and they serve good coffee.
Address:
C/ San Bernardo 36, Gijón
Near the San Pedro Church and La Escalerona (Staircase nº 4 of San Lorenzo Beach)
Price: €6-12 for breakfast and snacks
             12-20 €  for lunch and dinner
PRALINÉ
THE BEST TEA PASTRIES
If you're looking for a modern tea room suitable for all ages, that's Praliné.
From their ovens come chocolate cakes, traditional pastries, classic and modern croissants, palmiers with different types of chocolate, and tuna empanadas. Real puff pastry? Affirmative, any of their puff pastry creations are worth trying.
They have received the award from Dulcypas Magazine for the best tea pastry in Spain in 2022 with their tea pastries made with cocoa sablé and filled with cocoa and ginger cream.
In addition to being a great place for breakfast and snacks, Praliné is perfect for buying sweet gifts, such as well-presented chocolates or pastries.
Address: C/ San Bernardo 37
5 minutes away from Staircase 2 of San Lorenzo Beach.
Prices: €4-5 for breakfast and snacks.
THERE ARE GREAT PASTRY SHOPS IN GIJÓN
That's why I promise to keep exploring to share with you and expand this post.